shipping & handling included
KJ 28
published March 10, 1995
82 pages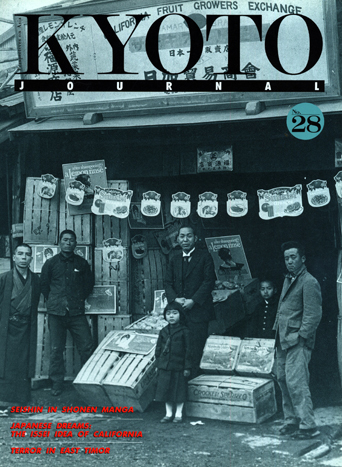 Cover Image by Santa Barbara Historical Society
Practically every culture and period has heroes, figures that express and exemplify cultural values through their behavior and their stories. One modern source of heroic images in Japan is manga, Japanese comic books, and in particular shonen manga, boys' or young men's comic books. The behavior of shonen manga heroes depicts a system of popular values centering upon the belief system seishin, a word defined as spirit, attitudes, or will-power.
Manga stories depict conflict of many different types — interpersonal, social, institutional, physically violent, and political. However, shonen manga concentrate most upon epic, fantastic stories. Such stories depict a world of fantastic scale conflict and can be populated with equally fantastic, strongly ideal-oriented characters while still retaining a sense of consistency with their literary genre. Indeed, such characters even seem a primary characteristic of shonen manga.
—Michael Nagara, Seishin in Shonen Manga
A prototype of the American dream may have existed before there was any written record of the continents we know today as 'America.' The myths and legends of most cultural traditions in Asia and Europe spoke of a once glorious empire that existed somewhere to the West. The ancient Egyptians revered 'the West' as a place of emancipation while the old Greeks speculated about the bliss that would be experienced after death in the 'Isles of the Blessed' that lay to the west of the Gates of Hercules. In some schools of Mahayana Buddhism mention is made of a legendary 'western paradise' in which resides the teacher of all humanity, Avalokiteshvara. Long before the appearance of Buddhism, Hindu traditions spoke of the existence of a continent geographically opposite Mount Mem, the axis mundi, whose roots were believed to be found in Central Asia. This antipodal land was appropriately called "a-meru."
—Philip Grant & Kyoko Nozaki: Japanese Dreams, American Nightmares
Contents:
DEDICATION, COMMITMENT & SPIRITUALITY: SEISHIN IN SHONEN MANGA –
JAPANESE DREAMS, AMERICAN NIGHTMARES –
SACRED SPACES –
For Kyotoites, even in the midst of our very material existence, there still lives, buried deep — almost hidden — a certain protected space. It's a remnant of a childhood rich with games played among the nooks and crannies of an ancient city, and of the end of summer when, schoolwork utterly forgotten, all rules are sus¬pended long enough for everyone to celebrate the Festival of Jizo-Bon. The spaces occupied by Jizo are being forgotten.
A DAY IN THE LIFE OF EAST NINTH STREET –
THE CICADA PEOPLE –
BORNEO MUD: DISPATCHES FROM THE WORLD'S TOUGHEST RACE –
INTERVIEW
20 YEARS OF TERROR: INDONESIA IN TIMOR –
You do not interview Max Stahl about East Timor, you ignite him. And then back off, praying your microphone does not melt away in the incandescent spew of history, infamy, and grieving rage that follows. Despite decades of Indonesian genocide against the Timorese people, it was Stahl's irrefutable footage of the 1991 massacre of peaceful demonstrators at the Santa Cruz cemetery that finally thrust the "Timor problem" into Western public consciousness.
FICTION
DOUBLE-DECKER NIGHT –
RAMBLE
THE WALKING HEAD –
KOBE QUAKE NOTES –
Reviews:
The Wages of Guilt: Memories of War in Germany and Japan, by Ian Buruma — Eric Gower

Call Me By My True Name; For a Future to be Possible: Commentaries on the Five Wonderful Precepts; Love in Action: Writings on Nonviolent Social Change; Interbeing: Fourteen Guidelines for Engaged Buddhism, by Thich Nat Hanh — Morgan Gibson

The Jew in the Lotus, by Roger Kamenetz — Lauren W. Deutsch