Collector's Item
shipping & included
KJ 29 WORD
published June 23, 1995
162 (bookzine) pages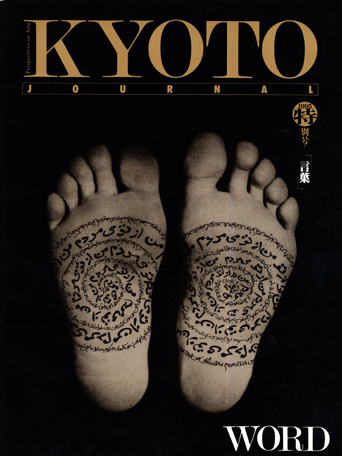 Cover Image by Shirin Neshat
Which came first: the ability to speak, or the need to say something? What came first, of course, was silence.
For the very first word ever spoken, nearly a million years ago, the preparations had been profound. Over eons, the vocal apparatus had moved up in the throat; and the jaw, oral cavity, muscles and tissue had evolved, to enable the fine nuances we now use to differentiate so glibly among all the things we've come to name from silence.
For far the greater part of human history, words were only spoken; most of our ancestors never saw one. Writing came only yesterday, the printing press an hour ago, word processing just now. But today we see words everywhere: streets lined with them, books full of them, cyberspace alive with them, all the outgrowth of that awesomely simple brocade of silence and sound that has woven into languages, litanies, literatures, politics, semiotics, soap operas, propaganda — the list is as endless as each living word, nourished by the infinite.
It is this mystic interweaving that we illuminate in poetry, that we savor in conversation, that we honor in rhetoric, that solaces us in sorrow and that deepens us in love, but that can leave us spellbound in dogma, if we remain asleep to meaning; this is why we must nurture words, fathom them and honor them, but above all truly hear and speak them; we must bear words in mind as in breath, lest we lose their power, in a modern world where the words we hear and see, like the lives we live, seem less and less informed by silence.
Contents:
OUT OF THE SILENCE: WORD-ROOTS, & LANGUAGE TREES –
KOTOTAMA: THE LANGUAGE OF THE GODS –
ZEN KOANS –
MORE POWERFUL THAN THE ATOMIC BOMB? or "ELEPHANT IS A LONG NOSE." –
GATEWORDS –
Entryways are fundamental to Japanese space. The concepts of threshold and passage are inextricably woven into the overall fabric of the Japanese landscape. These concepts are manifested in the landscape because they are also fundamental to the structure of Japanese society in general. Physical entries reflect, and reinforce, deeply ingrained social patterns of the Japanese people.
WAYANG KULIT –
WORDS FOR THE 24 SEASONS OF JAPAN –
RAIN –
Language goes two ways: it enables us to have a small window onto an independently existing world, but it also shapes — via its very structures and vocabularies — how we see that world. It may be argued that what language does to our seeing of reality is restrictive, narrowing, limiting, and possibly misleading. This is so. "The menu is not the meal." But rather than dismiss language and to vaguely speak of Unsayable Truths, we must turn right back into language. The way to see with language, to be free with it and to find it a vehicle of self-transcending insight, is to know mind and language both extremely well, and to play with their many possibilities without any special attachment. In doing this, a language yields up surprises and angles that amaze us.
BACTERIA, VIRUS & THE PROMISE OF SPLENDOR –
The landscape between here and the horizon is dubious. The dawn of the next century, should it come, promises to be not rosy — but iron-fingered, rusty-iron fisted. Among the affluent nations who have hooked their wagon to the star of progress (more and more consumption) there's unease, resentment, consternation. Among their poets, however, there's frequently a commitment to re-examine every little and large thing, especially anything held to be too sacred for examination.
WHAT IS POETRY? –
ENDLESS BREATH –
POETRY
WINGED WORDS: An interview with Tada Chimako –
THE GATES OF NIGHT: Six songs from the Noh –
THE LEGEND OF WANG XIZHI: CHINA'S CALLIGRAPHY SAGE –
BEYOND ENVELOPES –
BETWEEN WORD AND Kl –
WORD IN LANDSCAPE –
OOLONG –
LOVER'S WISH –
>
DARKNESS IN THE THROAT –
THE POETLESS POEM: DEVIANT ENGLISH & THE PARA-POETIC –
>
CANNED FOREIGN –
THE POWER OF THE NAME –
ROCKING IN RUSSIAN or POWER CHORDS FROM THE UNDERGROUND –
>
I'd been listening to a lot of radio broadcasts and tapes of preachers… gospel preachers and baptist preachers, and TV and radio evangelists and whatnot, for the rhythm of their speech, which is very musical, and also their use of the language, that's very repetitive and very rhythmic, it's almost… it… by the way it breaks up the breaths and the rhythms, it almost encourages a kind of hyperventilation. So it almost by its nature puts the speaker into a kind of trance… Anyway, I found this all very close… very musical… very close to music, it kind of jumps back and forth on the borderline between speech and music, and I thought this was really interesting, so I started imitating it.
WHY TARO CAN'T SURF –
TELEVISION vs. STORYTELLING –
A PROPAGANDA MODEL –
MAD EARTH –
DUCK GETS THE WORD –
LAUNCH OR LUNCH –
THE GREAT GAIRAIGO CONFUSION –
"BURMA" JOINS JAPAN'S NEWSPEAK BLACKLIST –
>
Faith & Logic: Life in a Kyoto Monastery –
The Folk Song Collector –
Spring Snow –
THE ART OF TRANSLATION –
A number of years ago several of our Japanese-related journals carried an ongoing debate on the art or techniques of translating the prose literature of Japan. Some of these manifestos and arguments often degenerated into a subtle, or not so subtle, academic name-calling. But two distinct groups did emerge. One was called, by the other perhaps, the "literalists" (those who strove as much as possible to remain faithful to the original syntax), and the other side was branded as the "libertines" (those who moved away from the original syntax in an attempt, they felt, to present the reading public a work in English that conformed to their own standards of literature).
WORDLESS WORDS& THE EVOLUTION OF POETRY –
Reviews:


Rain, by Lenke Rothman — Rita Ternberg

Midnight Flute: Chinese Poems of Love and Longing, Trans. Sam Hamill — Preston L. Houser

Dream Conversations on Buddhism and Zen, by Muso Kokushi — Morgan Gibson

Opening the Hand of Thought, by Kosho Uchiyama — Morgan Gibson 

A Long Rainy Season (Haiku & Tanka), ed. and trans. by Leza Lowitz, Miyuki Aoyama, and Akemi Tomioka — Patricia Donegan

Writing Systems of the World, by Akira Nakanishi — Ken Rodgers

Wabi-Sabi for Artists, Designers, Poets and Philosophers, by Leonard Koren — Lauren W. Deutsch