collector's issue
shipping & handling included
KJ 33
published January 1, 1997
170 pages (bookzine)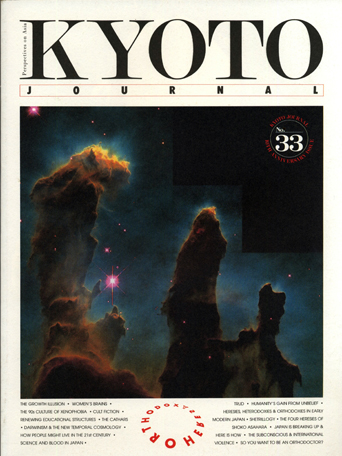 Cover Image: The Three Pillars of Creation: The Eagle Nebula in M 16
The Hubble Space Telescope
November 2nd, 1995. Courtesy of NASA
It's no news that human life is governed primarily by how humans think. De la Rochefoucauld, 18th-century master-polisher of the double-edged rapier of wit, declared: "There are few sensible people, we find, other than those who share our opinions." New ideas permit transformation. But sensible ideas and even heresies, shared widely enough, also rust into proverbialism, and lapse into orthodoxy.
One's mental landscape is, however intimately inhabited, a shared phenomenon. Every society lives by orthodox belief. Whether tribal or nationalist, caballist or cannibalist, socialist or capitalist, fascist or communitarian, foraging/agricultural or industrialized/post-industrialized — in every case, individual freedom of choice has come down to a choice of orthodoxies, albeit in spectacular diversity according to locally dominant ideas. Witness today's smorgasbord of new and old religions, indigenous revival and rage, Third World American Dreams, fundamentalism revisited, right-wing stridency, and business everywhere as usual. Welcome to world culture. You get what you pay for.
As fish schooling in rivers/oceans of orthodoxy, can we see the water we inhabit? If orthodoxy is proverbial and written in stone, heresy is the lightning-flash of fresh graffiti, punctuated with a question-mark. The heretic is the doubter, the dissenter, the conscientious objector, the revolutionary, the lighted candle. Consider Burma's Aung San Suu Kyi and all those like her, including executed Nigerian writer-activist Ken Saro-Wiwa, speaking the heresy of human rights, challenging authoritarian regimes, corrupt systems, polluters and exploiters. Slowly, throughout history, the heresy of constructive criticism has raised the stakes, and expanded the horizon of accepted ideas. And has been the object of merciless suppression.
Contents:
SCRATCHING CATHARS –
WOMEN'S BRAINS –
HUMANITY'S GAIN FROM UNBELIEF –
SO YOU WANT TO BE AN ORTHODOCTOR? –
CULT FICTION –
DARWINISM & THE NEW TEMPORAL COSMOLOGY–
THE GROWTH ILLUSION –
DOING THE POSSIBLE –
RENEWING EDUCATIONAL STRUCTURES –
CHRISTOPHER, GEORGE ET AL–
The '90s CULTURE OF XENOPHOBIA–
JAPAN IS BREAKING UP & THIS IS HOW –
THE SUBCONCIOUS & INTERNATIONAL VIOLENCE–
SHETRILLOGY: MAD/UP WORDS & WOM WORDS ORTHODOXY –
ASPECTS OF HERESY &–
FENCING THE SKY –
HERESY IN PSYCHOLOGY: THE NEW PARADIGM –
CONVERSATION WITH THE LUDDITE –
HARMONIZING CONFUCIUS AND LAO-TZU –
NARCISSISM REVISITED –
TATTOO: THE SKIN DEEP HERESY –
COVER STORIES –
HOW PEOPLE MIGHT LIVE IN THE 21st CENTURY –
A COMMON PRAYER –
TRUD –
TRANSFUSIONS OF MODERNITY: Science and Blood in Japan –
HARUMAGADON –
UNDOING THE TIES THAT BIND –
DIVINE WINDS: THE FOUR HERESIES OF SHOKO ASAHARA –
KILL THE BUDDHA, SAVE THE CAT –
EXCERPTS FROM THE LANGDON CHRONICLES –
KYOTO HATES KYOTO –
THE LAST OF THE SMOKERS —
Reviews:


Coming to Our Senses: Body & Spirit in the Secret History of the West, by Morris Berman — Dayle M. Bethel

Mutant Message from Down Underby Marlo Morgan — Robert Eggington 

Dogen's Pure Standards for the Zen Community, a translation of the Eihei Shingi, trans. Taigen Dan Leighten and Shohaku Okumura — Gregory Dunne