shipping & handling included
KJ 35
published July 1, 1997
82 pages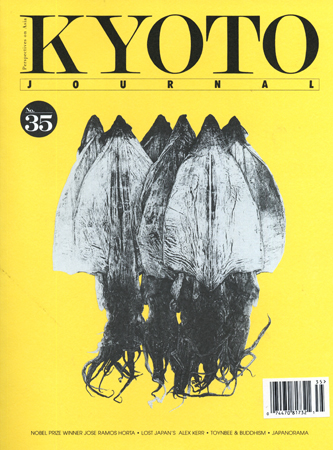 Cover Image by Ann Henderson
The question that Toynbee had posed himself, and which occupied his mind throughout his life, was why and how civilized societies have come into existence. Like the Buddha, Toynbee believed that it was life, not death, that had to be explained. Indeed death at all levels, including that of social systems, was merely a reversion back to the more natural state of unity, perfection and inactivity. As both Greek and Indian sages had pointed out for centuries, the greatest punishment is to be born and the most precious gift is to return from whence we have come. Kalidasa, the Sanskrit poet, once observed that if we gather a few drops of water from the sea and place them in a pot, surely that is what is unusual. And when the pot breaks, and the water returns to its source, what could be more normal than that? — Philip Grant, Toynbee & Buddhism
Japan's culture, if you don't come at it with any preconception, if you come at it completely fresh, if you land off the boat from America you will fall in love. It has an absolutely invincible beauty of its own. But it's the older-generation Japanese who associate their traditional culture with being cold and poor and dirty and old-fashioned and all of that stuff. They can't just see their culture for what it is, they associate it with those things and therefore they have very mixed feelings. They can't wait to get rid of it and be free of it and so on. The younger generation, they are foreigners like us. They might as well be Americans off the boat and that means that they can more easily fall in love with it. And I have young Japanese come out and visit me at my house and they love it. They're perfectly happy out there in a way that their parents, who actually know more about these things, could never be. —Alex Kerr, Concretizing the Japanese Dream
Contents:
INTERVIEWS
ILLUMINATING ATROCITIES: AN INTERVIEW WITH NOBEL PRIZE WINNER, JOSE RAMOS HORTA –
In '92, I had a brief conversation with a tiny little Japanese diplomat in Geneva. I'm not exactly the tallest person in the world but he managed to be even shorter than me. Very lively, energetic. We discussed the behavior of the Indonesian army in East Timor and in Indonesia, and I told him they have a culture of violence. He said, "Yes, we taught them. The Japanese Imperial Army taught them." He said it in a critical way. He didn't seem to have much respect for the Indonesian army or its practices.
LIVING IN THE SHADOW OF BEIJING: AN INTERVIEW WITH A CHINESE DISSIDENT –
My country is the country of all the people of China. It is not only the country of the Communist Party of China. The people who have the power to control a country must get their power from the people of the country. It is wrong when they impose their own power on the people. And, in the same way, all the people must have the right to see what is happening in the country freely and openly and to express their ideas and goals to their leaders.
SPEAKING WITH THE CADENCE OF THE DRUM: AN INTERVIEW WITH L.K.J. –
When I began writing poetry I didn't know anything about it. I just felt that I had something to say, and that poetry was a vehicle through which I could say it. What I basically wanted to communicate were some things about the experiences of blacks in Britain; about our struggles against racism, against marginalization, and our struggles for social equality and justice. Over the years I've had to learn my craft, and I'm still serving my apprenticeship as a poet…
CONCRETIZING THE JAPANESE DREAM: AN INTERVIEW WITH ALEX KERR –
So, what has happened is this: the bureaucracy, the all-powerful people who run this country, only know Japan. If you go to Singapore, which is also a bureaucracy, those people have studied at Oxford, they've traveled all over the world. They know how the world works, but Japan has its own ways and only those ways and that's one of the reasons why I wouldn't say they've become Western or Eastern, they've just become more Japanese. In the modern age when we're all trying to transcend being just American, or just something or other, that's a problem. Everybody else is somehow transcending, growing beyond what they used to be. Japan is still stuck in only what they used to be.
ISAHAYA BAY "RECLAMATION": Deliberate State-Sponsored Ecocide –
Japan's largest tidal flat wetland, at Isahaya Bay, is dying, cut off from the sea on April 14th 1997 by a Ministry of Agriculture Forestry & Fisheries land reclamation project. A number of endemic species will be completely wiped out by the project. Migratory shorebirds flying immense journeys between Australia and Siberia will lose their largest feeding & resting site in Japan. All the mudflat-dwelling creatures—crabs, mudskippers (fish which "walk" on their fins), shellfish and other invertebrates, will die within a few weeks if two sluice gates in the sea¬wall are not opened to let tides flow in and out.
JAPANORAMA –
TOYNBEE & BUDDHISM –
Everywhere he traveled seemed to furnish him with further evidence that the great cultural traditions of the Asian civilizations of the past had ceased to provide the ruling elites of the Middle East, India and China with any guidance on how to proceed into an ever darkening future. Imitation of the West and technological borrowing for industry and the military seemed everywhere the rage. Only in Japan did he sense an added dimension to this repetitive pattern. After spending a night in a mountain monastery surrounded by pines and then witnessing the glacial majesty of a Noh performance, he wrote to his father-in-law, Gilbert Murray, the respected classicist: "I can't exactly explain what I mean by traditional Japanese culture being classical, but you feel it very strongly when you go into the temples. They feel like Greek temples, retranslated into wood."
POETRY
TRAVELS –
FICTION
JOSHI DIARY –
Dog Paddling the Kamo River –
RAMBLE
The Days of the Dead –
Reviews:


Haiga: Takebe Socho and the Haiku-Painting Tradition, by Stephen Addis & Fumiko Y. Ymamoto — William Corr

Zen Words for the Heart: Hakuin's Commentary on the Heart Sutra, Trans. by Norman Waddell — Preston L. Houser

The World of Rozome: Wax-Resist Textiles of Japan, by Betsy Stirling Benjamin — Judith Clancy

Sado: Japan's Island in Exile, by Angus Waycott — William Corr

Unit 733 Testimony, by Hal Gold— William Corr