Collector's Item
Shipping & handling included
KJ 37 INAKA
published June 4, 1998
170 pages (Bookzine)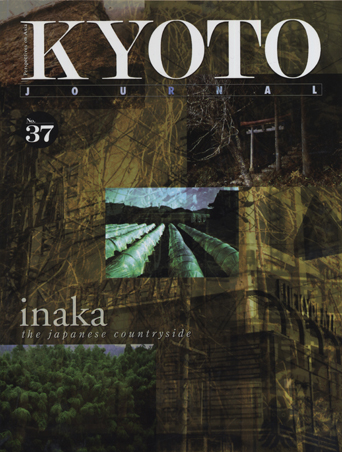 Cover Image by Lehan Ramsey and Yasukawa Hiroshi
The Japanese archipelago comprises roughly 7,000 islands, stretching over 3,000 kilometers, and over 60% of its land surface consists of mountains and volcanoes. Farming land accounts for only 13% of the total area, squeezing human habitation into a mere 4.5%. Over 80% of Japan's population now lives in cities, and more than 60% of Japan's food is imported. So …who needs the inaka anyway, these days?
"Thank god for all the city folk, who leave the countryside to us" is Robert Brady's view. Nakashima Tadashi says "Down With Cities!" and Meredith McKinney tells city-dwelling tourists where to go. Tadayoshi Himeda, an ethnographer film-maker talks about his 40 years shooting documentaries on local festivals, while Shigeo Iwamoto talks about his lifelong pursuit, shooting bears. Taishi Hirokawa puts famous fashion-designer costumes on country folks and shoots them "Sonomama". Rollie Innes-Taylor gives his perspective, from a sea-kayak circumnavigating the archipelago; Isabella Bird takes tempests, landslides and floods in her stride, travelling "unbeaten tracks" to Yezo in 1878.
Hirokawa Taishi photographs country landscapes dotted with nuclear power plants; Gavan McCormack reports on the Nakaumi dam scheme, which is replacing some of Japan's richest waters with expensive and superfluous farmland, Toshio Sibata rambles the wilds photodocumenting Japan's best rural concrete for the Japan Society of Engineers, Joshua Rome slams agri-chemicals, and David Kubiak slams COP3. Tim Groves gets local election fever; Bruce Allen soliloquizes on patriotism (finding Maine and Hokkaido aren't that far apart). Nanao Sakaki discovers the National Butterfly of Japan, Royall Tyler hangs out with Shining Prince Genji in pre-quake, pre-Kobe Akashi; guest co-editor Jeffrey Irish introduces people he got to know working as a fisherman on an island off Kyushu, including Dr Kenjiro Setoue, whose journal extracts are included.
Sally McLaren finds out about foreign brides for present-day back-country farmers; Carole Koda records family reminiscences about mail-order Japanese brides and Japanese farming life in Southern California since the early 1900s; Hosui Fukuda reinvigorates an almost lost form of country ceramics; Stephen Kohler visits lost and restored villages….and Pico Iyer self-administers the Haiti Test, looking for the Global Village. Other articles and photo-essays explore country food, festivals, folksongs, and fishing…
Contents:
Landscape of Memory –
'Inaka' is formed of two characters for 'field' and 'lodging/ which suggests days spent beneath the sky and nights around the hearth. It offers the specific image of a landscape in which humans take part, by working 'fields' and building 'shelter,' thereby instituting culture. The English term 'countryside' has come to carry a heartwarming gloss, to connote a sanctuary 'aside' from the urban jungle. The Japanese word is less explicitly nostalgic; it emphasizes a rhythm of manual work and repose.
The Cycle of the Year –
Capitalized are the twenty-four seasons of traditional Japan. These are so arcane that few modern Japanese now recognize them and they pass without notice, but they were of paramount importance to farmers of the past, and influenced ceremonies, prayers and agricultural decisions. For good or bad fortune to manifest itself on one of these days would have catalyzed whole chain reactions of psychology.
"The Climate Disappointed Me…" –
This evening, here as in thousands of other villages, the men came home from their work, enjoyed their children, carried them about, watched their games, twisted straw ropes, made straw sandals, split bamboo, wove straw raincoats, and spent the time universally in those little economical ingenuities and skillful adaptations which our people (the worse for them) practise perhaps less than any other.
Down in the Country, Out in the Bush –
A lord down in the country was bound to be lonely, and there she was, the shepherdess or sea girl, out in the open, looking tasty. In the European songs the lord may rape her or she may talk him out of it, but either way, he never sees her again. In Japan (in literature), she wins his respect, and he may even marry her. This happens with the Akashi girl and Genji.
The Old and the Novel –
As a result of warlord Toyotomi Hideyoshi's invasion of the Korean peninsula (known as the Bunroku campaign) of 1582-1598, peasants and craftsmen were deported to Japan. Sources speak of entire villages being forced to leave their home country. The number of people is often estimated to have been 100,000, and among them were whole clans of potters.
Hands –
Tales of a Country Doctor –
I remember when I used to call on Grandpa Yoshihide at home, he always sat beside the red hot coals of his sunken hearth and, telling me to warm myself, poured me hot tea. The sandals, that sunken hearth's fire, Grandfather Yoshihide, all like the beautiful sun sinking into the sea west of Koshiki, may be the last rays of light cast by the Meiji Era.
Thank God for All the City Folk –
Today I cranked the first Frank Zappa ever played on Mt. Horai. Of this I am certain. The aural orgies of Absolutely Free wafted among the cedars, inspired the frogs as they waited for evening and their big chance to call any vegetable. The ferns nodded knowingly to the rhythms of Plastic People.
'Matsuri' is the noun form of matsuwaru, a verb that means to interface or to have connection with something, a person or invisible elements of the nat¬ural world. The word especially has a nuance that places importance on a psychological connection; creating a psychological tie, even though the connection is originally gained through a physical action.
The Real Japan –
Unfortunately, the Midas rule of travel is that whatever a tourist touches turns to tourist gold, and the Real is always in the act of disappearing just as your delighted eye is about to fall upon it. Japan is a particularly frustrating place for travellers in this matter. It seems more determined than most places to only show you what it believes you ought to want to see. And if you reject the packaged version, slip down a side street and look around, you will probably come out again shaking your head at the tangle of overhead wires, the shoddy cramped tasteless houses and infinite sea of unrelieved concrete that is, in fact, real Japan.
Abandoned… & Rescued? –
The once-common sight of thatched roof farm¬houses has become so rare that these hamlets have become a major destination for the lowest level of tourism. Hordes pour out of 'kanko' buses (diesel engines left running for air-conditioning or heating for the duration of their stay in the parking lot), and throng the bucolic paths between rice paddies from house to house. Some tourists seem to think that they are in a Disney-like theme park, walking through vegetable gardens, picking flowers, and stepping right into kitchens to check what's cooking.
Nakaumi–
It is enough to read the accounts given by local fishermen and residents, remembering the teeming abundance of the lake they once knew, to appreciate the obsessive and irrational quality of the bureaucratic commitment to drain and reclaim, and to understand some of the growing anger of the local communities.
Inaka: A Portfolio of Images –
Sister Matsumi –
I call her Sister Matsumi, to hear her rusty laugh and to tell her that I like her, though "sister" is a word I should only use to address women who are just a few years older than I am, not an eighty-five-year-old widow. When I refer to "Sister Matsumi," others in the village wonder who it is I am talking about until I say "You know, my neighbor, one of the widows who hang out at the Moi Fish Shop, the woman with a back more bent than any other."
Farming Life –
In Japan thirty years ago, a farmer could make ends meet on one hectare of land. Now, even though production and prices are both higher, that same farmer must work a minimum of two hectares to make the same profit. This is due almost totally to over-mechanization and excessive use of chemicals, and the equipment necessary to apply them.
Homegrown –
Carole Koda is a third generation Japanese-American whose maternal grandparents emigrated from Hiroshima in the late 1800s. The family (thirteen children born in twenty-six years!) farmed in the Delta region and the Great Central Valley of California until they were forced into camps in the spring of 1942 after the United States declared war on Japan. Although the family was scattered after the war, several of the brothers and sisters returned to farm again in California.
Work Songs –
The following are excerpts from a net-raising song sung until recently by fishermen on the Lower Koshiki Island, Kagoshima Prefecture. The verses were sung back and forth between boats or among the crew of a single boat, providing rhythm for the hand-over-hand lifting of the net, help¬ing to take the fishermen's minds off their strenuous work. With the arrival of mechanized rollers and winches, this and similar songs have become obsolete.
There are no wild blueberries here in Hokkaido — much as it seems there should be. But I'll call the place I'm going to tell you about Blueberry Pond, so that you'll know this isn't its real name, and so you won't go looking for it on a map. The real name has a similar ring, but I won't say it here. This is not only because it sometimes hurts such places to advertise them and make them known. For in fact they need to be looked on and visited at times. It's more because these places need to be allowed lives of their own.
Before I had left the airport (where my flight, like all others, was greeted by a four-man troubadour band playing on the tarmac), blood was streaming from my hands, my possessions were (I gathered) in someone else's hands and the car that was meant to take me into town was getting violently rear-ended. It was a salutary, and not unwelcome, reminder of what I call the Haiti Test, the administering of which is the main reason I travel these days: to set topics of the dinner-tables where I and my friends chatter — the rise of Microsoft and the hegemony of America, the "borderless economy" and the growth of multi-culturalism — against the simple, stubborn realities of a world that does not often think of itself as small.
The Sea –
Revitalization –
One remarkable experiment was made in 1988 to empower local communities. Under the Takeshita government, all 3,268 local governing villages and towns in the country were given a "one-off" grant of 100 million yen ($800,000), which they were to spend in whatever way they thought fit, toward invigorating their communities. It was the first, and only, experiment in highly centralized Japan in leaving things entirely to unfettered local discretion.
Election Fever –
Tools –
The brush resembled a fish with a bushy tail. It fit¬ted snugly in the 87-year-old hand of Giichi Hayashi. The handle, once a square piece of wood, had become an organic curve, aligning perfectly with the slope of Giichi's right thumb. The old man dipped the brush in cassava starch glue, which had coated his hands so many times that his fingernails resembled old amber. "This brush is fairly new," Giichii said. "We've used it for only sixteen years. The one we had before was better. We used it for two decades. But then, one cold winter night, a rat came into our attic and devoured the bristles."
Mother's Garden –
Country Food –
Mino –
Local Shrine –
Fear of the Farmlands –
Bear Hunter –
Tricksters –
Lake Fisherman –
Brides to Yamagata –
Forester –
Rice Calendar –
More Rice –
Persimmon Vinegar –
Down with the Cities! –
We can see that, in the entire country of Japan there is not a single place that has not been urbanized, not a single place that deserves to be called "country." Yet, it is not going too far to say that the chilling breath of this devil the city can be felt now in the remotest corners of the villages, and that the country has been com¬pletely occupied by the city, or shall we say, the commercialism of the city.
PHILOSOPHIZING IN THE VOID
Homeless in the Country of Contemplation –
Reviews:


Undesigning the Bath, by Leonard Koren — William Corr

Mononokehime, by Miyazai Hayao — Rick Davis

The Broken Bridge: Fiction from Expatriates in Literary Japan, Ed. Suzanne Kamata — William Corr

Quiet Elegance, Japan Through the Eyes of Nine American Artists, by Michael Verne & Betsy Franco — Peter Ujikaki
Looking for the Lost: Journeys Through a Vanishing Japan, by Alan Booth — William Corr

Exploring Kyoto: On Foot in the Ancient Capital, by Judith Clancy — John Ashburne

The Bon Religion of Tibet: The Iconography of a Living Tradition, by Peter Kvaerne — Preston L. Houser

The Mandala: Sacred Circle in Tibetan Buddhism, by Martin Brauen — Preston L. Houser

Shadows in the Forests, by Peter Dauvergne — Ken Rodgers