KJ 38
Transforming Conflict
published November 1, 1998
86 pages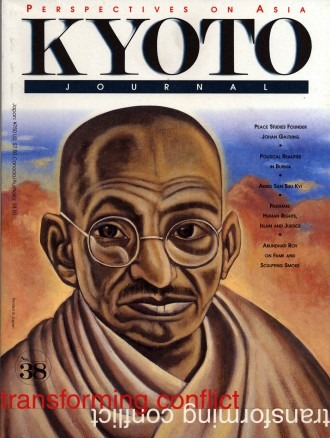 TRANSFORMING CONFLICT
Cover image by Walderedo de Oliviera
War is big business. So is political repression, injustice, and all the other machinery of inequality and exploitation. 'Globalization' is unifying only the haves against the have-nots, and widening that gap daily. Can peace prevail on earth? Defenders of human rights (and environmental campaigners) around the world uphold Mahatma Gandhi's moral commitment to non-violence, and Mikhail Gorbachev backs an international campaign for a worldwide week without war, to show the way for the new millennium. Utopia in our time? Humanity's common future depends on the creative transformation of conflict.
Kyoto artist Walderedo de Oliveiro's cover image of Mahatma Gandhi speaks of determined peaceful resolution of human rights problems around the world; inside, the serene 6th-century Miroku Bosatsu (of Kyoto's Koryuji Temple) contemplates the happiness of all beings. An in-depth interview by Philip Grant with the founder of Peace Studies, Johan Galtung, explores his fifty years of conflict resolution and offers new thinking on achieving peaceful resolutions. Debbie Stothard of ALTSEAN-BURMA interviews Daw Aung San Suu Kyi on dialogue and the future of Burma. In "Voices from Pakistan," Asma Jenhangir talks with Kathy Arlyn Sokol about human rights, and Imran Khan gives an Islamic perspective on social justice. Author Arundhati Roy (of best-selling The God of Small Things) talks to Kathy Arlyn Sokol about fame, writing and India; a photo-essay by Robert Kowalczyk explores light and shadow in Cambodia; Rick Tanaka discusses separatism in Okinawa; Lesley Keane and Dennis Bernstein investigate disturbing Burma-Singapore connections; reviews by Preston Houser examine the growing influence of Buddhism in the West, and manifestations of Bodhisattvas around us in contemporary life; Robert Brady discourses on true belonging.
Contents:
The Burma Singapore Axis: Globalizing the Heroin Trade –
Journalists, Writers and Poets in Burma's Gulag –
INTERVIEWS
"Dialogue is Not a Debate
in Which There Are Winners and Losers" –
Voices from Pakistan:
"Democracy is Survival for Women" –
The values of Pakistan, which are rarely portrayed on CNN or the BBC, are values which are very much a part of our everyday lives: our hospitality, our humor, our caring for the elderly, and our caring for one another at the community level.
Voices from Pakistan: "Islam Means Justice, and Justice Means Rights" –
We need to legislate Islamic law that gives us justice, provides rights to the people and protects women and minorities. I believe that if we can do that, we can change the present perception of Islam in the world.
The Education of a Peace Maker –
Instead of tolerance, I like to teach respect and curiosity. If I can generate these two qualities in my students, they might want to find out what others believe in and stand for. This might then prompt them to sit down together and exchange views.
Eclipse of the Heart:
Between Light and Shadow in Cambodia –
World without War –
"Okinawa Will Force Japan to Change" –
literature is about art, about creating something. I've always said that amongst great writers there are selfish writers and generous writers; selfish writers leave you with the memory of their brilliance whereas generous writers leave you with the memory of the world that they have evoked. And to me, writing must be an act of generosity, not an act of self-indulgence or therapy. I'm not going to burden the world with what it did for me or didn't do for me.
PHILOSOPHIZING IN THE VOID
Loy Duels with Duality in Nonduality –
RAMBLE
True Belonging –
Reviews:


How the Swans Came to the Lake: A Narrative History of Buddhism in America, by Rick Fields — Preston L. Houser

The Construction of Racial Identities in China and Japan, by Frank Dikotter — William Corr

Bodhisattva Archetypes: Classic Buddhist Guide to Awakening and their Modern Expression, by Taigen Daniel Leighton — Preston L. Houser 

The Light Comes Slowly, by Edith Schiffert, sumi illustrations by Kohka Saito — Ebba Story