shipping & handling included
KJ 41
published July 25, 1999
98 pages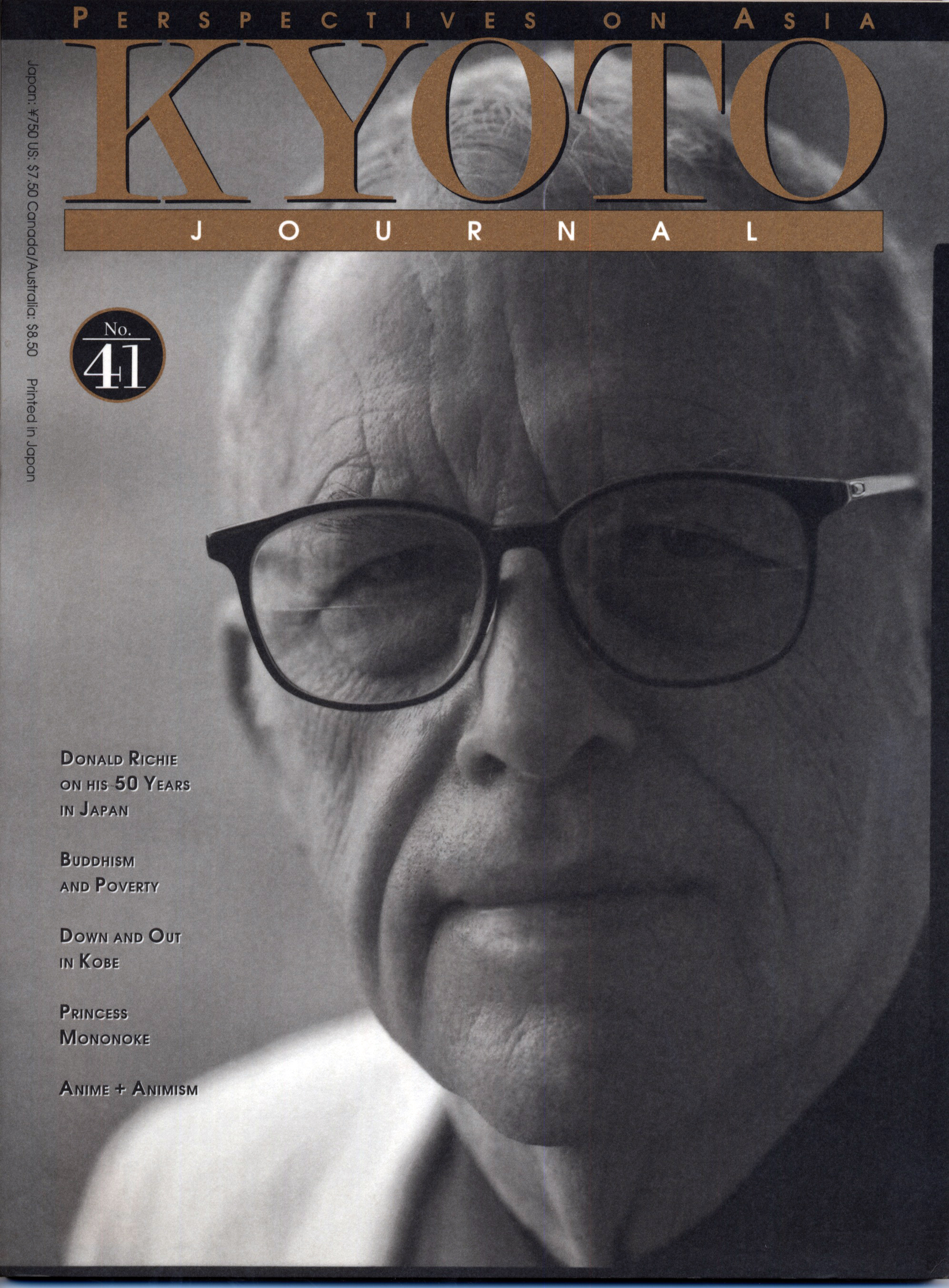 Cover Image: Donald Richie, by Everett Brown
Donald Richie has lived for 50 years in Tokyo, published over 30 books on diverse aspects of Japanese culture, and is particularly respected for his writings on cinema. He was interviewed for this issue by Janet Poccoroba. A special 20-page section centers on auteur director Miyazaki Hayao's animated movie "Mononoke-hime" (released Fall '99 in the US as "Princess Mononoke"), with a translation of a recent panel discussion on "Anime + Animism," between Miyazaki Hayao, eminent Kyoto philosopher Umehara Takeshi, historian Amino Yoshihiko, Buddhist priest Kosaka Seiryu, and cartoonist Makino Seiji. Also included is an excerpt from a new book on Miyazaki by anime authority Helen McCarthy; and Sato Kenji's illuminating essay "More Animated than Life," on why life in Japan imitates animation. Pico Iyer<,strong> meditates on a sumi-e painting by his friend, Kyoto artist Michael Hoffman, in "Michael's Muse." David Loy employs standard Buddhist questions regarding suffering to explore the not-so-theoretical implications of "Buddhism and Poverty." Matthew Marr looks into homelessness in Kobe; Bruce Caron finds more than meets the eye in leisure resort Shima Spain Village; Torii Yusuke<,strong> revisits the early days of jazz in Japan; Robert Brady marvels at the phenomenon of Japanese TV "talento." KJ 41 also features fiction by Samantha Lierens, reviews, letters, a tribute to Allen Ginsberg by Morgan Gibson, and "Encounters," a new section of first-hand experiences of our readers residing in Asia.
Contents:
ENCOUNTERS
China: West Lake Story–
Philippines: Life in the Stuck Lane –
INTERVIEW
Freedom within Bounds: Donald Richie on his half century in Japan –
I think you can only get freedom within bounds. I don't know who said that — Sartre?… but I believe it. You set your own boundaries and then within those you find freedom. If somebody gives you freedom, it becomes a dreadful freedom and it becomes chaos and you don't know what to do. If you can structure life to your satisfaction, with your own rules which you follow, then you're free.
Michael's Muse –
More Animated than Life: Ethnic bleaching in Japanese anime –
Take a look at the animated characters featured in anime. Physically they are "de-Japanized Japanese" — a blend of Japanese and Caucasian characteristics. Given the setting of Princess Mononoke, it is obvious that the characters are intended to be pure Japanese (or at least Mongoloid), yet their features are nearly identical to the presumably Caucasian characters in Miyazaki's earlier work, Nausicaa of the Valley of the Wind, a fantasy set in a future world suggestive of medieval Europe. In Miyazaki's animation there is no physical distinction between Japanese and Caucasians.
Anime + Animism A round-table discussion of the history and philosophies that shaped the film Princess Mononoke –
Miyazaki: If I were to show the human presence merely as one that makes a ruin of nature, they would become a group of contractors and real estate agents. Rather than show humans in that way, rather than make a movie that punishes and is critical of civilization, I wanted as much as possible to show human goodness. To negatively portray human beings who wanted by some means to live a decent life, whose hard work originated today's energy problems… I do have a misanthropic streak, but it would be wrong to work in that frame of mind.
Princess Mononoke: Dazzling Contradictions –
The problems of modern life are presented as timeless; pain, loss, fear, change and complexity are not 20th century constructs. Miyazaki grounds the metaphysical question of man's relationship with the numinous in the physical struggle between men and gods, and shows us that this too is a 20th century issue. We have limited resources—of time, of energy, of faith. How much of that will we devote to serving a remote idea, and how much of it to making improvements in our own lives and the lives of those we care for? Nature is not endless and its regenerative powers, while seemingly miraculous, are not guaranteed.
Buddhism and Poverty –
The fundamental human problem is not the technological and economic issue of meeting all our material needs — something psychologically as well as environmentally impossible —but the psychological and spiritual need to understand the nature of our own minds. For this reason any formulation of "needs" is as much a value judgement as it is a determination of fact. This is something Buddhism and other religions emphasize but economics does not acknowledge. Economics cannot avoid reducing the good to an amount because it factors all desires into its basic equation of scarcity, which derives from comparing limited means with potentially unlimited wants.
RAMBLE
Prime Time –
Down and Out in Kobe –
Unlike the homeless of the U.S., who have access to a continuum of temporary housing and supportive services, the homeless of Japan are left to little more than their wit, bodies and determination.
Shima Spain Village –
The park was planned during the economic boom, and opened in 1994, hoping to attract several million tourists a year. An average stay with train, hotel and entrance fees would cost up to U.S.$1,000 per person for a long weekend, depending on the exchange rate. A family of four could save big money by simply catching a 747 to Barcelona. But Barcelona is now in Japan: the sashimi is good, the bath is hot, and everyone speaks the same language you do. It's just like being at home.
From Syncopation to Occupation
–
During the 1920s and '30s, Shanghai was the most accessible place for Japanese to study the Euro-American way of life. For musicians who could ride on steamships (whether as bandsmen or passengers), Shanghai now offered a Japanese enclave where they could find refuge and a familiar audience. Some talented and lucky players could even cross the Garden Bridge and get into the dance halls in the English-American and French settlements to join more prestigious bands.
FICTION
A Bee in Their Bonnets –
?" "Hello, hello, is anyone listening to me?" We laughed nervously. "Why do you like karaoke, Keiko?" "Why do you like Print Club, Miwako?" "Come on girls, use your brains!" No one had ever spoken to us like that before. "Have an opinion!" he pestered. Once when Ai said, "How do I have an opinion?" he got up and started banging his head on the wall, wild animal teacher. We were scared that old Kanekiyo would come in and send him away.
PHILOSOPHIZING IN THE VOID
Guru Death Embraces Allen Ginsberg (1926-97) –
Reviews:


Kings With Straw Mats, a film by Ira Cohen — John Brandi

Traces of Dreams: Landscape, Cultural Memory, and the Poetry of Basho, by Haruo Shirane — Morgan Pitelka

Wandering Ghost: The Odyssey of Lafcadio Hearn, by Thomas Cott — Marc P. Keane

Ravine and Other Stories, by Yoshikichi Furui, trans Meredith McKinney — David Zmijewskie

Mirror of Modernity, Ed. Stephen Vlastos — Bruce Caron