shipping & handling included
KJ 44
published July 1, 2000
106 pages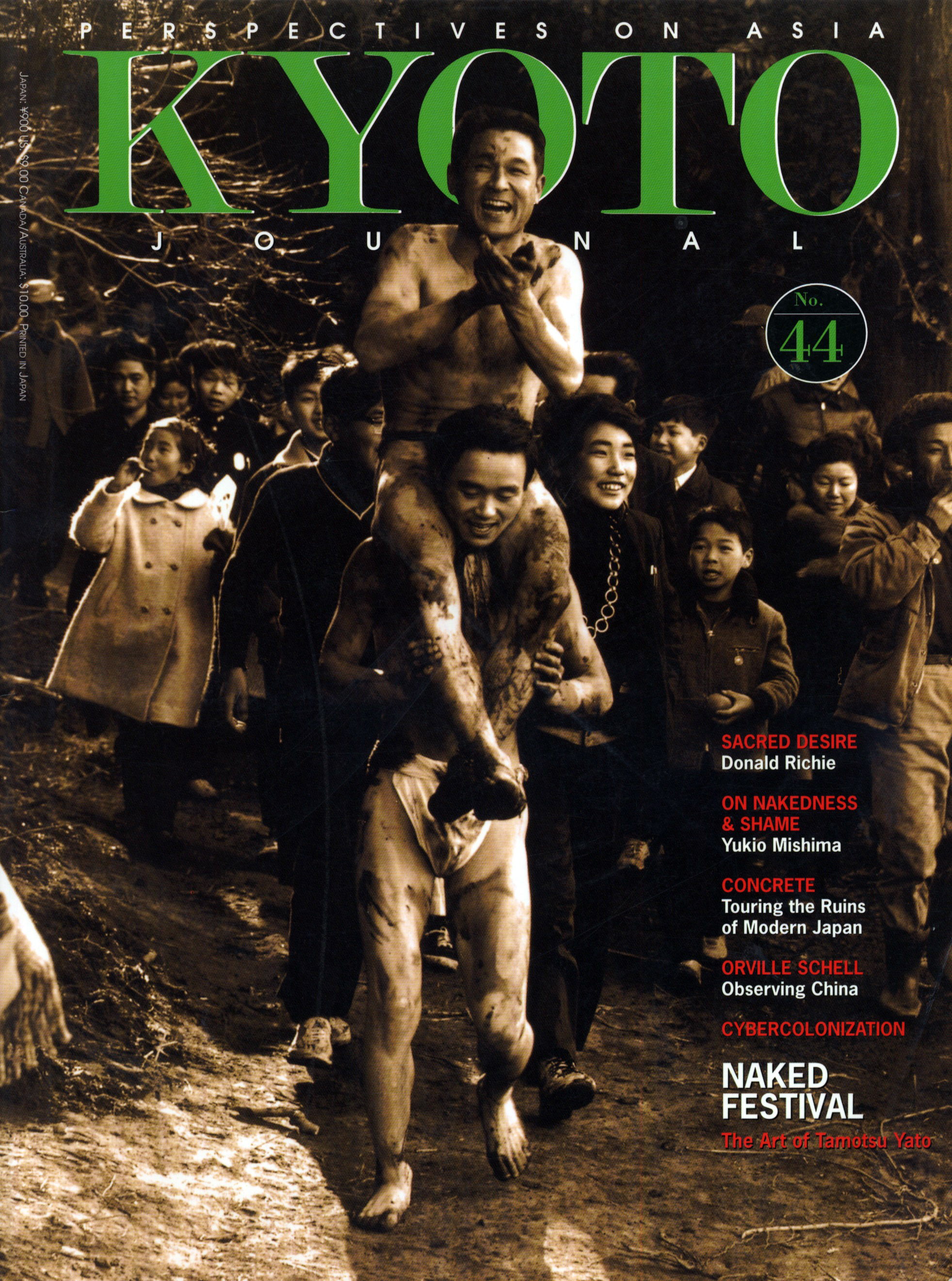 Cover Image by Tamotsu Yato

Kyoto Journal 44 features an outstanding selection of transcendent photographs of the lost world of Japan's sacred Shinto "Naked Festivals" by the late Tamotsu Yato, many previously unpublished. Supporting commentaries by Yukio Mishima and Donald Richie provide thoughtful personal perspectives from both the 1960s and the present – just when national acknowledgement of Japan's ancient gods is again politically contentious. American China expert Orville Schell reflects on his 30 years of reading "between the lies" on China, and Morgan Gibson recalls Elizabeth Vining, Quaker tutor to Japan's former Crown Prince, now Emperor. Contemporary ruins along Shikoku's 88-temple pilgrimage are observed through a post-modern lens by Sean O'Toole, and Robert Brady lays cyberclaim to anything that can be spelled in "Colonization.com." Traditional Japanese views of the constellation Orion are explored by Dr Steven Renshaw and Saori Ihara, while David Jenkins employs medieval Japanese poetry to track the Kaiser's Navy to the stars, and finds moon-dust in Africa. In Kyoto, Australian poet Harold Stewart attains perfect faith. Plus fiction by Suzanne Kamata, reviews of books and music, poetry from Korea, Encounters in India, Korea and Japan, and Voices, an eclectic collection of relevant quotes.
Contents:
Japan: Keeper of the Mountain –
EXTRACT
India: In the Aftermath of a Cyclone –
EXTRACT
Japan: Gone Camping –
EXTRACT
Korea: Obong-san –
EXTRACT
I got into the colonization business back when I naively checked a few possible domain names for a Japan-oriented website I was thinking of setting up, and found all my choic¬es available, so what was the hurry, then when I checked again three weeks later all "my" names had been registered. That's when I discovered the hordes of cybermarauders that were ravaging the cyberterritory all about me, and had been for some time.
The Archaeology of Rural Japan: Touring Shikoku's modern ruins –
Whereas once the pilgrim's progress may have been a time-consuming and slightly dangerous enterprise, it is now an easy journey along hyper-accelerated roads which now entirely encircle and bisect Shikoku's sacred moun¬tains. Just as the wandering Shikoku pilgrim seeks to close the loop, so too do local construction crews lin¬ing every road upon the small island. The business plan for Shikoku's construction industry is contained in the guiding precepts of a thousand-year-old ritual.
INTERVIEWS
Reading Between the Lies: Orville Schell on China –
One of the most lamentable things about the way the Chinese Communist revolution ended is that it messed up China's sense of history so grievously that people can't even allow themselves to think about it because they have no way to make sense of it historically in an intelligent manner. The only antidote to that feeling of history having been poisoned is amne¬sia. Since it can't be set straight, or sometimes even discussed, it's better not to think about it. And this is very strange for a soci¬ety that had for centuries so esteemed history as the great tutor.
NAKED FESTIVAL: THE ART OF TAMOTSU YATO
Sacred Desire: Notes on Tamotsu Yato, photographer –
Yato's extraordinary collection of photographs is, among other things, a record of Shinto events which puts social nudity in its proper place — as an integral part of that giving of self which is the act of faith. The sacredotal (to say nothing of the anthropological) value of the collection is enormous. There has never been anything like it and it is unlikely that there will again be — the balance between the photographer and his subject was that precise.
On Nakedness and Shame –
Here we find no miserable Japanese husbands eating suppers with their families beside an electric refrigerator while watching television. In these photographs these same Japanese have cast off the yokes of modern industrial society. Blue-collar workers from huge factories, bank tellers, con¬struction workers — they have bravely cast aside all clothing in favor of the ancient loincloth, they have reclaimed their right to be living males, they have regained joy, fierceness, laughter, and all the primitive attributes of man.
Naked Festival –
EXTRACT
Tadashi Nakajima: Encountering the god of darkness –
And now a sound was growing. Jostled, hands before me, palms out, fearing collision, fearing falling, I heard it as a growling coming nearer as we raced along. But I was wrong — it was the festival chant, heard when pulling the great wheeled float or shouldering the omikoshi, but now — no longer redolent of effort — it was pure sound, like surf, like wind in the pines. Yu-sha, yu-sha, yu-sha — repeated endlessly, a chain of sound on which we moved, our steps running to its beat.
These submerged hulks are among the very few sources of steel made in the days before the nuclear age added so much unnatural radiation to the air that is used in the steel smelting process. This kind of uncontaminated steel is needed in spacecraft to protect those instru¬ments that are themselves designed to measure minute amounts of inter-stellar radiation. This is therefore where the American space agency NASA must buy much of its steel, which almost certainly means that bits of the Kaiser's navy have now reached the Moon.
Views of Orion in Japanese Folklore: Diversity in Japan's night sky –
In Japan, prominent star groups that appear in the East at sunset and set with the dawn are often called Yowatashi Boshi or "passing the night stars." The constellation of Orion, easily recognized by its three belt stars or Mitsu Boshi, has played a major role in tradi-tional Japanese life and in Japan's cultural heritage of star lore.
POETRY
The Spiritual Journey of Harold Stewart
A poet inspired by Kyoto –
Poets continue to be attracted to Kyoto as a place of pilgrimage. Gary Snyder drew inspiration from Kyoto. So too have Cid Corman and Edith Shiffert, both making it a permanent home and source of solace. Australian-born Buddhist poet Harold Stewart lived in Kyoto for twenty-nine years, and in 1995 his ashes were scattered near Shonin-in temple on Higashiyama, the city's eastern mountain range, con¬firming that he considered Kyoto his home.
FICTION
Hawaiian Hips –
Five years ago, I was the big event in this island town at the edge of the Inland Sea. When I stepped off the ferry with my new husband, Toshiki, tongue-wagging reached an all-time high. Most of the children had never seen a flesh-and-blood foreigner before, though they were familiar with Mariah Carey and Michael Jordan. And the adults, well, some of them had encountered soldiers during the war, but I was the first American to move into the neighborhood with long-term plans.
Heart's Village –
EXTRACT
PHILOSOPHIZING IN THE VOID
Remembering pacifist tutor Elizabeth Vining –
EXTRACT
98.
A Reading: Gathering friends to explore words
–
The central purpose of the gathering is to listen to the detached, neutral, black and white word, free from authorship, ownership, or any other entan¬gling attachments, while it floats effortlessly, independently above the table. To discern its inherent contradictions; its truths and false¬hoods, its emotions and its logic, its pains along with its cures. First to listen. Just listen. And then, if the muse should begin to dance, to discuss its varied interpretations, its cloaked meanings, its endless colors.
Reviews:


Ways of Warriors, Codes of Kings: Lessons in Leadership from the Chinese Classics, Trans. Thomas Cleary — Preston L. Houser

Kani (CD), by Tablatura — Stewart Wachs

The Confusion Era: Art & Culture of Japan During the Allied Occupation, Ed. Mark Saller — Wiliam Corr

My Memories of Life in the Forest, by Marlon Kuelinad and Yasuko Shimizu — Sherry Nakanishi