<!—Please link to Asano, Framing China, Pico Iyer, Rhodes, Rushkoff, Vittachi, all uploaded, and noted below in green, also add thumbnail spread images in folder-->
shipping & handling included
KJ 46 media in asia
published Feb 21, 2001
122 pages
MEDIA IN ASIA
Cover Image by Tiery Le…

Aeons ago, live and on-the-air, the first encoded smoke curled aloft. Now electrons and waves, no less natural if invisible, encircle the globe with stories, music, ads, news and chat. From the outset we must have quibbled over how to shape the smoke, and which tidings to include or to leave out.
We who work in media are among those souls whose perceptions of life are shaped by what we do. In the print and online pages of this special issue of Kyoto Journal, media workers tell inside stories about the realities which they and others construct in and about the countries and cultures of Asia. They scrutinize how Asian media, and Western media involved here, operate to serve or harm the public interest, and how they themselves are swayed or hold their ground. They chart a changing landscape, wherein the top-down paradigm is both propagating and being undermined. They weigh the present, forsee the future, reflect historically on the past. And their criticisms, though often harsh, do not diminish their love for the work they do.
The Internet now empowers us, even on our shoestring budget, to reach out to a dozen countries and find — or be found by — the writers whom you will meet here. What they see as they gaze in the mirror is our reflection just as surely as it is their own.
Contents:
Smoke and Mirrors –
We who work in media are among those souls whose perceptions of life are shaped by what media does. If in the past the media was often likened to a mirror, then today it is a hall of mirrors, multiplying to infinity…
Digital Dream or Digital Dystopia –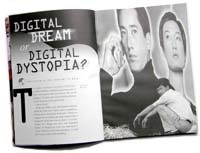 The cheerily optimistic new world of Digitopia celebrates itself as a medium possessing a mix of skills and purpose that can reinvent the world around it. If it does, the result could be a humanity the world has never seen before. Can it deliver?
<!—Already uploaded, the-journal/society/the-inner-teacher/please link here-->
The Inner Teacher
–
It has been calculated that it would cost US $4 billion to educate 500 million Indian children conventionally to basic level — but only half that via the Net…
State Power vs the Net in China —–
In early 1996, Beijing required all Internet users to register with the police and later that year providers, who must be government-run or affiliated, blocked off 100 sites. These included websites of the US government, Hong Kong and Taiwan papers, as well as Voice of America and Radio Free Asia.
<!—Already uploaded, media/media-virus-how-hidden-agendas-hit-their-marks-in-popular-culture/ please link here-->
Media Virus
—–
EXTRACT
Local TV… after the Big Bang –
EXTRACT
In Transit: from Tamagochi to i-mode–
In Japan, two-hour commutes by public transport to office or school are commonplace. Print media and the Walkman's ever more sophisticated successors vie to occupy the attention of this virtually captive yet mobile audience. Not surprisingly, new technologies based on interactivity have massive market appeal.
Media Immediacy: Asia Online –
Culled from visits to over 3,000 Asian websites, this compilation doesn't pretend to be comprehensive. But it does indicate the rapidly increasing variety of alternatives that exist to the mainstream media in (and on) Asia, even in predominantly English-language sites.
Media Watchdogs — focusing on ethics within the media, and beyond…
Pan-Asian Sources — broad coverage of Asia by media and NGOs…
Asian Cinema — some choice sites on one of Asia's obsessions…
Asian History — old news via new media…
Local Asia Online — notable websites from 21 Asian Countries
New media, old media, it's all the same: a screening of the world, in every sense, which allows us to throw up new images on the walls of our cave, as we keep our backs ever more rigidly turned to the world outside.
The Warmth of the Herd –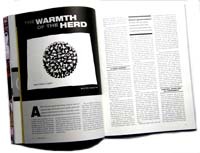 Japan has one of the biggest newspaper markets in the world, with a daily circulation of 72.4 million copies. That is 576 newspapers per one thousand population — the second highest diffusion rate after Norway, and 2.5 times the rate in the United States. In the years 1950-85, newspaper production in Japan outstripped population growth three to one. There are now 107 general-readership newspapers made up of five national dailies, three regional papers and 99 local papers. Between two and five newspapers are competing in every market.
In an information-intensive world, readers of news need perspective. Journalists must have — or at the least, seek to acquire — a sense of history. For what is fresh news today is seldom an isolated event. We are all familiar with such truisms as "There's nothing new under the sun," and "History repeats itself." How odd, then, to see Japan's mass-circulation newspapers routinely treat events as startling, wholly unexpected, random, and seemingly unrelated to anything that has happened before.
Japan's press is at once too free and too controlled. It lacks the self-restraint essential to protect individuals' integrity and privacy, yet it also fails to assert itself as a watchdog of the authorities…
<!—Already uploaded, media/cracked-mirror-western-'takes'-on-japan-since-marco-polo/ please link here-->
Cracked Mirror
–
A New York Times
or Independent piece on elevator girls and teenage prostitution, or a BBC piece espousing the latest electronic gizmos in Japan have much more of an impact on public policy than less influential, but better informed, media reports on the problems of Japan's elderly or the criminal negligence of the country's nuclear power industry.
The Long Rainy Season–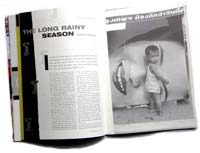 The government's Public Relations Department, the voice of whoever happens to be in power, is a key instrument in controlling the airwaves. Its power is underscored by the fact that the department has long been at the top of government facilities to be taken over during any coup attempt.
Happy Talk & tearful reunions–
Intimations of peace breaking out all over the Korean peninsula this past summer sent both the Korean and foreign media into a paroxysm of jubilation the likes of which had not been seen since the end of World War II. And little wonder, for South Korean authorities were determined that the media would convey the June summit between South Korea's President Kim Dae Jung and North Korea's Kim Jong Il as an unadulterated good news story.
<!—Already uploaded, asian-encounters/framing-china/please link here-->
Framing China
–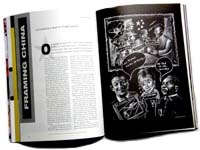 The cardinal sin committed by American news organizations in covering China is to portray it, always, in one overly simplistic frame. The American frames of China change dramatically from decade to decade, but the underlying behavior of the news organizations does not. What do I mean by a "frame"? I mean that stories in the American media tend to be governed at any given time by a single story, image or concept.
China Chill–
As we have seen in recent years, journalists, producers and editors are not only finding reason to walk carefully when dealing with judicial and regulatory bodies, (not to mention theme parks), but — in the case of China — we have watched an entire country become a tiptoe zone.
China "Reaches Out" to Media –
The cordial media welcome mat laid out for President Jiang in the U.S. was paved with the hard-earned money of the Chinese people. Prior to Jiang's arrival, seven million dollars was spent on "friendship activities," including a ten-state "Chinese cultural tour" to assure the success of his PR activities.
Radio Free Burma –
Foreign broadcasts contain more than just news of the outside world. They provide news about Burma that is absent from state-regulated media, and they create a public forum of dissent.
Emerging from Chaos –
Part of UNTAC's job was to ensure "fair access to the media, including press, television and radio, for all political parties contesting in the election." A tall order in a country which had been at war on and off for more than twenty years and which, for the last fifteen, had been under communist rule.
Making Print History in War-torn Cambodia –
With six fulltimers, Cambodia's first independent rag came out on July 10, 1992 — eight pages with lots of free copy donated by hacks in town. The rest, as they say, is history. The Post has survived eight years now as a fortnightly tabloid, eking out revenues from ads, paper sales, overseas subs, and since 1998 our own award-winning for-pay website. We've added color, expanding to 20 pages and 20 full-time staff.
Covering Conflict –
Indoor journalists work in places like Europe and North America. You have an office, you go out and interview people in their offices. You talk to people on the phone, read newspapers, people send you reports, you look at the Internet and you write your stories. Outdoor journalists work in places like Africa, Latin America and the Middle East. There you go out, get in jeeps, go to villages, talk to people about the things you've seen and what has happened. You're taking boats, you are out there dodging bullets, whatever.
Culture Jammer's Guide to Enlightenment –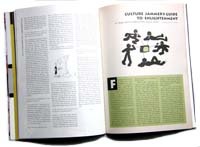 When we started Adbustersin 1989, the environmental movement was blossoming. People were recycling and reusing and becoming environmentalists in droves. But the other side of the coin, the mental environment, was being ignored. We thought it was absurd to recycle and ride your bicycle and do all the right things, and then, at the end of the day to sit down in front of your TV set and allow your mental space to be polluted by pro-consumption propaganda. So our mission became to launch an environmental movement of the mind.
The Lure of TV: Hidden Japan —
Along with the West's mental image of a Japan full of mad consumers and hyper-businessmen, there is a picture of Japan as "wacky." Newly arrived foreigners here delight in searching out day-glo sculptures of gorillas, outlandish game shows, and toilet seats with more controls than the cockpit of a plane. Those wacky Japanese!
Nexus of Notoriety –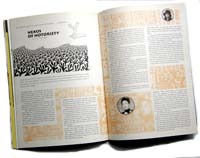 In Japan, the job of celebrity is fulltime, and carries with it its own peculiar tasks and responsibilities. For this reason, "fame" and "popularity" are not necessarily connected to accomplishments… Put another way: If a famous person fell down in a forest and no one was there to report it, would he make a sound?
Korean Cinema's 2nd New Wave: Seoul Stirring Again –
Every national cinema has its defining moments where social, political or cultural events coalesce to form an environment amenable to creative growth. For the recent cinema of the Republic of Korea, that moment was the transition from a series of military regimes to the first elected civilian government in 1993. One far-reaching consequence was the deregulation of the film industry (censorship, quota system, etc.), which had an enormous ripple effect in the film community at large.
Diversity Spawning Unity –
Pop culture crazes translate to marketing might, so it's no wonder Hong Kong producers are now prepared to finance projects featuring talent from outside their traditional resource pool. The cultural borders are slowly eroding, and today's filmmakers are hoping to speed up the process. It's not enough to just distribute Asian films across the region. This next wave of filmmakers want to make pan-Asian co-productions.
Making Audiences –
As Umberto Eco has observed, "Mass media insist upon repetition, redundancy, and iteration, as well as an obedience to a schema." This means that the film is fit only as a standard product, and before too long only a standard product will fit the audience.
ENCOUNTERS
Korea: I Spy –
Brent Choi, a researcher at the Institute for Unification Studies at JoongAng Ilbo in Seoul, invites me to watch a few hours of North Korean television which he views daily as part of his job. We arrange to meet in one of the few places in Seoul where the North Korean television signal can be picked up live, since it is technically illegal to watch "propaganda" from the North.
Japan: Scenes from a Newsroom –
For just over a year in the late 1990's I worked for The Daily Yomiuri, a national English newspaper in Japan. When I joined I knew it would be unlike working for any news organization in the West, but I was confident of making the transition smoothly. Although trained in the methods of Western journalism, I had previously lived in Japan and was, I believed, no stranger to its ways. Yet my year at the Yomiuri would prove to be one of the most puzzling of my life.
FICTION
The Sunset-Colored Simca –
In the early summer of 1966 I got my hands on an improbable car. And as if in compensation for that, I lost a lady friend.
The car was a French mass-market model, a Simca 1000. The lady's name was Yoko.
I don't know if I really loved her or not. But I know I loved that car.
POETRY
The Big Blue Arc–
RAMBLE
The Cloud Resembles a Rabbit <!—Already uploaded, brady/the-cloud-resembles-a-rabbit/ please link here-->
–
. Long before there were media standing dutifully in our light, or streaming through the air in disembodied voices or faces, or sheets of paper covered with words from minds, times and places we can never know or be in…
Reviews:


Japan Pop!: Inside the world of Japanese Popular Culture, Ed. by Timothy J. Craig & M.E. Sharpe — Philip D. Zitowitz

Losing Control: Freedom of the Press in Asia, Ed. by Louise Williams & Roland Rich — Gary Tegler

Virtual Tibet: Searching for Shangri-La from the Himalayas to Hollywood, by Orville Schell — Preston L. Houser

Red China Blues, by Jan Wong — Preston L. Houser 

Korean Crisis: Unraveling of the Miracle in the IMF Era, by Donald Kirk — REVIEWER 

Confucius Lives Next Door: What Living in the East Teaches Us About Living in the West, by T.R. Reid — Preston L. Houser 

Nanao Or Never: Nanao Sakaki Walks Earth A, Ed by Gary Lawless — Preston L. Houser