<!—Please link to Dazzzling Night, Going Geisha, noted below in green, also add thumbnail spread images in folder-->
shipping & handling included
KJ 48
published October 25, 2001
106 pages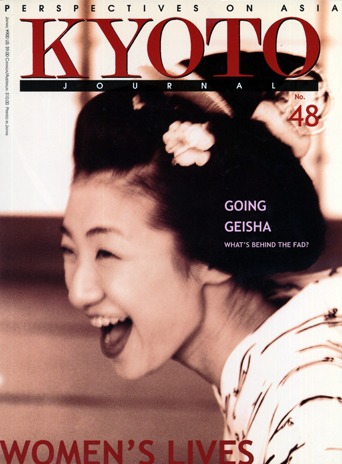 Cover Image: Kyoto geisha Koaki, by Albie Sharpe. KJ 48 is one of our most popular issues, partly due, we suspect, to Albie Sharpe 's 'behind the mask' cover portrait of a Kyoto geisha — laughing. Its contents are mostly by or about women, including the classic essay Going Geisha by Noy Thrupkaew , numerous Encounter stories, and a fascinating interview by Sally McLaren with Liza Dalby , former geisha and author of Geisha and The Tale of Murasaki . A modern Noh play, Dazzling Night, by Rachel McAlpine calls up the spirit of writer and Gurdjieff disciple Katherine Mansfield; Toyoshima Mizuho explores Japan's Military Sexual Slavery; David Greer tells a true story of courage in The Profligate's Wife , and Philip Cunningham profiles the extraordinary career of a Revolutionary Muse, Chiranan Pitpreecha. Plus a short story by Dazai Osamu , and tanka by Nurse Yamamoto. Critic Kato Shuichi is interviewed by Marc Peter Keene and Jeffrey Irish "on everything."
Contents:
Rockets for Rain, Thailand's wild bang fai
ritual –
Yasothan's ceremony of firing seriously powerful missiles to break open the rain clouds — and salute Phya Than, the rain god — is an annual, rice whiskey-fueled mud revelry for the region's farmers.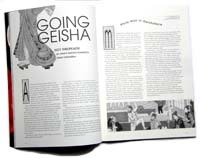 Madonna, that fashion chameleon, appeared in a red vinyl kimono, with her hair in a sharp, asymmetrical bob that must be one of the hairstyles Hollywood thinks of as "that funky Asian chick 'do". Why, I wondered, do Americans want to wear stuff Asians wouldn't be caught dead in?
ENCOUNTERS
Real Geisha –
My Mother's Flat –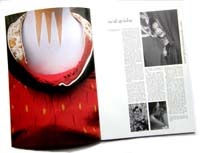 Chinese deities inhabited our kitchen. Kwan Yin the Goddess of Mercy, Kwan Gong and his Brothers, and our ancestral tablet shared the altar. The Earth God nestled underneath; the Kitchen God guarded the dapor ; and the Heaven God perched on the windowsill.
Okaasan–
I can see nostalgia in okaasan's eyes when we celebrate those traditional holidays now. Now, they are unimportant – signifying only a day when children stay home from school, when I can stay home from work, when special programs are offered on the television. Then, a holiday presented rare luxuries: a chance to dress in finery, an opportunity to eat one's full – to sample delicacies far removed from the usual simple diet of rice, pickles and boiled vegetables…
A Nuclear Family –
Because she was a girl, her father wasn't going to pay for her to go to medical school, and she didn't particularly like Japanese men, who were uniformly sexist without any right to be, being "not so good lovers." So she hopped a freighter across the Pacific, never to return, met and married a tall, blond, crew-cut "Yankee," produced her Waspanese kids and fed us hamburgers and hot dogs for dinner.
Rumors –
Telephoning in the Twilight Zone –
Mother: Some people came by yesterday and wanted to know what time I expected to die tomorrow. They wanted to get the cemetery plot ready. I told them that was the most ridiculous thing I ever heard. Who knows when they are going to die? That's one reason I don't have my teeth in. They took them to clean them for the funeral. It's the strangest thing.
INTERVIEWS
Imagining Lady Murasaki –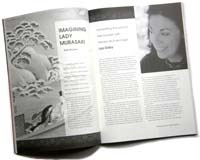 Her quest to bring Murasaki to life for her novel led Dalby to blacken her teeth, in the Heian style and retrace the steps of the woman who single-handedly invented the genre of the novel. Where Dalby's obsession took her and what she had to learn are part of her experience as anthropologist turned historical novelist, or as Dalby puts it "literary archaeologist."
Kato Shuichi on Everything –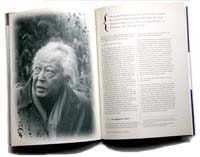 This really threw me, we would go into a village, the occupying army, right, in a jeep, with a rifle, in army uniform, just a month after MacArthur had landed, and everyone would turn out to welcome us. That really threw me. There wasn't any anti-American sentiment at all
Revolutionary Muse –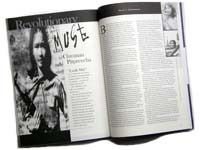 Beauty queen, arch-feminist, student rebel, communist guerilla fighter, nationally acclaimed poet, American-educated scholar, Bangkok housewife, renowned movie subtitler and now the subject of a soon-to-be released film called "Moon Hunter", Chiranan has covered more ground in the journey from youth to middle age than most traverse in a lifetime.
The Profligate's Wife –
In 1997, twelve years after Aguri published her memoirs, the Japan Broadcasting Corporation's (NHK) production of her story, entitled Aguri , became a popular miniseries.
Voices from a Dark Place –
The cover-up continues even to this year. VAWW-NET Japan, a group of Japanese women outraged at their country's treatment of Asian women both during the war and in more recent years, proposed a Women's International War Crimes Tribunal to judge Japan's military sexual slavery. This Tribunal was held in Tokyo from December 8-12, 2000.
Sexism–
There are many obstacles to equality in Japan — historical, social, economic, religious. But to my mind, the greatest one is firmly planted in the male ego; and this must be firmly uprooted before a true reformation can take place.
POETRY
<!—Already uploaded, the-journal/culture-arts/the-dazzling-night/ please link here-->
The Dazzling Night
–
On the night of 25 March 1999, the New Zealand Noh Theatre company premiered The Dazzling Night in the first of a three-night season at Le Mata Theatre, Kingsland, Auckland. Even those with no previous experience of Noh were able to appreciate its unique elements. The musical structures fascinated people, the mask in its trance-like choreography took people into a dream world — yet people could see elements of our own New Zealand character.
Six Tanka by Nurse Yamamoto –
FICTION
Alt Heidelburg –
It was eight years ago. I was an Imperial University student, exceptional only for my laziness. I spent the summer that year at Mishima, on the Tokaido Highway. Having managed to wheedle fifty yen from my elder sister back home, who made it clear that this was to be the last time, I stuffed an extra yukata and shirt into a schoolbag and breezed out of my boardinghouse.
RAMBLE
Variety and What Happened to It –
Back in the days when true variety comprised not hangars of inventory but the actual world around us, with skies full of various birds, forests full of various trees, fields full of various wildflowers, waters full of various fish, we were nourished every moment by the natural variety we'd evolved and grown up with…
Reviews:
The Donald Richie Reader, compiled and ed. Arturo Silva, by David Cozy

Always Filling, Always Full, tanka by Margaret Chula — Patricia Donegan

Geisha: the Secret History of a Vanishing World; Geisha: a Living Tradition; The Life of a Geisha, by Lesley Downer, Kyoko Aihara & Eleanor Underwood — Sally McLaren

Unjust Enrichment: How Japan's Companies Built Postwar Fortunes Using American POWs, by Linda Goetz Holmes — Eric Johnston

Religions of the Silk Road: Overland Trade and Cultural Exchange from Antiquity to the Fifteenth Century, by Richard C. Foltz — Preston Houser

Kimono – Vanishing Tradition: Japanese Textiles of the 20th Century, by Cheryl Imperatore & Paul Maclardy — Sally McLaren 

Thunder in the East: Portrait of a Rising Asia, by Nicholas D. Kristof & Sheryl WuDunn — Stephen Cooley

Min'You, Folk Song from Japan, by Takahashi Yuujirou & friends (CD) — Gerry McGoldrick