<!—Already uploaded, Mastery, Brady, Dear Leader, Sudo Hisao -- please link to contents-->
shipping & handling included
KJ 52
published December 20, 2002
98 pages
Cover Image by Odera Akira
In "No Apologies!" — this issue's cover story and full-color feature, Sally McLaren delves into the life-story of "leading maverick photographer" Yoshinaga Masayuki , who documents the lives of outsiders such as bosozoku (motorcycle gangs & hot-rodders) and Asian residents in Japan. The saga of former Vietnamese refugee Dr Takenaga Ken , now a Japanese citizen, is profiled by David Greer in " For a Place of Refuge ."
Totalitarian North Korea's alternate reality is spotlighted in " Dear Leader " — Russell Working 's close-to-the-bone short story of a North Korean woman's search for refuge in a border province of China, and in " Going North — With Reservations ," Val Perry's account of the first tour to Mt Kumkang that Hyundai Corp. opened to foreigners. Back in the USA, Noy Thrupkaew enjoys " Celebrating the 4th [of July], Lao style." More cross-cultural experiences infuse Lynda Philippsen's " Wine Through Water ," in which she muses on changes wrought by a long-running exchange between sister-schools in Japan and Canada. Visiting the " Small World" of a Beijing theme park, Philip Cunningham finds Manhattan's Twin Towers still standing tall, a popular photo op for dating couples.
Philip Grant interviews political scientist Robert Falk on " Militarization, Globalization, Peace, and Citizen-Pilgrims" (accompanied by haunting photos of anthropomorphic sculptures made by Lim Ok-Sang from weapons scrap left by the US military in Korea), while Patricia Donegan talks with poet/scholar Kondo Tadashi about " The United Nations of Renku ." In " Synthetic Dreams ," Robert Jarrell probes the futuristic otherworldliness of artist Mariko Mori; in " The Mystery of Mastery" Dustin Leavitt inquires into the inherent Zen of cycling and other real-world pursuits — and Robert Brady takes a rear-view look at the ad-world in " Sex and Flat Tires." Hauquan Chau meditates on " A Voice Lost, A Voice Found ," and Gregory Dunne, on " Throwing My Life Away." Long-time contributor Marc P. Keane reflects on " The Art of Setting Stones ," a fascinating excerpt from his brand-new book of Kyoto garden essays. Catherine Whyte meets Kyoto's " Can Man," and Deidre May profiles magical-realist ceramic sculptor Sudo Hisao in " Mediating Between Nature and Imagination."
Contents:
The Mystery of Mastery
<!—Already uploaded, the-journal/culture-arts/the-mystery-of-mastery/ please link here-->
–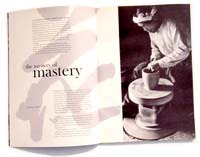 To the Zen novice—as to the apprentice craftsman who, observing a paper-thin shaving issuing unbroken from the master craftsman's plane, pleads, "How did you do that, what's the secret?"—the master can only reply: "If you want to know, you must do."
The Art of Setting Stones –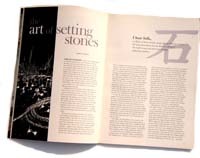 To carry the stone we use a sturdy wooden pole and a length of strong rope doubled over itself. The rope wraps the stone, which hangs from the pole we carry on our shoulders, like prey slung home by hunters. Two in front, two in back, we crouch, place the pole on our shoulders and lift to the measure of a rhythmic count. As the stone rises, the pole cuts into our necks, painfully, the weight not simply heavy but magnetic, the desire of the stone to return to the earth channeled directly through the muscle and bone of our bodies.
For a Place of Refuge –
After he told the center's placement officer he wanted to go to school, the officer reminded him that Khoi was seventeen, an age when resettlement implied finding assembly-line work, where language wasn't a problem. Khoi pushed his words out carefully: "Sir, I want to go to college." The officer shrugged. When Khoi was ready to work he hoped he'd come to see him. That night Khoi asked his father what he should do. "We have a debt as refugees," his father said. "Your heart will tell you how you should pay yours."
Wine Through Water –
The rules are explained, the wrestlers stamp the ground, assume the fighting posture, and the match begins. Suddenly, the young Japanese boy facing Sarah realizes he's going to have to touch a very pretty girl
. His confusion is innocent, unintentional, perfectly timed, and utterly hilarious.
No Apologies! Photographer Yoshinaga Masayuki on bosozoku , yakuza, Asian gaijin, and his life –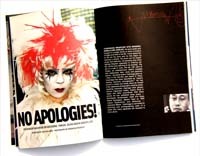 I've been taking pictures of bosozoku (members of motorcycle gangs and hot-rodders) for over seven years now. They are different from what people generally think of as bosozoku. If you actually talk to them face to face you find that their behaviour is quite animal-like in terms of reflex and instincts. Japan can't handle their wild behaviour! I think you can't just describe them as violent – there is something more to them than that. I take pictures of bosozoku because I want to send a message that we should reform society first, before criticizing them. Through my pictures I want people to know what is real.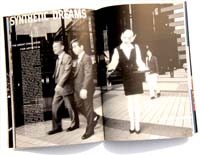 Mori has transformed herself into a chic cyborg, artificial mermaid, and salient goddess, among other creations, and has placed herself in archetypical Tokyo settings such as the red-light district in Kabukicho, an Akihabara software store, Shibuya station, a love hotel, and subway train. These settings reflect a future in the present now, and what better place to emphasize this than Tokyo, Earth's most futuristic city to date?
INTERVIEWS
Robert Falk on Militarization, Globalization, Peace, and Citizen-Pilgrims –
I was extremely influenced by two visits to North Vietnam, especially the first in 1968. I witnessed first-hand how an entire way of life, a low-tech, agricultural society, was in danger of being completely destroyed by the high-tech weaponry of the American military machine. It raised all kinds of moral questions in my mind. The vast majority of the Vietnamese were simple peasants who believed they were fighting a war of national liberation. Yet their tiny villages, and their pristine landscape of green forests and rice paddies, were being subjected to a kind of mass destruction I could not have imagined had I not gone there.
POETRY
Kondo Tadashi & The United Nations of Renku –
. I have been looking for something universal in it, something common to share with people. And renku always provides that, in the seasons; the season is a universal element because the whole earth is turning around with the heat of the sun, which everyone depends upon… And those topics like love, travel, human affairs, all kinds of things animals, plants, are all so common to our human culture. I could name the whole thing as an "ecological mandala". We are all in the ecological mandala. and the renku tradition is connected to that.
Throwing My Life Away –
FICTION
Dear Leader
<!—Already uploaded, the-journal/fiction-poetry/dear-leader/ please link here-->
–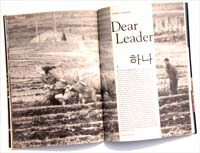 Let us call her Eun-ju, for people may die if her real name is revealed. Her own life is in danger, and her two sisters, her brother-in-law, and one surviving nephew remain at large south of the Tumen River, near the port of Hongwan, a city of apartment blocks without toilets, empty wharves populated by slump-shouldered cranes and rusty destroyers, a train station where the homeless sleep in the waiting room seats or on the floor with the mice, and bony children who lie down in the streets because after a certain point — thirty, thirty-five days, perhaps — one cannot stand any longer.
ENCOUNTERS
Amami Oshima is one of the Ryukyu Islands, a long archipelago extending from southern Japan to northeastern Taiwan, consisting mostly of the exposed tops of submarine volcanic mountains. For the past decade, Sudo's primary inspiration has been the ecology of this pristine island, which is mostly covered by rich, virgin forest.
A Voice Lost, A Voice Found –
I had a voice once very different from the voice I have now. Actually, to be more precise, I had a voice, lost it and then got another voice. I can't remember when I acquired my first voice but whenever I hear my parents speak Chinese to each other or when I am in lost in the bustling markets of Chinatown in Yokohama, some part of my mind snaps to attention, to the words that seem to be speaking to me from the past.
Small World: Beijing's Mini Twin Towers –
Any history which helps us understand in current terms the monuments and museums bequeathed to us by previous guardians of public memory is a useful endeavor, but not nearly as critical or precious as the history that helps us remember and understand things that no longer exist.
Going North – With Reservations -–
Being detained in a parking lot while the military authorities try to determine who threw the candy wrapper from the tour bus window is one of those memorable moments that don't make it into the travel brochures. Yet that's what happened during Hyundai Asan's first North Korean tour to Mt. Kumkang that was open to non-Koreans, in February 2000.
Can Man –
Ginji is famous for making his living from finding beat-up, battered, discarded, forgotten old cans, and selling them as novelties. A novel way to deal with trash, indeed. The Kyoto Can Company is Ginji.
Celebrating the 4th, Lao Style –
While much of the United States is patriotically tucking into hamburgers and hot dogs, more than 20,000 temple visitors will celebrate America's independence over green papaya salad and Lao music.
RAMBLE
In perhaps one of Japan's earliest mysteries-of-the-latest-technology e-commerce posters, a kimono'd woman speaking into a wooden wall phone in a lithographed poster for a Tokyo kimono shop says "For the finest in kimonos, dial 18!!" Totally rad when it was cutting edge, much like what is totally rad now.
Reviews:
Bug Vol.5 "Oegugin" Foreigners and Foreign Culture in Korea, Ed. Scott Burgeson— Sally McLaren

World Food – Japan, by John Ashburne — Eric Gower

Zig Zag Zen: Buddhism and Psychedelics, by Alan Hunt Badiner & Alex Grey— Lauren W. Deutsch 

All Worldly Pursuits, by Hillel Wright — David Cozy