<!—Please link to Hanagan, Greer, & Brady, below-->
KJ 53 JUST DEEDS
published April 1, 2003
106 pages
With this special issue of Kyoto Journal we honor vision, innovation, pragmatism, and persistence. Not merely as admirable abstract concepts, but as revealed in the lifework of remarkable individuals dedicated to creating social changes that improve and enrich people's lives in Asia and beyond.
Envisioning new ways of tackling what needs to be done, these social entrepreneurs and innovators have translated ideas into actions, words into deeds. Their personal commitment demonstrates the unlimited potential of human imagination to overcome social, environmental and economic problems — thereby positively transforming the world. Living their ideals, they inspire their own communities and demonstrate humanity in action to us.
Cover Image: A girl who makes incense in Bangalore, India; photo by Janet Jarman
Contents:
Living Words
<!—Already uploaded, the-journal/heart-work/living-words/ please link here-->–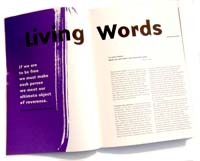 "We live in one world," said Joseph Campbell, "and babble about another." As a longtime professor of philosophy, I find this observation particularly unsettling. …Why are words so often empty? And how is it that some people, in ways great and small, manage the heroic feat of living their beliefs?
This Can't Last Forever –
The voices of older, educated Burmese reveal the uncertainty of past predictions, the severe impact of decades of poor governance and the essential sadness of facing a nation's unrealized dreams. For the generation who came to political maturity with the country's independence, Burma's current crisis is the result of having missed one opportunity after another.
Norbert Vollertsen's Personal Campaign -–
Vollertsen will feel he has accomplished his mission when the people of North Korea are safe, healthy and so prosperous and secure that they will no longer feel the impulse to flee their country.
Saving Tibet's Children –
Dr Harris' philosophy is that most of what is needed to address the health crisis already exists within Tibet – in traditional Tibetan medicine and the wealth of medicinal plants found across the Tibetan plateau."
"Peace Boat works to promote peace, human rights, equal and sustainable development and respect for the environment. Our philosophy is based on the idea that all these aspects are inter-related, and that any problem faced by any community is a global challenge, which must be tackled through co-operation between peoples, organizations and governments of the world."
Lakei eh Metat: "Man Who Has Disappeared" –
Bruno Manser was an adventurer, a poet, an ethnographer, a nomad, an artist, a lover of life, a speaker of truth to power. He was celebrated with films and awards. To his detractors – anxious to shoot the messenger who thrust the Penan story onto the world stage – Bruno was a "white Tarzan," a "hitch-hiker hero," a "medical school drop-out."
Goenka-ji: Peace Through Inner Wisdom –
Asked in a recent interview, "What is the relevance to world peace of a meditation technique, which seems like a very personal thing?" S.N. Goenka replied, "Unless there is peace in the mind of the individual, how can there be peace in the society?"
Healing a Divided Land –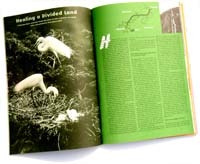 This pristine ribbon of land, 2.5 miles wide, which spans a river delta and grasslands in the west and rugged mountains in the east, is the unforeseen legacy of a brutal civil war that ended with a truce in 1953. And if scientist Ke Chung Kim's vision can be realized, the DMZ may yet help bring about lasting peace, reunification, and the revivification of Korea's degraded ecosystem.
Mihariban's Matsuura Yoneko –
Since 1990, Mihariban has been putting heat on city, prefectural, and police authorities to provide open and transparent accounting records. Matsuura, born and raised in south Osaka, is the kind, gregarious little old lady who has taken on city hall and won some very important battles not only for Osaka, but also for the idea of local democracy in Japan.
Calm Voices of Hope in Bangladesh –
Sawar Bari and his dedicated team help train villagers to deal more effectively with the political process. Training involves such skills as how to place issues on a political agenda as well as how to run for elected office.
Democratizing the News Democratizes Nepal –
The wall newspapers, now found in hundreds of Nepal's villages and rural towns, cover locally-relevant issues such as children's rights and topics ranging from water pumps to the vaccination of cattle. Literate villagers, standing before the huge newspapers, read them aloud for groups of those who cannot, and even for some who can.
In 1991 Arn Chorn Pond returned to Cambodia to found Cambodian Volunteers for Community Development, a youth community service group with 60,000 members that aims to improve the quality of life for destitute Cambodians. He is also working on his more recently founded Cambodia Master Performers Program, which provides opportunities for the few surviving old master artists of traditional Khmer arts and music to pass on to youth their vital cultural legacy.
Sculpting in Time –
Nestled in the heart of Beijing's university district, it's no surprise that many of "Sculpting's" customers are students, writers and artists. "I think it's important for people to have a place to write, a place to read, a place to chat and make friends."
Living Deeds –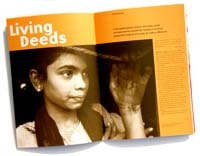 Since commencing its initial program in India in 1982, Ashoka has elected over 1,200 Fellows, actively promoting new ideas in health, education, civic participation, environment and economic development in 43 different countries, including six in Asia (Bangladesh, India, Indonesia, Nepal, Pakistan, and Thailand).
I told them I was not merely a correctional officer, but saw myself as a mother concerned about each of them, about their progress, protection and welfare. My intuition proved absolutely right. It transformed my workplace. I had leaped from an apparent dead end to a space of creative possibility, and I was determined to take everyone with me.
Social Marketing –
DKT declares that "deep and debilitating poverty in any part of the world impedes all human development," and quotes UNICEF as follows: "Family planning …could bring more benefits to more people at less cost than any other single technology now available to the human race."
Artists Without Borders –
" After being trapped in conflict… [and] seeing how tragic it is, I came back to Japan and… started to look for an organization that would accept my project to bring some aid to kids through art – connect them with children in Japan, bring them some souvenirs, toys, and school supplies, because I supposed they were only getting tents and food and water… it sounded so crazy, but I was probably so moved by Kosovo that people just started helping."
We Do It Ourselves –
Nijera Kori is one of the few organisations in Bangladesh that aims at mobilising the rural poor to fight for their rights on the issues that most concern them. Thus "we do it ourselves" – the meaning of the Bengali phrase " nijera kori" – is actually the voice of the people, not merely the name of the NGO.
Wells to Hell –
Millions of years ago, in certain strata of the Bangladeshi soil, a combination of subsurface faults and ground water flow had concentrated naturally-occurring arsenic — a trace component in many forms of rock — into poisonous bands twenty to eighty meters (60 to 240 feet) down. The village tube wells had drilled straight into them. In those areas, the people were poisoning themselves with every drop they drank. By 2000 a staggering 39 million people were drinking water that had a high probability of giving them arsenicosis.
Working for Change in Mongolia –
Oyun, who acknowledges among her influences the Dalai Lama, fights for the ideals of her murdered brother. The principal mission of the Zorig Foundation, founded shortly after his death, is to advance the formation of a democratic society and support political reforms in Mongolia.
(Re)building Cultural Space in Mongolia –
Baldan Baraivan, a Buddhist monastery situated 300 kilometers east of the Mongolian capital city of Ulaan Bataar, was completely destroyed during the purges and repression. In the summer of 1999 the Cultural Restoration Tourism Project (CRTP) began the work of restoration, using volunteer-tourism as the mechanism for recovery.
Champions from the Street –
Thirty-four years after she began teaching gymnastics, Krethsasna is still struggling against the odds to produce champions to represent Cambodia. Krethsasna started training hopefuls in 1965. The worst times, for her and the rest of her country, came ten years later when the Khmer Rouge took Phnom Penh.
Filming the Forgotten –
Like many foreign journalists and aid workers, Shinomiya felt compelled to visit Afghanistan to see for himself the aftermath of the fall of the Taliban regime under U.S.-led bombing and Northern Alliance ground offensives. But as in his other films, he was repeatedly drawn to the plight of its youth, over one million of whom are orphans in a country of 26 million people.
Living Future: What the World Wants –
Given the broad spectrum of people involved in creating this global preferred state, it can be argued that the results give a good indication of where the entire world, given the "vote," would agree to move towards. More importantly, and very disturbingly, the global preferred state cannot be dismissed as fantasy for another good reason: it is quite achievable, and achievable with present day technology and resources.
This Can't Last Forever –
The voices of older, educated Burmese reveal the uncertainty of past predictions, the severe impact of decades of poor governance and the essential sadness of facing a nation's unrealized dreams. For the generation who came to political maturity with the country's independence, Burma's current crisis is the result of having missed one opportunity after another.
In May, 1945, the only pilots who came to Chiran were volunteers for the Special Attack Corps, boys who rammed their fighters into the American ships off Okinawa. … Lieutenant Mitsuyama stood inside the restaurant, his figure dark against the glare from the glass doors. "I won't be here long this time, Obachan," he said.
POETRY
I See a War –
When Huang Xiang and his wife Zhang Ling participated in petition writing in 1995, in advance of the Tiananmen anniversary of June 4th, they were detained for over one month and forced to relocate from Beijing. Ironically, one of the petitions they co-produced was entitled "Greeting the United Nations Year of Tolerance, We Appeal for the Realization of Tolerance in China."
FICTION
The Cost of Living –
"Consistent with our social standing, we lived in a slum. The work we did was unskilled labor. Yông-ho loaded and carried castings on a metal handcart. Yông-hûi, undergoing instruction in the training center, cleaned the central corridor leading to the workrooms. I delivered small parts to the people on the automobile assembly line… Those on the assembly line regarded me as a supplementary machine. To the factory manager the workers collectively were a machine."
ENCOUNTERS
: Recreating Memory: the testimony of Hiroshima survivor Yamaoka Michiko –
"I looked around me and gasped. The scenes before me were not of this Earth. They could only be called a living hell. Shattered heads. A dazed mother covered with blood, clutching her dead baby. A child with skin peeling from his entire body, shrieking from inside a collapsed building. Internal organs spilling out of bodies. Lines of completely naked people… Images of inconceivable carnage burned themselves into my mind."
Reflecting on Hiroshima –
"The Atomic Bomb Dome, within the museum, is covered with letters protesting nuclear testing. The sight of so many letters written by the mayors of Hiroshima, throughout the years, and all of their effort to raise awareness and stop nuclear testing is just amazing. The last letter posted on the wall was one addressed to President George Bush, Jr. which implored him to stop and think about the events in Hiroshima before entering into war with Iraq. Stop and think how easily an event like that could be repeated if we enter into war now."
"I was always hungry. I had money to buy more food, but if I wanted to understand them, I had to put myself in their shoes. I still felt guilty, because I knew I would be leaving, and returning to this comfortable life here, but they were stuck there."
Hands in the Soil –
Natural farming stresses humility regarding our profound ignorance of the complex, interconnected web of life. Taking organic farming one radical step further, it rejects tilling, which Kawaguchi says cuts the inseparable cycle of life and death.
RAMBLE
Living Wisdom
<!—Already uploaded, brady/living-wisdom/ please link here-->
–
If you want a wall that is a stone poem in stone syntax, you have to learn the bit-by-bit stones teach until at last you have a stone wall, not a book wall, not a you wall. The finest mortar for a stone wall, therefore, is patience in the builder, blended with integrity. No integrity in the builder, no integrity in the wall.
Reviews:
Global Uprising: Confronting the Tyrannies of the 21st Century, by Neva Welton and Linda Wolf AUTHOR — Deidre May 


 Japanese Crafts, by Japan Craft Forum — Douglas Bullis
The Good Women of China: Hidden Voices, by Xinran — 
Lauren W. Deutsch
A Bright Shining Lie: John Paul Vann and America in Vietnam,
by Neil Sheehan — Ken Rodgers