<!— Brady Going Home, Dharma of Rings and They who Render Anew are already uploaded -->
shipping & handling included
KJ 56
published March 25, 2004
98 pages
Cover Image by Stewart Wachs

Our 56th issue features the debut of a new regular section: In Translation , which will spotlight the vital role of translators in bridging between cultures. In "They Who Render Anew," Avery Fischer goes behind the scenes to interview contemporary literary translators Juliet Winters Carpenter, Janine Beichman, Sam Hamill, Leza Lowitz & Oketani Shogo, Elaine Gerbert, and Royall Tyler, exploring their diversified approaches to introducing Japanese writers to Western readers, and comparing various translations of well-known works.
Playwright Sears A. Eldredge revisits the infamous WWII Thai-Burma railroad in "Return to Kanburi," finding an unexpected message of hope for the world. David Loy discovers Buddhist echoes in the world of J.R.R. Tolkien, in "Dharma of the Rings," while Jean Miyake-Downey re-evaluates the stereotype of "closed Japan" in "Dragonfly Island Pilgrimage." Several articles deal with memories: "Going Home Again" by Robert Brady , "Bamboo Shadows" by Tony Cohan, and a short story, "Since My House Burned Down," by Mary Yukari Waters , who is also interviewed by Stewart Wachs ("The Clarity of Double Vision"). Nomura Katsuko , a 92-year-old social activist, recalls her life in conversation with Kaori Mizuno . In "Foreign Imports," Roderick Overaa investigates the plight of trafficked women in Japan.
Contributing editor Marc Peter Keane introduces "Miwa-an," a contemporary teahouse built from local materials in Ithaca, NY. Tokyo artist Jim Hathaway encounters changes in his "Shitamachi" neighborhood; Sherry Nakanishi talks with Osaka artist Date Nobuaki about his literally off-the-wall "Ukeleleization" project – tranforming demolished buildings into unique musical instruments. In "Ozu's Garden" Jay Manzo sees the classic movies of Ozu Yasujiro as "borrowed landscape." Kyoto monk Keisho meditates on "Going West from Kyoto," and William Stimson discloses the gentle art of "Opening a Durian."
Contents:
RAMBLE
Built in the Western style in the heart of Tokyo, it wasn't far from the road along which the 47 ronin had carried the head of Kira on that winter morning in 1702. When I'd moved there in the early 1970s on my first trip to Japan the house was already old, somehow miraculously having survived the 1923 earthquake and the Tokyo firebombing maelstroms.
ENCOUNTERS
Roji Watching in Shitamachi–
EXTRACT
Going West from Kyoto –
So the authors of this Mahayana sutra were living in an imaginary world, a flat-earth world, in which you could travel long distances to the west, past imaginary lands with imaginary Buddhas. And myself, living in a temple in Kyoto these five years while serving as a kozo, I recite this sutra daily, though not as a part of their program, but rather as an individual, an eccentric meditator, in a secluded sanctuary in a far corner of the precinct
Opening a Durian–
The big spiny green pod was as alien-looking as anything I'd ever encountered — and as familiar. It evoked the primordial in me, the primal — that which I'd long thought important not so much to know, as to feel; not even so much to feel, as to be.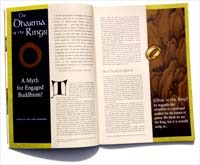 The Lord of the Rings can serve as a Buddhist fable because it is about a spiritual quest readily understandable in dharmic terms. It provides a myth about spiritual engagement for modern Buddhists. Frodo leaves home not to slay a dragon or win a chest full of precious jewels, but to let go of something.
REALIZATIONS
Return to Kanburi: a Noh play explores reconciliation –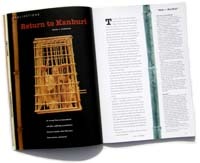 The story of the reconciliation between former prisoner-of-war Eric Lomax, and Nagase Takashi, who was present when Lomax was tortured in interrogation, was a story that would not let me go. How was it possible for these two men who had been mortal enemies to become reconciled?
Dragonfly Island Pilgrimage Japan–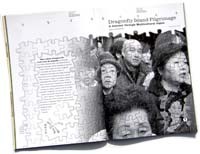 I paid my respects to Avalokitesvara, known in Japan as Kannon, the all-merciful Bodhisattva of compassion — her statue, brought from China in 1255, was modeled on the beautiful Empress Yang. Then I went to Sanjusangen-do temple to see the hundreds of Hindu crossover deities. Among wafts of sweet incense and streams of junior high school students, I studied the Sanskrit names of the divine Hindu faces turned Buddhist…
Ozu's Garden –
There is much to learn from Ozu and this essay is a short study concerning architecture in his films — specifically the family house. The house is a lens of terrific power — reflecting, magnifying, refracting the inner and outer worlds. In essence it is a shakkei or "borrowed scenery" garden. The house is also a palpable presence, like another character but always silent, seen and never heard.
The Birth of a Ukelele–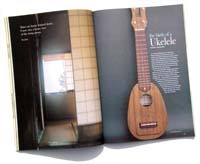 This "ukeleleization" project began three years ago, when the artist Date Nobuaki began to notice how many homes, schools, temples and other buildings were being demolished — their timbers wrenched apart and trucked to the nearest municipal incinerator. Wanting to preserve a part of each structure, he asked the owners if he could take a few small pieces of wood. Now people seek him out, to ask him to remake their memories into a ukulele.
Miwa-an: The Arbor of Three Wheels–
The teahouse looks nothing like the rustic teahouses of Japan, and yet it incorporates many of their design features. In particular, it replicates the spatial elements which cause those who are entering the teahouse to feel separated from the ordinary world, to enter a calm and introspective state of mind once inside, and to facilitate the service of tea at a formal tea gathering (chakai).
IN TRANSLATION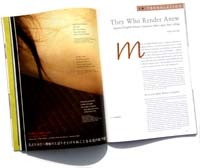 Many a Japanophile points to Japanese literature in English translation as the key that opened a door to a new world. Literary translations, and translators, remain central to the spread of Japanese culture and thought — especially in the West, where Japan is seldom covered in the mass media.
INTERVIEW
The Clarity of Double Vision; an Interview with Mary Yukari Waters –
When you are relatively familiar with two cultures, especially two as different as America and Japan, one thing that does stick with you is what these cultures have in common. You can see which qualities are Japanese and which are just human and transcend all of that.
FICTION
Since My House Burned Down –
Bamboo Shadows –
By the end of our first year in Kyoto, we'd taken our place among a small community of foreign scholars, potters, priests, and Zen students, among them the poets Gary Snyder and Philip Whalen.
INTERVIEW
A Life of Activism: Nomura Katsuko–
Nomura Katsuko has been a key figure in Japan's consumer movement since the 1920s. Now 93 years old, her autobiography, Watashi no Shohisha-undo (My Consumer Activism), has just been published by Ryokufu-shuppan.
Foreign Imports: Tokyo's Trafficked Sex Workers–
Over 150,000 non-Japanese women work in Japan's sex trade, most of them from Thailand and the Philippines. The Hamagin Research Institute, a private think-tank attached to Yokohama Bank, recently estimated that Japan's underground economy (including prostitution, sex-related entertainment, drug dealing and tax evasion) may rake in more than 16 trillion yen each year (roughly $140 billion U.S.).
Reviews:
Embracing the Firebird: Yosano Akiko and the Birth of the Female Voice in Modern Japanese Poetry, by Janine Beichman — Maggie Chula 

The Breakaway Kitchen, by Eric Gower — Sherry and Hiro Nakanishi 

Tokyo Story: The Ozu/Noda Screenplay, by Intro by Donald Richie, trans. by Eric Klestadt — Christopher Tate 

Edo, the city that became Tokyo, Akira Naito, trans. H. Mack Hortonby — Jim Hathaway 

Life of the Buddha, by Tezuka Osamu — Thierry Le 

Arranging Things: A Rhetoric of Object Placement , by Leonard Koren — Markuz Wernli