<!—Please link to Ajari, and Gomen, to be uploaded>
KJ 57
published July 10, 2004
98 pages
In KJ 50 (our special issue on Transience), poetry editor Patricia Doneganproposed haiku poetry as "an antidote to speed." Today the infosphere seems to be spinning even more crazily, and second-by-second updates only compound the problem. So what is the antidote to this modern world, to times like these? Pretty much what it's always been — the practice of mindfulness, by whatever means you choose:
Pico Iyersways on a ropebridge in thin Himalayan air, probing the mental constructs erected on that seemingly simple premise, Tibet. What to hold onto, what to reach out for? William Stimson is impelled back to the source; Sherry Nakanishi receives a mantra from a marathon-monk on Kyoto's Mount Hiei; David Daigaku Rumme spends 30 years in an Obama monastery simply trying to let go of ego — then heads for California. Sierra Nevada poet Gary Snyder resounds with the Great Bell of Gion; Okinawan woodcut artist Naka Bokunen immerses himself in a prismatic flow of natural and psychic phenomena. Meanwhile, Uchida Tatsuru deconstructs rhetoric, essays the personal in the political in "Agreeing on Agreement." Rakugoka Katsura Sampo follows a dream. Fiction writer Jess Row sets a sharply-observed short story in Hong Kong and snowbound Korea, where a Western photographer learns the true meaning of the apparently grandiose vow to save all sentient beings. Tim Myers meditates on the park-dwellers in front of Tokyo's totally grandiose City Hall, while Japanese photographer Miyamoto Ryuji sees transients' cardboard houses as an archetypal human dwelling. Scott Ezell mourns the death of a tribal chief in Taiwan while the band plays "I ain't got no home in this world anymore." Kyoto poet/editor Cid Corman too, R.I.P. At Tokyo's Keio University, Pat Donegan's students write deceptively simple haiku on the military occupation of Iraq. Cover Image: Head Series, by Tri Luu
Contents:
On the Ropebridge –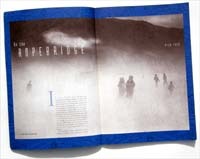 The traveler, anxious in most cases to see the particular beauty and dignity of an ancient culture preserved — yet in no position to suggest that its people live without the schools and hospitals he finds so essential himself — walks between the two sides as across one of the ropebridges that famously span the gorges of the Himalaya.
INTERVIEW
Letting Go of Ego –
If you stop thinking, "This is me and these are my opinions," then everything is the truth; that's the flip side. Whatever you see, hear, taste, smell, touch and think: whatever is happening now is the truth. You don't have to look for it.
Returning to the Source –
The mind loses wonder, mystery and joy by attaching it to this or to that, by perceiving it as residing in one circumstance or another. In fact it is always here, always now. The present moment is the only place where the real magic is.
Ajari — in full, Daigyoman Ajari, meaning " Great Teacher" — is a title conferred upon monks of the Tendai sect who have completed the great sennichi kaihõgyo training in the spirit of the deity Fudo Myõ on the sacred trails of Mount Hiei, Kyoto. This practice involves walking a total of over 38,000 kilometers in 1,000 days, within a seven year period.
INTERVIEW
Bokunen Remembers –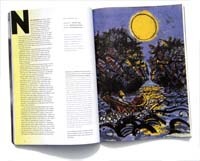 These days there is no true darkness. Man-made light abounds, illuminating the earth, leading us to believe that we can see everything. But because of this very brightness, I think there is something we are no longer able to see.
Village Life –
FICTION
For You –
" Being a monk won't help you. Do you think we have some magic way of escaping karma? We don't. Nobody gets away from suffering in this world. All we can do is try to see it for what it is. "
Glimpsing Tokyo –
Even in our responses to the simplest physical details of another culture, ethnocentrism is a powerful force; what's "tacky" in an American context may not be tacky at all in Japan. Who's to say, after all, what "tackiness" is?
Cardboard House –
Gomen
<!—file and image in Dropbox folder, link here please -->–
To whom would you most like to apologize? If you were limited to what you could fit on a postcard, what would you write? That's what Yanase Takashi, the creator of the cartoon hero Anpanman, wanted to know when he took his idea for a contest to the Gomen District Neighborhood Association in Nankoku City, Kochi Prefecture.
Better Homes & gardens (among factories) –
ENCOUNTERS
Master & Deshi –
Even to this day, the same live-in "deshi" apprentice system that was widespread in Japan's Edo period — in trades like the making of kimonos, swords and parasols — still exists in modern Japan, in such fields as sumo, karate and even storytelling.
The Chief is Dead –
This culture, language, way of being evolved over 5000 years with these people in this place, cliffs and bluffs above the sea — where is it now? A handful of threads where there once was tapestry.
IN TRANSLATION
Agreeing on Agreement –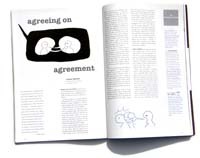 Having lived long enough to discover several worthwhile things, I will share one of them: Even if you say something that is 'right' that does not mean you will be listened to.
POETRY
The Great Bell of the Gion, and The Kannon of Asakusa –
Reflections on the War in Iraq –
Reviews:
War Torn – Stories of war from the women reporters who covered Vietnam, by Tad Bartimus, Denby Fawcett, Jurate Kazickas, Edith Lederer, Ann Bryan Mariano, Anne Morrissy Merick, Laura Palmer, Kate Webb, Tracy Wood; intro. By Gloria Emerson — Don Kirk 

The Cat from Hue – A Vietnam war story, by John Laurence — Roy Hamric 

The Art of Rice – Spirit and Sustenance in Asia, by Roy W. Hamilton — Lauren W. Deutsch 

In What Disappears,, by John Brandi — Preston L. Houser 

Haiku – Asian arts & crafts for creative kids, by Patricia Donegan — John Brandi 

Classic Bonsai of Japan, by trans by John Bestor — Marc Peter Keane 

NOW NOW, by Cid Corman — Preston L. Houser 

mamaist: learning a new language, by Alan Botsford Saitoh — James Gurley 

The Seed of Joy, by William Amos — William Corr 

Big Motorcycle – A Tokyo Story , by F.J. Logan — Ken Rodgers