shipping & handling included
KJ 60 KOREA
published
June 15, 2005
106 pages

Every year, we devote one full issue to exploration of a theme that seems of special relevance to the times. With the very able assistance of guest editor Robert Fouser, who now teaches Korean Studies at Kyoto University, this time we took a closer look at our nearest neighbor, Korea.
One of our basic questions was: "What has sustained Korea through the centuries, and will continue to do so in the future?"
We gathered essays, interviews, photographic work, poetry, fiction. We explored old and new media, and met people with intense personal stories and valuable insights. While little material is available from the North, we found strong concern and deep-rooted desire to resolve the present artificial political polarization.
This issue is a tribute to the vibrant and indomitable spirit of Korean cultural dynamism, in all its diverse and fascinating manifestations.

Cover Design by Tiery Le…
Contents:
A Passionate & Beautiful Energy –
Learners of Korean as a second language quickly discover that the word uri
means "we," "us," "our," and "my." They soon learn that Koreans use uri in places where native speakers of English would use "my." When speaking to people outside the family, "my parents" becomes "our parents" and "my house" becomes "our house." Uri reflects and reinforces the web of personal ties that have historically given Koreans strength amid great adversity.
Korea's Key Role in East Asia and Beyond: The far ranging perspective of Lee O-young –
Today one of Korea's leading intellectuals, endowed with a wide-ranging curiosity, fluent in French and Japanese, Lee O-young has written critical essays, novels and plays. He has served as Korea's Minister of Culture, but is perhaps best known in Japan and the West for his book The Compact Culture: The Japanese Tradition of Smaller is Better , in which he argues that the unique and defining characteristic of Japanese culture is its ability to "reduce."
To the Sea in Ships –
South of the Border: Consumed by Divisions
–
Korean society wraps itself in rationalizations born of centuries of warfare, atrocities, divisions and exploitation at the hands of marauding foreigners as well as the Koreans themselves. The question of which is worse, subservience to a foreign power or to a cruel home-grown despot, has confronted Koreans throughout their history.
Pain and Truth: A Pilgrimage with some Korean poets –
Where to begin and where to end, when proposing an itinerary through modern Korean poetry? There is so much of it, and it is so integral to an understanding of recent Korean history.
Amidst Skyscrapers, Mountain-spirits Flourish –
For more than two thousand years of Korean history, the residents of this mountainous peninsula have believed that the peaks and slopes are spiritually alive, inhabited by a San-shin [mountain-spirit], male or female, one or more per mountain, integral with it, both manifesting the mountain and being manifested by it.
KO UN: Human Nature Itself is Poetic –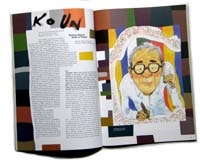 Ko Un is said to "write poetry as he breathes." Widely acknowledged as Korea's foremost and most prolific living contemporary poet, Ko Un is finally becoming known and recognized outside of Korea as more translations of his 130 diverse books — volumes of poetry (from short lyrics to sweeping epics), fiction, essays, translations and drama — become available in major Asian and European languages.
If You Were Korean Cinema –
If You Were Me exposes a South Korean cinema of widening artistic freedom, one that is now providing space for marginalized voices, a cinema that represents further steps in democratizing the country itself.
. The traditional protest repertoire of marches, sit-ins, stones and Molotov cocktails is evolving. Some of the new techniques remain confrontational, even violent. Others rely on technology, subtlety, inner strength and community.
Seeing the Invisible: Women's Fiction in South Korea Today –
Recent fiction by Korean women departs significantly from the work by women of earlier decades. The newer fiction tends not to be sentimental, does not limit itself to themes of unrequited love or situations involving love triangles, and is less colored by han, a difficult-to-translate sensibility that combines resignation, bitterness, and longing.
IN TRANSLATION
The Woodcutter and the Nymph –
High tide. Low tide. There was a time these words pained her whenever they crossed her mind. Things she had no control over, like the waves surging in and washing out. Days that have dissipated into the depths of darkness, like grains of sand slipping helplessly through fingers.
Mad Women 2004–
Masks –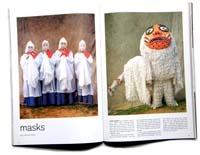 Peace Masks –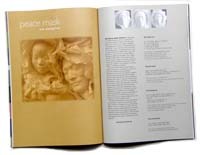 Connecting Heaven and Earth –
Lessons Where Rivers Meet: Interview with Father Paul Moon on Saeman'gum –
Saeman'gum Haech'ang, the largest tidal flat in Korea, covers about 200 square kilometers and is one of the largest and most ecologically rich estuarine tidal flats in the world.
The Kim Cult –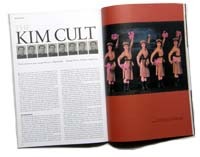 It has been suggested that "the whole landscape of the DPRK is a realm of hyper-reality, a theme park to the memory of the Great Leader." This extreme view of North Korea may have been expressed because the writer found it difficult to escape anywhere from the images of the Great Leader or one of his quotations or some other physical manifestation of his all-pervading presence.
A Harmony Beyond Control: Yoon Kwang-cho on living with clay –
In my younger days, I too often confused freedom with self-indulgence. After understanding the essence of Buddhism, I learned that true freedom means freeing oneself from desire, anger and foolishness.
Breath & Movement Deeply Felt –
. Choreography is revealing your internal vision; dance is the interpretation of that vision. It always bothers me in American dance that you don't see much "internal" dance — it's much more outward.
Generational Tensions: Yu Young-nan on translation & women writers –
When I read the novels of young writers, I have a hard time relating to their stories. Some are good, but some talk about nothing of importance to my mind; always our question was "What do we live for?" and "What are our values?"
Punk as a Skunk –
. Prosperity, rather than economic depression, seems to have gone hand in hand with the rise of punk in Korea, for the local version of the genre was a product of growing democratization, a rise in disposable income, and increasing cosmopolitanism.
A New Division of Labor: Facing Global Capitalism –
Workers were accustomed to a time-honored sense of "democratizing" solidarity pitting them against authoritarian military regimes. Labor unions attracted their members partly with a nostalgic sense of pre-industrial community which workers were able to enjoy even while grinding away inside urbanizing industrial complexes; many of the workers came from rural areas and were steeped in shared and cherished traditions.
Korea's Lost Beeper Language –
Most of the beeper language's vocabulary was formed by simply encoding Korean words using the Korean number with a similar phonetic value. For example, in English, one might render the question "Want to eat?" by using the similar-sounding numbers "128."
Korea Strengthens "Media Democracy"
–
In South Korea, we have developed the concept that media centers are an essential part of the public cultural infrastructure. They are necessary for raising the levels of media literacy in the population at large, essential for this 21st century era of audio-visual media culture.
Instant Communication Frenzy –
South Koreans have embraced mobile phones, digital cameras and online services at a dizzyingly fast pace. Does this frenzy indicate that Koreans tend to adopt whatever is chic as quickly as possible, to ride a new wave as fast as they can? Is this linked to the perception that Koreans try to finish tasks rapidly, focusing only on speed rather than quality?
Korean Film –
Unless the creative talent in Korea steps up to the next level, I fear that the "Korea Wave" could run its course and be superceded by films from other regions willing to learn the lessons that, so far, Korean filmmakers seem unwilling to learn.
Reviews:


Three Generations, by Yom Sang-seop; translated by Yu Young-nan, afterword by Kim Chie-sou — Carse Yun

Target North Korea: Pushing North Korea to the Brink of Nuclear Catastrophe, by Gavan McCormack — Jeffrey Miller 

Save the Green Planet, dir. (DVD) Jang Jun-hwan — Jonas Hult 

Repatriation, Directed and narrated by Kim Dong-won— Deidre May

Spirit of the Mountains: Korea's San-Shin and Traditions of Mountain-Worship,, by David Mason — Michael Anderson