shipping & handling included
KJ 61
published
September 20, 2005
96 pages
In our cover feature "Is Europe Western?" expat author Tawada Yoko incisively explores identity and nationalism. In other articles, Lester Young reveals how China, as "The World's Leading Consumer," may spur a new economic model; Eric Johnston awakens us to "Japan's Nuclear Nightmare"; poet Rodger Kamenetz revisits the Jewish-Tibetan interfaith dialogue; Ken Rose muses on "The Spirit of Magic and the Magic of the Spirit"; Kim Myong-Hee tells a true, post-WWII tale of Japanese refugees in Korea, and Bengali fiction writer Manosh Chowdhury renders a reverie entitled " Crow Home ."
Several stories are concerned with experience captured through journaling or its online extension, blogging, including a new translation of Natsume Soseki's groundbreaking "Bicycle Diary 1903" by Damian Flanagan; the Kanazawa journals of artist Beverly Effinger; "Painting Cambodia for Judy" by Karen Coates ; "Hagi Night" by Ellis Avery; "In the Land of Reclining Buddhas" by John Brandi ; "Lightning Storm Over Calcutta" by Mark Mordue ; "Blogology 101" by Robert Brady , and "On Entering the Blogosphere" by Ken Rodgers .
Emphasizing the visual, Markuz Wernli-Sato documents the eccentric Tofukuji garden of Shigemori Mirei in "Camera Unleashed" and Paul Kohl presents his photo-journal "Being-Here." Exploring the art (and related crafts) of the ink brush are "Seeking Greater Understanding Through Zenga" by Linda Shimoda and "The Four Treasures" by Christine Flint-Sato . Reviews round out KJ's ever-diverse mix of content. Cover Image by Tiery Le…
Contents: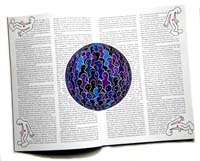 In Europe people like to talk of Asian cuisine, Asian medicine, or of Asian philosophy, because they would like there to be some sort of unified Asian culture. If they didn't, the existence of a European culture would be in doubt. In Asia, however, for a variety of reasons one is happy that there is no Asian culture…
THE WORLD'S LEADING CONSUMER –
China's eclipse of the United States as a consumer nation should be seen as another milestone along the path of its evolution as a world economic leader. Its record-high domestic savings and its huge trade surplus with the United States are but two of the more visible manifestations of its economic strength. It is now China, along with Japan, that is buying the U.S. treasury securities that enable the United States to run the largest fiscal deficit in history.
At 10:35 a.m., local media and Tokaimura residents began receiving the first sketchy reports of radiation leaking at a Tokaimura fuel conversion plant. Three workers in the plant had used an ordinary aluminum bucket to pour a uranium mixture into a settling tank, an amount that far exceeded safety limits and caused a nuclear chain reaction.
BLOGOLOGY 101
<!—Already uploaded, brady/blogology-101/, please link here-->
–
The earliest known examples of blogging, apart from the network of cave paintings – oldest evidence of the human need to blog – are probably the Sumerian clay tablets: early prototypes of the hard disk, but with data impressed by wooden stylus, in lieu of a keyboard…
HAGI NIGHT –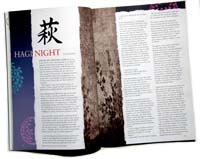 For the past thousand years, Kyoto has treasured this week in late September for its blooming hagi , or bush clover (Lespedeza ), which guidebooks will tell you is symbolic of the fleeting nature of life and thus used in coming of age ceremonies.
TITLE –
EXTRACT
THE PROVINCE OF COLOR" & "TENKEI TAIHEI –
Fields of rice fill the lower lands between the mountains; fields unnaturally spring green and full of moisture. The flooded land with its orderly spread of grain is punctuated with the forms of cranes— pure snowy egrets, and the taller, more still figures of their grayish-white relatives. When peace reigns on earth, the fields have been planted, and flocks of cranes are fishing for their sustenance.
PAINTING CAMBODIA FOR JUDY –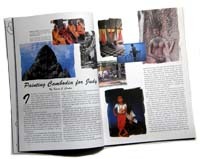 Darkness drew down slowly, a thousand shades of pink and orange and yellow in the dimming sky. For all they don't have, Cambodians possess a staggering diorama. Cambodia's landscape is a masterpiece, traded for the price of living there. How can I convince Judy, convince anyone, of the magnificence amid the misery?
The crows keep on flying, screaming about loss and exile. Countless, innumerable. Over our heads no longer is there an empty patch of sky. A whole universe of crows! It shocks us, assaults our senses. Especially mine. Where do these crows live? What is this unearthly demonstration, this vivid protest, about? How strange! But, truly, what else would we want to defend if not our homes?
IN TRANSLATION
BICYCLE DIARY 1903–
Having spent his adult life engaged in perhaps the most wide-ranging literary research ever conducted, with a head full of knowledge and insights from every corner of the globe, Soseki was ready to come out fighting. Taking even the most mundane subject — learning to ride a bicycle — Soseki was able to transform it into something of intense complexity, wit and symbolism, making reference to everything from The Tale of Heike to Chinese poems as his alter ego comically falls and bruises himself.
BEING-HERE –
IN THE LAND OF RECLINING BUDDHAS –
More often on a journey, it's not what you're supposed to be looking at, or for, but what's on the periphery that's of interest. Much can escape the eye while focusing on the obvious, looking for meaning, constructing the events of history, or just plain rambling around in the personal, emotional sphere.
ON ENTERING THE BLOGOSPHERE –
Contrary to rumor, blogging's not just some Babel echo chamber of white-guy geek pseudo-punditry. Blogs are a new way to see through others' eyes, to in-vision other cultures. People around the world are now communicating beyond geographic, political or social borders, in ways unimaginable just a few short years ago. Think of it as CB radio for the global village – with unlimited channels, classy design, and searchable archives.
THE SPIRIT OF MAGIC AND THE MAGIC OF THE SPIRIT –
That which is great within us — and without. That is magic. Its explanations exceed our capacity to contain them. That is its greatness. The Chinese call this quality shen , and when we see this word we often read it into English as 'spirit' or 'wonderful,' 'marvelous,' and though less frequently, 'magic.
THE FOUR TREASURES –
Calligraphy and ink painting in East Asia have a long and prestigious history, but while styles, script forms and aesthetic fashions are continually in flux, the fundamental materials that are used in these arts have remained essentially the same for nearly two thousand years. These are sumi (Chinese ink), brush, paper and inkstone. Throughout East Asia they have traditionally been known as the "Four Treasures of the Scholar."
SEEKING GREATER UNDERSTANDING THROUGH ZENGA –
The source of a true spiritual life is in a question. By asking questions we show our willingness and our desire to hear the answer. This practice helps us form our path and create our lives. Questions and answers help us to know our lives, and the world around us.
CAMERA UNLEASHED –
Off go my shoes at the entrance, abandoned is the luggage. Ripples of the temple's aging wooden floor press through my socks. No tourists today — Tofuku-ji is mine alone. A breeze from the courtyard heightens the anticipation. Eyes suddenly embraced by a sense of wonder. Shigemori's stone formations rock.
THE TATTERED KIMONO –
Huddled together in their compound, the Japanese families listened as the crackling radio broadcast the Showa emperor's speech of surrender. Outside the walls, the long suppressed emotions of the Koreans erupted into a riot.
SATO KAZUO SENSEI –
Although Kazuo Sato was really 'a cultural treasure of haiku', he always seemed so ordinary, yet he was really extraordinary not only in his achievements and his vision for 'world haiku' but in his unending kind inspiration to others; and this is always a true sign of greatness, as the Zen masters say, "the ordinary mind is the way" – and this same appreciation of the ordinary or everyday is the very seed of haiku.
INTERVIEW
REVISITING THE JEWISH-TIBETAN DIALOGUE –
We understood that they were going through a crisis we could feel in our hearts as Jews. It was resonant with our history — losing your homeland, your temple, being oppressed by a great empire. The issue has been "How do we survive all this?" Really, the Jewish question for the Dalai Lama was, "Okay, you have a wonderful tradition, but how will you preserve it and survive this current difficulty?" And the question to Jews from the Tibetan Buddhist point of view was, "What does your religion do for your inner life?" In a way, it's almost a reversal.
ENCOUNTERS
LIGHTNING STORM OVER CALCUTTA –
Rain begins to fall as the lightning and thunder increase, but I close my eyes again and keep drowsing. Only as it hits the window, harder and harder in thin waves, do I begin to wake and see the fingery rain on the glass, the delicate slow patterns at odds with the torrential source.
Reviews:


Kanji for Designers, by Shogo Oketani & Leza Lowitz — Gregory Dunne 

The Koto: A Traditional Instrument in Contemporary Japan, by Henry Johnson — Catherine Pawasarat 

Walk the Talk, by David Wong & Stephan White — Ken Rodgers 

The Single Tone: A Personal Journey into Shakuhachi Music, by Christopher Yohmei Bladel — Preston Houser 

Poems from Ish River Country: Collected Poems & Translations, by Robert Sund — John Brandi 

The Fourth Treasure, by Todd Shimoda — Deidre May
The Way to Paradise, by Mario Vargas Llosa — James Dalglish