shipping & handling included
KJ 62
published
May 30, 2006
96 pages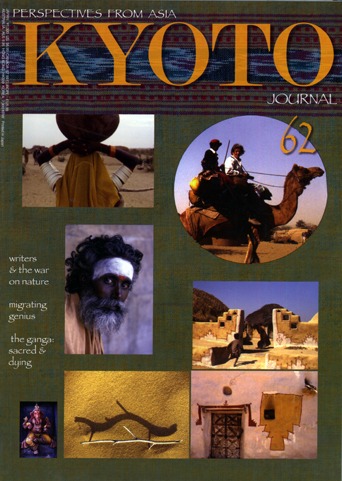 Cover Photographs by Jack Madson
To what destinations do birds fly, and rivers flow?
The world grows old and ever newer. Pilgrims follow arcs of the heart's aspiration; even deities migrate.
Seeking new illuminations, each writer in this issue of Kyoto Journal re-opens our eyes in different surroundings: atop the dragon-wreathed summit of Mt. St. Helens, August 1945; beside the river Sarasvati 3,500 years ago, and along the banks of the Ganga, 21st century. In a Sikh Calcutta taxi, circa 1972. Beneath the revered bo tree of Bodhgaya; within a shadowy souk in Syria; inside a roadside barbershop in Vietnam. In a Thai beach guesthouse. In a dusty North Korean village. And naturally, all around Japan: at a McDonalds in Akihabara; at a late winter Kyoto performance of kyogen; at the "Eden Chakra" of Aichi Expo, 2005. In old Edo, taking refuge from a cloudburst; in the inked frames of a translated Peanuts cartoon. As we turn their pages, in our own familiar place and time.
Contents:
YOU ARE THE EYES OF THE WORLD<!—Please link to www.cerritos.edu/eheckerman/ ->
–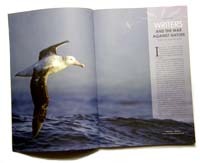 Poems, novels, plays, with their great deep minds of story, awaken the Heart of Compassion. And so they confound the economic markets, rattle the empires, and open us up to the actually existing human and non-human world. Performance is art in motion; in the moment; both enactment and embodiment. This is exactly what nature herself is.
HAN YU'S ADDRESS TO THE CROCODILES –
On the 24th day of the 4th month of the year 819, Han Yu, Governor of Chao-zhou (Canton), instructed his officer Qin Ji to take one sheep and one pig and hurl them into the deep waters of the river Wu as an offering for the crocodiles. When the crocodiles had gathered, Han Yu addressed them in the following manner…
POETRY
"Absence" – Jim Nawrocki
"Dry Summer" – Beverley Effinger
"Listen" – Amy Uyetmatsu
–
SACRED RIVER, DYING RIVER –
Hindu believers continue, as they have for millennia, to express absolute trust in the Ganga's holiness and purity, traveling thousands of kilometers to bathe in its waters and have their sins washed out of them, but now, day after day, unprecedented amounts of human, industrial and agricultural wastes are poured into it. Revering it one moment; standing by and permitting it to be desecrated the next. Is this duality a part of Shiva's dance?
DROUGHT WARRIORS –
For Mudrika Bhagde of Taylornagar village in Maharashtra, India, the day begins at 3:00 am. She joins the other village women to take her turn at the hand pump. She pumps strenuously for an hour, until her arm aches with the effort to fill her ghaggar (water pot) with 10-12 litres of water.
METAMORPHOSES OF A GODDESS
–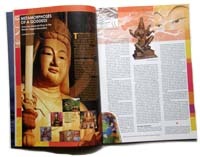 The world's biggest statue of Benzaiten (one of Japan's Shichifukujin, Seven Gods of Good Fortune) was completed in the year 2000 in southern Kyushu, the westernmost of Japan's main islands. This magnificent representation depicts a goddess with a long history stretching back in time over 3,500 years and across Asia all the way to northwestern India. Her story begins as the deified river Sarasvati, who continued to be worshipped even long after her waters had vanished from the surface of the earth.
MIGRATING GENIUS: THE ART & LIFE OF JACK MADSON –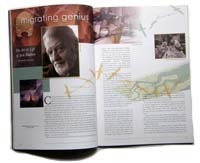 How many times have I joined Jack Madson here at his home by this forested river gorge — how many pilgrimages to Felton, California since Jack left Kyoto two decades ago? I've lost count, but on every occasion, atop the discovery of new directions in his paintings, I've found him absorbed in fresh endeavors. Now in his seventy-ninth year, Jack Madson is as ever a man in whom life is superabundant.
THE CARTOONIST AND THE POET –
For many readers, comic strips and poetry will forever remain at polar ends of the literary spectrum. Yet when Tanikawa decided to translate Schulz's writing, it may very well have been that he recognized a kindred spirit in Schulz and found the poetry in Peanuts.
ENCOUNTERS:
INDIA: LUSTING AFTER THE BODHI TREE –
I was determined to crock myself into enlightenment through extreme deprivations, physical exertion, and an indefinite meditation under the same tree where old Buddha had his great awakening. Before becoming too weak from my fast, I decided to join the hundreds of Tibetan refugees that were doing full prostrations around the Bodhi tree. Somehow the magical number of 111,111 became my goal and I set out, minus the wooden hand blocks and kneepads that the other pilgrims wore, to reach my objective.
NORTH KOREA: WHEN LESS IS MORE –
He is patient and generous with his time, devoting an entire afternoon to telling me about his work in North Korea during the past seven years, describing his life as one of the few foreigners ever permitted to work in a poor rural village. This unusual level of access in a closed country is all the more surprising upon examining his name-card: "Sven-Erik Johansson, project manager. The Swedish Pentecostal International Relief and Development Cooperation Agency."
JAPAN: KISSING THE WORLD "BUY, BUY" (AICHI GREEN EXPO) –
Facing the future of humanity on earth, this event's primary intention was to entertain, an embodiment of mainstream consumer culture, powered by multitudes of people buying stuff. It was such a perfect mix of theme park crapola and idyllic natural living that you could call it "Consumerism's Eden Chakra" in a heartbeat
My goatee and shaved head perplex many Vietnamese because in their country beards are for venerable old men like Uncle Ho and bald heads for monks, and I am neither. Their confusion revolves, as so often with Americans in Asia, around my role in life and what deference I am owed.
RAMBLE:
"I love the wild not less than the good," said Henry, in the Higher Laws chapter of Walden, and "In wildness lies the preservation of the world." Henry was wild about wilderness, just couldn't stop talking about it one way or another, and who can blame him, he saw it disappearing.
IN TRANSLATION:
CLOUDBURST –
It didn't occur to him that there are both happy and unhappy people in the world. Nor did it occur to him that those who are happy now may not always be happy, and that those who are now unhappy may find happiness again. The laughter had triggered only an intense hatred for the happy ones — a hatred that saturated his heart.
SYRIA THROUGH JAPANESE EYES –
In June of the year 1110, the Crusaders tried to win back this sacred place from the Arabs, and finally seized the Arab fortress. While I was visiting, a joint film production team was shooting a film set in the Arab world of the Middle Ages. I had a chance to talk with some members of the production team, which included people from Morocco, Tunisia, Egypt, Syria, and Iran.
FICTION:
TEN BAHT –
Among the bewildering facts Len kept in her mind was how farang, though rich beyond all imagining, could be very troublesome over the matter of a few baht. It was important to calculate accounts extremely carefully, which she had to do herself when Auntie Mem was gone. She noticed they were especially demanding when girls from the far side of the island were not by their side. Auntie Mem said this was how these foreigners got rich and stayed that way.
SETSUBUN GIRL –
On the first day of spring – which falls at the beginning of February – after throwing beans and playing at devils, we went to Mibu Temple in Kyoto. We stood in line for the better part of a cold hour, then sat down in the outdoor theater to see the eleventh-century pantomime named for this day: Setsubun.
A VITAL OCCUPATION
<!—Already uploaded, uncategorized/a-vital-occupation/, please link here--> –
At 1:30 I stop a random stranger on the street, and ask how to get to Akihabara. It may surprise you, but this is one of my special duties. I'm supposed to do one of these, every three hours. The old lady I pick on doesn't understand a word of English. I almost feel like making it easier for her by using just a smidgin of Japanese, but the Company is very strict about this. The 'Standard Operating Procedure' in a case like this is to repeat the question several times, each time slower and louder, much louder.
REVIEWS:

 Tokyo Nights, by Donald Richie — David Cozy 

Danger on Peaks, by Gary Snyder — Roy Hamric 

Mountains & Rivers Without End, (CD) by Gary Snyder — Preston Houser 

Istanbul, Memories and the City; Snow; My Name Is Red, by Orhan Pamuk — James Dalglish 

Istanbul: Memories and the City by Orhan Pamuk — Mark Mordue 

Opening The Hand Of Thought, by Uchiyama Koshu — Sherry Nakanishi
Stone Bow Prayer, by Amy Uyematsu — Ellis Avery

Pathways, Water Shed by Edith Shiffert, Rene Gregorio — Stephen Gill 

Enhaiklopedia, Ed. Stephen Henry Gill — Martin Lucas 

Old Kyoto: A Guide to Traditional Shops, Restaurants and Inns, by Diane Durston — Deidre May 

The Time in Between, by David Bergen — Lynda Philippsen 

A Diary of Darkness , by Kiyosawa Kiyoshi — David W. Stowe
BEYOND:
JAHNON <!—Please link to http://here2day.netwiz.net/-->
–