KJ 65
published
January 20, 2007
96 pages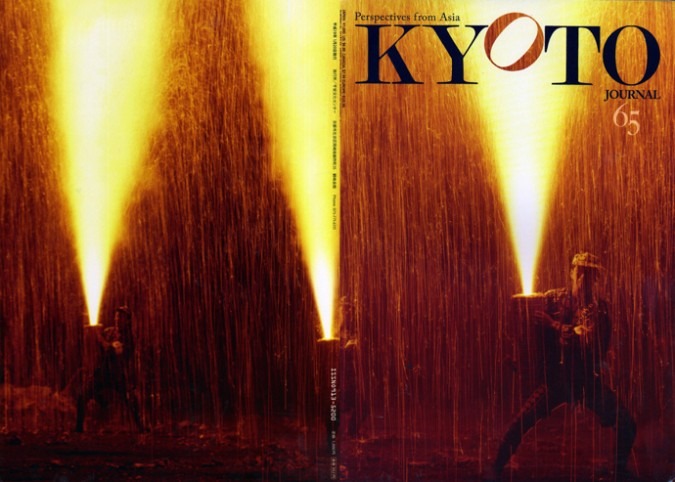 KJ 65 continues our search for eclectic "Perspectives from Asia" with writings from Vietnam, Indonesia, Taiwan, Japan, Nepal, Thailand, Singapore, Bangladesh, Pakistan and China — and offers an extraordinary comparison of Kyoto and Rome. < strong> Donald Richie reminisces on his meetings with legendary D.T. Suzuki in an interview by Osawa Ishibashi Yoshie ; Chinese environmentalist Wang Canfa talks with John Haffner ; literary heretic Haniya Yutaka speaks presciently on power from his WWII prison cell; finds what's new in the art world of Hanoi; William Stimson unearths geo-cosmic truths in Taiwan's cracked landscape; Charlie Canning accompanies a troupe of Japanese hikikomori ('shut-ins') on a Shikoku pilgrimage; Remo Notarianni visits a Thai monastery known as "the last stop on earth"; Mark Mordue reflects on an incident in a Nepali village; Vinayak Bharne compares two ancient capitals; and Heinz Insu Fenkl introduces passages from a new novel about the real Siddhartha Gautama .
Engaging fiction is featured, by Erick Setiawan , Gary Beck , and Muhammad Nasrullah Khan , while in poetry Pat Donegan meditates on war and tea, Kuroda Saburo ponders "eating the wind" and Margaret Chula gives haunting voice to a Manzanar internee. Vinita Ramani interviews Bengali filmmaker Bappaditya Bandopadhyay ; Mari Luong talks with Japanese documentarist Kana Tomoko ; Joseph Cronin translates progressive Japanese thinker Nishimura Isaku , who recalls his childhood, circa 1892; Ken Rodgers introduces cartoonist/educator Yoshitomi Yasuo and "Cartoons for Peace: The Art of Satire"; Takahara Yoshiyuki gains insights from a blind classmate; Diane Durston visits a farmers' festival; and reluctant commuter Robert Brady contemplates the glories of mountain dew in Shiga.
Contents:
OBSTACLES + TRANSITIONS: CONTEMPORARY VIETNAMESE ART
Some outstanding Vietnamese artists are neither recognized nor widely known inside their country of birth — ignored or rejected by art critics, official bodies and sometimes even by fellow artists. The attention that the work of these artists receives from international curators, museums and writers does not alter their internal position as outcasts.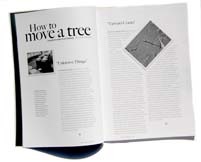 I've spent so much of my life trying to understand this and that. It seems to me now, as I grow older, that the importance of understanding is overestimated; and that there's something more primary that serves better to unite us with what's all around. This is the mystery of things.
FARMERS' FESTIVAL
RAMBLE: LONG KNOWLEDGE
On a certain type of grass about a foot high, fine hairs held the dew in drops so small as to make them all seem a cottony vapor; patches of that grass stood out like glowing clouds of mist hovering in place just inches above the ground.
THE VIEW TO MT SUMERU: DONALD RICHIE ON DR. D. T. SUZUKI
As a young man in early Occupied Japan, Donald Richie — a masterly writer who himself would play a leading role in introducing Japanese culture and film to the West — visited Dr. Suzuki a number of times at the Matsugaoka Bunko, a Buddhist library that Suzuki founded in 1946 on the hillside grounds of the Tokeiji temple compound in Kamakura.
WATER SHO
ENCOUNTER: ROADKILL
The road starts narrowing as we clear the Kathmandu Valley and arrive at its head, broaching a final crest and descending into what will become an ever-spiralling world that plummets and rears up again in front of us…
IN TRANSLATION: A MOUNTAIN VILLAGE – NISHIMURA ISAKU
After living in Shingu for a while with my father's parents, the Oishis, I moved in with my mother's mother, Mon, and my two brothers at the Nishimura house in Kuwabara. It was at that time, when I was only eight years old, that I legally became the head of the rich Nishimura household.
IN TRANSLATION
PROLOGUE: ON POWER – HANIYA YUTAKA
Jailed during World War II for his Communist activism, Haniya read Kant's Critique of Pure Reason in his cell and forged a dissenting politics of hybrid originality, which he defined as that of "Communist by day and anarchist by night".
MILK FROM WATER: SIDDHARTHA GAUTAMA AND THE GREAT BIRD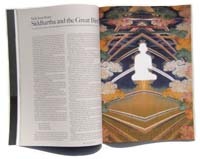 I paused to look over his shoulder at what he had drawn on the ground, and my eyes grew wide. It was not one script, O Maha-Raja, but many: Nagri, Uk, Mangal, Parusha, the ideograms of the East. In every language I knew and in some that I did not, the Prince had written the sacred verse. And he continued, absent-mindedly, as if he merely daydreamed, scratching pictures in the dust.
REALIZATIONS
INSIGHTS FROM IKUYO
Despite being blind from birth, Ikuyo said she sees things in her dreams, and it shocked me when she said, "I dream in color."
JUST DEEDS
NOTHING LIKE A HUNDRED MILES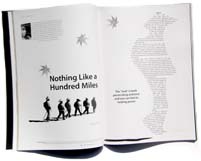 When I first read about New Start's 88-Temple Shikoku Pilgrimage program for hikikomori (a housebound recluse or "shut-in") three years ago, the idea of taking a group of people who refused to go outdoors for months on end on a sixty-day hike around the island of Shikoku seemed to have a certain logic about it.
WATT THRAMBOK: THE LAST STOP ON EARTH
Thamkrabok has filled a vacuum in drug treatment. "It is a monastery. It therefore includes the spiritual dimension of life, rather than limiting itself to the illusion of symptom removal."
CARTOONS FOR PEACE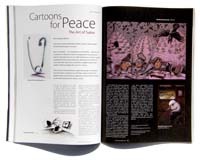 Satirists and cartoonists are our public disbelievers, anarchic enough to wrestle war's horror into absurdity, allowing us to confront our worst fears with a dash of wry disbelief, an edgy insistence that another reality is possible, that we have a choice.
INTERVIEWS
DIVIDE AND RULE: FILM-MAKER BAPPADITYA BANDOPADHYAY'S BARBED WIRE
I think the future could be a lot like what is happening in Bangladesh. Dhaka is so rich, so developed, but most of the country is in poverty.
ILLUMINATING THE PAST WITHIN THE PRESENT – KANA TOMOKO
She looks like any young woman you might see shopping in Japan. But Kana Tomoko, 35, is a freelance documentary filmmaker who raises some difficult questions about Japan's past.
POETRY
MEDITATION ON WAR OVER A CUP OF TEA
FICTION
THE MIS-MANAGEMENT OF MR. AK-SAM
"I'm only trying to help, but my husband thinks I'm always in his hair, bald though he is," she said to no one in particular. "He says I'm no good and only know how to mismanage him."
POETRY
EATING THE WIND
FICTION
JOURNEY
Centuries ago, a great prince traveled from China to India and brought a famed Taoist magician to divert him.
THE MAN WHO WAS A DONKEY
"If Hussani Powely is a man," I said, "then why does he not live like us? Why does he remain always with animals? He even sleeps on the ground among those animals. As I sleep, in my dreams, I see him barking and eating grass. I see him walking like a donkey."
KYOTO NOTEBOOK
KYOTO: THE VIEW FROM ROME; PARALLEL DIALOGUES IN ARCHITECTURE & URBAN DESIGN
What Christianity did for Rome, Zen did for Kyoto: it became the dominant philosophical conscience of the culture, the economic and intellectual catalyst for its most progressive developments. By the fourteenth century even as nearly half of Rome's thousand-odd pagan destinations were being absorbed into Christendom, Kyoto was witnessing the ever-increasing popularity of Zen in both its regal and military class.
CONVERSATION
USING LAW TO SAVE NATURE – WANG CAFNA
Wang Canfa, Professor at the China University of Political Science and Law (CUPL), is well placed to connect sophisticated environmental laws and the desire of ordinary people for clean air, water and land.
Reviews:


The Hidden Gardens of Kyoto – Photographs by Mizuno Katsuhiko, text by Ono Masaaki — John Einarsen 

Iran Awakening: A Memoir of Revolution & Hope, by Shirin Ebadi with Azadeh Moaveni — Rasoul Sorkhabi 

The Buddha and the Terrorist: The Story of Angulimala, by Satish Kumar — Ted Taylor 

Rethinking Development Economics, by Ha-Joon Chang — Rashida Sultana 

Folding Paper Cranes, by Leonard Bird — Mike Dillon 

Chasing the Monk's Shadow: A Journey in the Footsteps of Xuanzang, by Mishi Saran — Rasoul Sorkhabi 

Backroads to Far Towns: Basho's Travel Journal, trans Cid Corman — Sherry Nakanishi


Timescapes Japan: A Pinhole Journey, by Edward Levinson 

Falling Blossom , by Peter Pagnamenta and Momoko Williams — Lynda Philippsen
BLOGOLOGY: IN PURSUIT OF MOUNTAINS
BEYOND: BOXES