KJ 66
published
May 10, 2007
96 pages
KJ #66 leads with the unexpected re-emergence of Buddhism in China, the re-invigoration of superbly-crafted devotional sculptures in Nepal, and an appreciation of Rumi's poetry – now phenomenally popular no less than 800 years since his birth. In contrast, "Otacool Nation" explores a new Japanese cultural phenomenon now influencing youth culture worldwide – and said to rival the export revenues of Japan's vaunted auto industry. Our IN TRANSLATION feature showcases two different approaches to translating the work of Nakahara Chuya, an iconoclastic pre-war poet whose reputation remains strong in Japan but who is virtually unknown in the West. A short story by Stephanie Han, "Invisible," looks at expat life in Hong Kong, from the viewpoint of a Korean woman. In CONVERSATIONS, Andre Vltchek interviews Indonesia's quintessential dissident novelist, Pramoedya Ananta Toer. And in JUST DEEDS, we introduce a tireless woman campaigner working to improve children's lives in Bangkok's Klong Toey slums, volunteer tourism with the successful "Go M.A.D. (Make A Difference)" program, and multi-ethnic musicians in Kansai supporting a school in the rural highlands of Nepal. Cover Image by Kitano Masayuki

SPECIAL ONLINE FEATURE FOR 66
Pico Iyer is Lost by Mark Mordue



Contents:
The Dancing Dead: Travels Through Buddhist China
I found the monks eager to talk. They didn't want to know anything about life in America, the latest political scandal, or the World Cup (common questions on buses and trains); they wanted to know what sutras I was (or wasn't) reading, how many hours I meditated each day, and more to the point, how I intended to "solve the problem of life and death."
Spirit From Fire: Buddhist Statues Of The Kathmandu Valley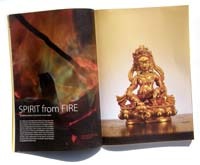 For 1200 years the Kathmandu Valley has resounded with the hammers of the Newar metal workers, who have long been noted for their stunning statues of Buddhist deities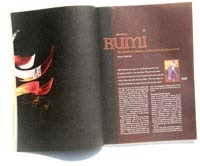 One day in the late autumn of 1244, Rumi was sitting by a pool along with his disciples and books. Shams (unknown to Rumi) came along, greeted him and sat down. Interrupting Rumi's lecture, he pointed to the books and asked, "What are these?" Rumi replied, "This is some knowledge you wouldn't understand." Shams then threw all the books into the water and said, "And this is some knowledge you wouldn't understand."
ENCOUNTERS
This being Japan, the TV crew is determined to wrench the greatest emotional poignancy from their program, to dredge up any vulnerabilities possible. Y-san is able to make me weep twice, which I find almost unforgivable.
Showdown At Shinagawa: Bowling For Budget In Tokyo
On this, my eighth trip to Japan, we had flown in from Bangkok for a couple of weeks, to shoot a corporate project for a huge Japanese electronics manufacturer, and our Tokyo-based clients were difficult to work with.
RAMBLE
Idle Thoughts
Idleness punctuates the new idler's life, gives it organic pace and pause, imparts perspective on what once was a blur, enables snapshots, moments of assessment and redirection, the creation of a mindmap of the life's path, thus the idler learns of life from the inside, where it's lived and where it happens…
The Life And Art Of Paul Horiuchi
Horiuchi's works in collage, for all their seeming objectivity, suggest the Japanese quality of aware — a wistful longing for a home that can't be named in this vanishing world.
IN TRANSLATION
Nakahara Chuya And The Art Of Translation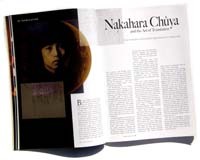 By age thirty he would be dead, and in his lifetime publish just one volume of poems in fifty copies, yet today the young man from Yamaguchi with the haunting stare is widely seen as one of 20th century Japan's greatest poets.
REALIZATIONS
Cutting Off A Finger
Pulp Fiction, whether we like it or not, is structured as a narrative of enlightenment or realization—through the experiences of Jules, the hit man played by Samuel L. Jackson.
The Dumbing Down Of A Docomo Nation
As I am about to cross the street, a young woman crosses my path in the dark, her facial features illuminated by the screen of her mobile phone, as she taps out a message on its keypad. She does not look up; her attention is completely focused on her telephone, on a dark street in suburban Tokyo, twelve minutes after midnight.
Otacool Nation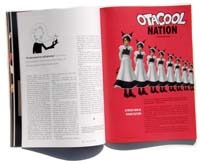 As a thriving subculture, otaku are driving the engines of Japan's economy while challenging the ways we connect with others with their new modes of social interaction. JETRO (Japan External Trade Organization) records show that in 2001, the export market generated by the Japanese youth culture of fantasy entertainment produced 11 trillion yen in revenues.
Korean Wedding Halls
FICTION
Invisible
You were glad to come back to Asia. Sink into a crowd. Get lost. You are not a rugged individual. You like the anonymity. Together with your husband in the U.S. you were thought of as too yellow, too white, too privileged, too educated, too foreign, too poor, too rich, too loud, too quiet, too American, too Asian, too European.
Eyes Of A Temple Cow
I must say, in this city, there is respect for a temple cow. People give you way, which is more than what they do for each other. They don't shout, curse, or threaten to accelerate their vehicles when you saunter past, eyeing them warily. Somewhere down the road, I feel we — the temple cows — are better off than the human beings we serve.
POETRY
FATHER
CONVERSATION
Exile – Indonesian Writer Pramoedya Ananta Toer
For Indonesia, Pramoedya's passing means much more than the death of one person. The nation has lost its finest thinker but also its moral voice, a poet who wrote exclusively in prose, a determined humanist and a man who fought his entire life for justice and truth…
JUST DEEDS
Hesitant Laughter In The Land Of A Thousand Smiles
Even as a student in elementary school, Ungsongtham-Hata had to work as a vendor. As a teenager, she quit school altogether and took on two jobs, one at a firecracker factory and another at the ports, scraping rust from the boats. She went to high school at night and opened the One Baht School, where she and her sister taught Klong Toey children.
Volunteer Tourism
Tourism has become an increasingly viable means of generating revenue in even the remotest regions of the world. Alongside this growth has been a steady increase in international volunteer tourism, which seeks to measure wealth differently.
Resamm Phiriry
Out of the approximately 23,700,000 people in Nepal, over 40% live in poverty. The average life span is 60 years. The adult literacy rate is about 30%, and is said to be only 15% among women. In the education system, the government provides teachers and textbooks; however, the community residents must pay for the construction of schools.
Snow & Spirit
Reviews:


Radio Pyongyang: Commie Funk and Agit Pop from the Hermit Kingdom, Guitars of the Golden Triangle: Folk and Pop Music of Myanmar, (music CDs) — Lauren Deutsch 

Welcome to Dongmakgol, (DVD) — Jonas Hult 

The Teahouse Fire, by Ellis Avery — Susan Pavlovska 

Kyoto: A Cultural & Literary History, by John Dougill — Preston Houser 

Zen Gardens, by Wall Matthews (music CD) — Ted Taylor


Secret Histories: Finding George Orwell in a Burmese Teashop, by Emma Larkin — Roy Hamric 

Rumi's Daughter, by Muriel Maufroy — Rasoul Sorkhabi 

The Smell of Rust, by Margaret Chula — Penny Harter 

In the Time of Madness, by Richard Lloyd Parry — Justin Ellis 

Starfish Hotel, by John Williams — Benjamin Freedland 

Buffalo Boy and Geronimo, by James Janko — Ellis Avery 

Power Up: How Japanese Video Games Gave the World an Extra Life , by Chris Kohler — Ken Rodgers
BEYOND
Inoue Yasushi's English Grammar Lesson
EXTRACT