KJ 68
published
December 22, 2007
96 pages
KJ 68 starts out literally in the backyard of one of our editors — amidst frogs, bees, butterflies and mantises — leading into a passionate exploration of environmental aesthetics by Brian Williams, a leading Shiga landscape painter, and an investigation of Natural Agriculture by writer/photographer Lisa Hamilton. Other rambles, poems and profiles take us as far afield as back-country India and rural Cambodia; we meet multi-ethnic students in Bishkek, Kyrgyzstan, a comedian family in Mandalay, Burma, and two women doctors from Iraq as they visit Japan. This issue's In Translation feature looks at how publishers present Japanese children's books in English, with the bonus of a delightful modern fable by Awa Naoko, translated by Toshiya Kamei. Fiction is set in the mountains of Vietnam, as well as a mikan-growing village in on Japan's Pacific coast. Blogology introduces vital links for anyone interested in homesteading in Japan. Finally, we return to Kyoto, strolling the contemplative Philosopher's Walk.
,
Contents:
MY NEIGHBORS – text & photos by
My neighbors haven't been around all that long; I'm almost as old as the hills, in relative terms. But their ancestors were here long before Basho's frog jumped; and way, way before Kammu-Tenno's eighth-century bureaucrats drew up tentative street-plans for Kyoto and sent their men out to clear the forest and grasslands.
GEN-FUKEI – THE PRIMAL LANDSCAPE– Text & artwork by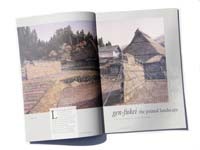 I believe that an environment or ecosystem (call it a landscape: ten-million billion things under the sun) that displays a 'stable' rate of change is a sustainable one, and its living systems have had the time to evolve and adapt to that change. This results in a dynamically balanced environment in harmony with natural law. And we perceive this harmony as natural beauty, and that is the crucial point of this essay. It can be expressed as an axiom of environmental health. To the degree that an environment retains its natural beauty, it is healthy and stable.
SPIRIT IN THE SOIL – text & photographs by
Mokichi Okada believed that purifying the spirit improved both the life of the individual and the world he or she inhabited. He saw three ways to enact that purification. First was to be in the presence of beauty, such as fine art. Second was to receive what he called Jyorei, God's light, a spiritual healing reached through prayer. This he referred to as the art of life. Finally, he believed purification would come from living harmoniously with nature. This was called the art of agriculture.
IN THE HOUSE: A FOREIGN WIFE IN RURAL JAPAN
COMFORT, DOORS – Text & artwork by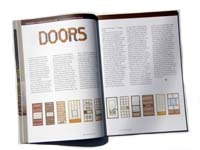 FARMER SUZUKI –
RAMBLE
THE LAND –
How seldom we think of what the land truly is, what it is saying to us, what it means, what it asks of us. We used to listen; now we talk. Turn things around to the way they really are: we belong to the land, as we find now and then, when the land changes its mind.
[In #68 folder, to add to Brady Rambles – please link to title here]
ENCOUNTERS
21ST-CENTURY VILLAGE –
A 75-year-old man with white hair, bare-chested and wearing a white lungi – the traditional wraparound male skirt in southern India — hobbled in earlier, complaining of a bad ankle and chest pains. A window on the computer screen shows the face of the man, and another displays live video of his doctor, a bumpy hour's drive away in Tirupattur, a small city of about 60,000..
POETRY
A MONK FOR THE RAINY SEASON –
PHOTO-ESSAY
THE INGENUITY OF LOCAL CULTURE IN THE CAMBODIAN COUNTRYSIDE –
Like many if not most in Cambodia, the women who ran the cross-river ferries in Kampong Chheuteal had a strong entrepreneurial streak. Women don't just help their male relatives to farm or fish. …In Cambodia, market business is women's business. In Kampong Chheuteal, boat business was also women's business.
[Photos on Flickr here]
JUST DEEDS
"…THE THINGS WE'VE BEEN THROUGH TOGETHER"
Children orphaned by AIDS build a loving family in rural Cambodia –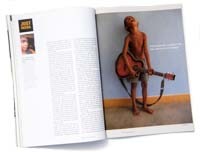 In America, when I give talks about Wat Opot, adults always ask: "Did you have a bathroom?" " Where do they get their funding?" and, " What kind of camera did you use?" These are safe questions asked from a distance. Third grade children ask… "If they know they are going to die, how come they look so happy?" Children empathize from their own vulnerability.
HOPE AMIDST THE PAIN
A grassroots Japanese network gives voice and support to Iraqi people –
It is widely thought that more than 2,000 tons of depleted uranium (DU) have been leaked into Iraq's environment since the war was launched in 2003, on top of the several hundred tons that were used in the country during the first Gulf War. This DU has been linked to a steady rise in the rate of cancers — particularly in children — as well as babies born with severe malformations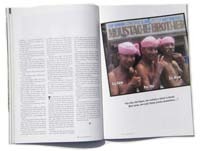 The Moustache Brothers, three plastic-faced comedians — Par Par Lay, Lu Zaw and Lu Maw — and their band of family members and friends have spread laughter across Myanmar for decades. But, in this bizarre, benighted land, if the joke's about the generals, laughter can be dangerous. Par Par and Lu Zaw each served six years as political prisoners, including hard labor and solitary confinement.
IN TRANSLATION
OF SINGING CLAMS & SOCCER CAMP: SEARCHING FOR JAPANESE CHILDREN'S LITERATURE IN ENGLISH TRANSLATION –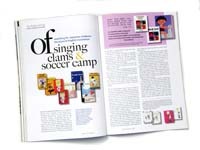 Beyond fond memories, cherished children's stories fill us with visions, questions, and ideas — thoughts that nudge us for years, their origins gradually fading from mind until, one day, we rediscover them, perhaps while seeking books for our own children. …The question of whether such books are translations rarely occurs to us…
WHILE THE BEANS ARE COOKING –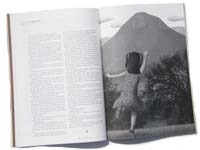 Just before New Year's, an ogre chased after him, wanting his black beans. As always, Sankichi heard someone call his name. When he turned around, he found a big ogre in leather clothes staring at him. Horrified, Sankichi tried to run away. Then the ogre said in an unexpectedly quiet voice, "I don't want them for free. I'll trade you one go of gingko berries for one go of black beans."
CONVERSATION
AT THE CROSSROADS OF THE WORLD: TEACHING AND LEARNING IN CENTRAL ASIA –
My students are young Central Asians from Tajikistan, Uzbekistan, Kazakhstan, Kyrgyzstan and Turkmenistan — all of which were part of the USSR until Dec. 7th, 1991, when the Soviet Union was formally dissolved — as well as from Afghanistan. … Many of the students at AUCA would be excellent students at any university in the world, often speaking three, four and even five languages, all fluently.
FICTION
RADIO DAY –
Just two generations back, these villages had been connected only by foot and cart paths that washed out periodically in land slides; skiffs and flat boats were the only reliable transport. Villagers traded, raised vegetables, a few oxen, a horse, chickens, and subsisted on fishing, mixed farming and logging. Until some farmers introduced mikan, the mandarins that could heal, the prized fruit of the aristocracy and the gods.
THE STONE CARVER (an extract from the forthcoming novel, Marble Mountain)
–
He would stare at the not-so distant, broken black jag of the mountains on the horizon, from the door of his hootch, from the tarmac when he worked on the helicopters, from his sand-bagged position when he was on perimeter guard; he would fly over them when he was on flight pay. They were a rampart behind which the real country huddled and seethed, forbidden to the Marines because of its shrines and secret places…
POETRY
THE REAPER –
KYOTO NOTEBOOK
THE PHILOSOPHER'S WALK –
According to Ken Mogi, of Sony Computer Science Laboratories in Tokyo, Nishida may have been "bored into creativity" by the familiarity of his almost daily walks. Mogi, himself a veteran of Philosopher's Walk, suggests that every person's Philosopher's Walk "is the path that they frequent in their daily life. You don't have to go all the way to Kyoto to have an inspiration."
REVIEWS
Designing Design, Kenya Hara, reviewed by JoAnn Greco
Breaking Open Japan, George Feifer reviewed by James Dalglish
Princess Masako, Prisoner of the Chrysanthemum Throne, Ben Hills, reviewed by Justine Bornstein
All About China (DVD), Andy Ferguson / Red Pine, reviewed by Stewart Wachs
Remaking Beijing: Tiananmen Square and the Creation of a Political Space, Wu Hung, reviewed by Russell Leigh Moses
While There is Light, Tariq Mehmood, reviewed by Deidre May
The Ocean in the Closet, Yuko Taniguchi, reviewed by Colleen Sheils
One Chrysanthemum, Joan Itoh Burk, reviewed by Lynda Grace Philippsen
Jia, a novel of North Korea, Hyejin Kim, reviewed by Nina Melendez Ibarra
BLOGOLOGY
BEYOND FLOWER POWER –
Forty years on, people are still seeking "voluntary simplicity" and still need tools, concepts and community. The best meta-information source these days is your own constantly-updated do-it-yourself Whole Earth Catalog — a.k.a. the Internet. In addition, the Web has a transcendently empowering advantage over the ink-and-paper paradigm — by allowing like-minded people to directly share experiences and ideas, and brainstorm common concerns.
BEYOND
TO BECOME ONE WITH NATURE –