shipping & handling included
KJ 69
published
March 10, 2008
96 pages
sampler

Until each issue of KJ is laid out, we never fully grasp what kind of connections might exist between its no longer separate parts. In this one:
Ice and pinhole photography; subaquatic future tourism; negatives, a book of shadows; phototherapy; China, Taiwan, Laos; lands ravaged in wartime and in peace. Genghis Khan, miniature landscapes. Sunbursts, fission, flashes of illumination, Rumi's "lighted clarity," the sun in the market; silver bombers reflecting a city ablaze at night; snow streams like comet tails off Karakorum peaks; the Olympics; the Big Rainbow.
,
Contents:
POURING LIGHT INTO MOMBETSU: A HOKKAIDO TOWN LOOKS BEYOND GLOBAL WARMING
–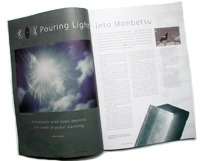 Recognizing that the environment really is changing, townspeople have had to come to terms with the situation. Some have seen the retreating ice as an opportunity for a slower, more sustainable approach to community, and they seek to promote Mombetsu as the "Slowest Town in Japan."
SUZUKA YASU –
ISHIHARA MASUMI –
SATO TOKIHIRO –
Pinhole cameras … are slow and exploratory by nature, their images dream-like and poetic. They do not come off assembly lines (at least not until recently), but are handmade, each one a unique expression of its maker. Pinhole "slowness" entices its practitioners back to the present. All these qualities embody a gentler, more spontaneous and respectful relationship to the world.
SHADOW DIARY –
ON THE ART OF SHAANXI SHADOW PLAY –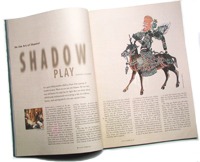 Shadow play is a farmer's art. By day, the puppet-master, storyteller and their troupe work their family land like any other peasants in Shaanxi Province. But as the sun begins its slow descent towards night, something special happens. These farmers wash the earth from their hands and pick up their lutes as virtuosos in one of China's most delicate and intricate performance arts.
See also online feature: ALONE WITH YOUR SELF: THE HERMIT EXPERIENCE – interview with Edward A. Burger
[Text file & photos in #69 folder. please link to title here]
ENCOUNTERS
IN THE VALLEY OF LIJIANG –
Dr Ho, a small mercurial man who appeared to be in his early eighties, shook my hand and immediately burst into a monologue about his achievements. Despite being suppressed by the authorities during the years of the Cultural Revolution, he had carried on his work and cured many thousands of patients from a variety of ailments, using locally sourced herbal medicines
KASHGAR TO TASHKURGAN – NOTES FROM FAR WEST CHINA –
We sit on the floor eating hand-made noodles, Mahoi's sister gives me a shy smile and an extra scoop of sauce, consisting of goat meat, peppers, and pickled greens. She places coals from the stove into a steel basin for heat; we sit in a circle with our food in our hands. When the broadcast ends the radio lapses back to static. Mahoi turns it off, and the only sound is the wind sharpening itself like a blade against the corners of the hut.
POETRY
THE NEGATIVE –
CHINESE ART AND GREEK ART –
THE SUN IN THE MARKETPLACE –
THANKS FOR THAT –
A POEM ON THINGS –
THE FIREBOMBING OF TOKYO –
BONTEI –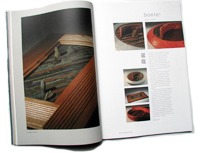 THE CENTRAL QUESTION –
How the Mongols managed to take over China and Korea, the Middle East up to the borders of Syria and Egypt, and what is today known as Russia, this is not an easy question to answer. I do not propose to even try. Perhaps the more constructive question, the one we should really ask ourselves today is why it is so difficult to understand?
CONVERSATION
RE-BRANDING CHINA: Wang Min and the Beijing Image
When Wang Min refers to his current project as "the biggest design job in the world," he's not joking. His responsibility as "Director of Image and the Look" of the 2008 Beijing Olympic Games includes overseeing planning and coordination of every detail of its visual appearance, from the overall color design palette to individual sports pictograms, street banners, and even the Olympic medals themselves. Worldwide, the audience for this huge event is estimated at 4.5 billion viewers.
FICTION
TUNNEL OF LOVE –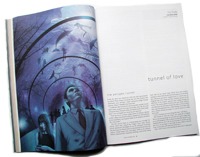 It was the third time they'd met. Xiali was still a government-accredited Three Gorges tour-guide, but now did conveyor belt underwater tours through a small subaqueous village heritage museum. Harry's Mandarin had improved.
"Now here we are at Santou village, famous for being an educated, curative village of apothecaries, dentists, acupuncturists and hairdressers for the local farmers. See the quaint drawers in this shopfront, just behind that school of fish."
REALIZATIONS
LAND AND MONEY –
"Where I'd like to go," I said, "is to your mother's rice paddy and to your grandmother's village. And maybe also to see your father's factory." I didn't want to be a tourist. I wanted to see the real Taiwan. … I had this notion that I could understand Shuyuan's family and her people if I could just spend some time at her mother's rice paddy.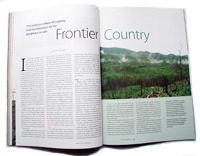 [Text file, images and PDF in #69 folder – make page or just use PDF? please link to title here]
… It is a reality that stands in stark contrast to the image of Laos touted by the tour books: the "Shangri-La" of Southeast Asia, the new hip destination for a growing number of eco-chic travelers drawn to Laos as an unspoiled natural wonder, where the "real Asia" can be experienced. Beyond the high-end ecotourism retreats, in frontier country, logging and the timber trade are stripping countless villages of their most valuable resource – the timber removed from Khampone's village last year alone was worth upwards of half a million dollars – while enriching a small clique of the Lao political elite and Vietnamese sawmillers, all in the name of economic development.
IN TRANSLATION
TROOPERS' INN –
While I was studying in India, I had a German classmate with whom I also shared a room in the hostel. In a word, we were roommates. …I told him I had read the work of the German poet Heinrich Heine, his namesake. He shrugged—nowadays, he said, everyone was writing poetry. I abandoned nineteenth century German literature and mentioned Heinrich Boll and Erich Maria Remarque. He looked at me suspiciously, as if I were trying to trap him into admitting some association with criminals wanted by Interpol.
See also online feature "THE MAN WHO BELIEVED IN FAIRY TALES" by Ho Anh Thai
[Text file in #69 folder, Fairytales.docx – to go in In Translation. please link to title here]
CONVERSATION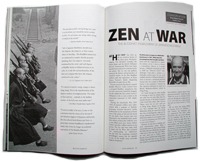 We tend to believe that in certain doctrines – for example, the doctrine of Jihad in Islam – that if those people would just get rid of Jihad and the idea of Jihad, then Islam wouldn't be so bad. But what I've tried to show is that unless we also explore the economic pressures, political pressures, the sociological pressures, the psychological pressures, and all of those various aspects, then we are not going to understand what it is that's going on that leads all religions, at one time or another, to sacralize violence.
REVIEWS
A History of Japanese Body-Suit Tattooing, Mark Posden & Marco Bratt, reviewed by Dustin Leavitt
Haiku Humor, Wit and Folly in Japanese Poems and Prints, Stephen Addisswith Fumuko Y. Yamamoto and Akira Y. Yamamoto, reviewed by William J. Higginson
For Gods, Ghosts & Ancestors, Janet Lee Scott, reviewed by Lauren W. Deutsch
Plastic Culture: How Japanese Toys Conquered the World, reviewed by Eric Luong
JAPANAMERICA: How Japanese Pop Culture has Invaded the U.S., Roland Kelts, reviewed by Ken Rodgers
The Politics of Nanjing: An Impartial Investigation, Kitamura Minoru (trans. By Hal Gold), reviewed by Russel Moses
Amongst White Clouds; Spring, Summer, Fall, Winter, …and Spring; Why Has Bodhidarma Left For the East? reviewed by Lauren W. Deutsch
Women of the Way: Discovering 2,000 Years of Buddhist Wisdom, Sallie Tisdale, reviewed by Lauren E. Bean
Losing Kei, Suzanne Kamata, reviewed by Colleen Shiels
The Magical Butterfly and Other Stories, Sherry Nakanishi, reviewed by Justin Ellis
Shadow of the Silk Road, Colin Thubron, reviewed by James Dalglish
BLOGOLOGY
MAKING A DIFFERENCE: TALES OF AN AMERICAN PHYSICAL THERAPIST IN VIETNAM

www.steadyfootsteps.org
RAMBLE
THE BIG RAINBOW –
We behold full and long-term rainbows all the time out here in the countryside, as compared to the couple of minutes of barely distinguishable fragments of arc we used to see between buildings in the city sometimes, already kind of faded and archaeological, like a suddenly exposed artifact that disintegrates on contact with modern air…