Cover: Tomas Svab
To mark its 70th publication, Kyoto Journal took the opportunity to focus in once again on Kyoto — and its ongoing changes in the early 21st century — in a special issue entitled "Kyoto Lives." The deliberate ambiguity of this issue's title refers to the lives of the forty-one Kyoto residents interviewed, and also affirms that Kyoto, in its latest incarnation, is still very much alive.
Contents
"With its 17 World Heritage sites, and 252 of Japan's officially designated National Treasures, Kyoto stands for tradition. Yet throughout its existence, this fabled city has continually renewed itself by taking on fresh identities."
"To paraphrase an old saying, the death of Kyoto has been much exaggerated. Rather than killed off, one could say it has been given a make-over. As a result the city has vitality as well as history; innovation as well as tradition; diversity as well as harmony."
"Kyoto has a wonderful embracing capacity. In a way you feel small and insignificant, as if looking up into a night full of stars. And yet it feels so personal, unlike in the elaborate buildings and castles of Europe. There is a more humble feeling about Kyoto; a sense that she was built by hands, not money."
"I was also invited to perform a Shinto purification ceremony for the Staten Island Yankees, a Minor League baseball team in the New York area. I set up an altar at home plate and invocated the Divine Spirit for the stadium… The team had great success that year and became the league champions."
"Because of Kyoto's 1,200-year history as Japan's imperial capital, there's a pride we all share here in doing things well. Most Kyoto artisans still work by hand, and many both live and work in their homes."
"Kyoto people should have more awareness of their heritage. They should remember the important things in life, not just selling things. Religion is about our relationship to the world around us, caring for others and for the environment, for example."
"Kokoro is well understood in Japanese, but difficult to explain in English. For example if we say "she has a good kokoro," it means heart and spirit and soul and mind all together. Plants and wild animals are also considered to have kokoro – their own soul or spirit."
Nick Yamamoto – nightclub impresario
"We introduced club culture to Kyoto, and Metro is still unique in Japan. Tokyo or Osaka have many clubs, yet they'll only play one style, like techno or house. But our motto is "No Boundaries." If something is interesting and moves people's hearts, we'll show it."
"I favor places where there is harmony between human-made things — like the place we live now, machiya, of course temples — and nature. Where they are mixed in harmony — that is Kyoto. The charm of Kyoto is where nature fuses well with the human-made."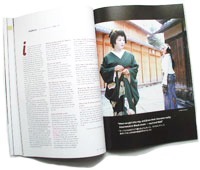 "Makoto has two careers: geiko and professional singer. She has put out two albums since her professional debut in 2001 and has a recording contract on the Chima label. An accomplished dancer in the Kyoto Inoue style, Makoto appears annually in the prestigious Gion Odori."
"I call the field by Rakushisha 'Kokusai-dori' (International Street), as there are tourists from so many different countries who walk around its edges during the season, mostly autumn."
"What I love about our temple is that it exists in the daily lives of Kyoto people. You can always see students coming and going, children playing, people walking their dogs, riding bicycles, or taking strolls in the early morning on the temple grounds."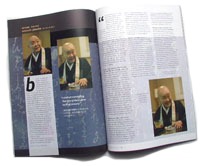 "I am now 86 years old, a very old woman, though I am the most active for my age in Japan. I started translating The Tale of Genji after turning seventy, though I had well prepared to start for many years by then. "
"We have to co-exist with others in society. I actually feel sorry for the people around us, because we are imposing by being here illegally. So we try to keep our place clean and neat and not interfere with the other people on the river. If we sat here with strange faces and said nothing, no one would want to pass by. So we want to be regarded as "open" homeless — to be part of society, and communicate with ordinary citizens."
"The tea ceremony is in its 14th generation of tea masters, but for gardeners, there have been 16 generations counting from Sano Toemon, so we have over a thousand years of history…"
"…many Kyoto government officials still see Kyoto as Japan's cultural heart. But I think these beliefs are outdated. If Kyoto is to be the center of Japanese culture, the city's culture awards must be open to anyone in Japan, not only people in Kyoto."
"I decided at eighteen that I had the potential for original expression; since I myself was a fusion, I started to make mixed-genre pieces."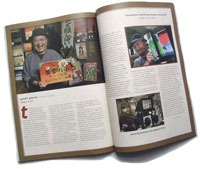 "The Kyoto International Manga Museum recognizes kamishibai as one of the origins of anime and manga, as many Japanese anime and manga artists have drawn much inspiration from it historically.
Tosai (Richard Steiner) – expat artist
"In a complex society like Kyoto, there is decline and resurgence, and they are both happening simultaneously. This is not a simple city. It just reflects the process of change that we're in, right now."
"To me, Kyoto is probably the only place in this country where I could fully express my taste. Kyoto is more like my "furusato" or hometown than Kobe, where my parents are — this city has nourished my spirit and soul since my twenties."
Reviews
Blogology – kyoto access online
REVIEWS
Hail the Hailstone Poets: Seasons of the Gods, ed. Stephen Henry Gill, Duro Jaiye, Hisahi Miyazaki, Jane Wieman – Robert MacLean
Geisha Tradition: Hannari – Geisha Modern Dir. Sohara Miyuki, Sakura Productions – Sally McLaren
Love's Binding Force: Simmering Away, Songs from the Kanginshu, trans. Yasuhiko Moriguchi & David Jenkins, White Pine Press – Gregory Dunne
Rocking to the Flow: Ueji, the Genius of Water & Stone, Kyoto Tsuinsha – Yamashita Masahiro (trans. Eric Luong)