KJ 72
published
June 10, 2009
96 pages
sampler

In two short paragraphs, Article 9 of the post-WWII Japanese Constitution articulates the highest ideal in support of world peace — by actually outlawing war.
Since 1947, and in sharp contrast to its past as a fascist Axis empire-builder, Japan has not committed a single atrocity against the people of another nation, has not re-militarized, has not produced nuclear weapons, nor entered the lucrative arms industry. In part because of Article 9, Japan was able to transform itself into the second largest economy in the world. Moreover, its subsequent ODA expenditures, amounting to 10 to 15 billion dollars (U.S.) each year over the past 18 years — along with the growth of several hundred NGOs active in development, the environment, human rights, and peace — would never have been possible if Japan had remained a militarized nation.
Imagine then the worldwide benefits of taking Article 9 to the global level. The immense financial and human resources unleashed by disarmament could be immediately applied to developing practical solutions to the world's most pressing problems, focusing on green technologies and green energy, education, solving poverty and health issues, implementing strategies against global warming and desertification, cleaning up toxic waste, converting weapons factories, and the disposal of nuclear weapons.
The seeds for this special issue were planted by the Global Article Nine Conference for Abolishing War, which was held for three days in Chiba in spring 2008, drawing an unprecedented 30,000 participants, including many from overseas. Widely diverse groups recognized common ground, and the positive repercussions that a Global Article 9 would have on their concerns.
Contents:
POETRY
MY PACIFIC WAR ON THE HIDAKA PLAIN —
THE POWER OF AN IDEAL —
With more than 60 years of hindsight, and the planet's cultures evolving toward unprecedented levels of interdependence, complexity and integration, both economically and systemically, it is clear that war as a political solution is obsolete. Yet war can still stupidly break out. And as someone once said, "Winning a war is like winning an earthquake."
JAPAN'S PEACEMAKER, SHIDEHARA KIJURO AND THE ORIGINS OF ARTICLE 9 An interview with Peace Historian Klaus Schlictmann —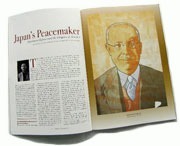 After the war, Prime Minister Shidehara conceived the idea of a war-abolishing provision which should be included in the Japanese Constitution, and visited General MacArthur on 24 January 1946 to get his approval. MacArthur was enthusiastic and made sure that it was included, more or less with the wording Shidehara had suggested. Shidehara proposed it, and the Americans put it in. Both deserve praise.
DEFINING THE DEBATE ON CONSTITUTIONAL REVISION AND PEACEKEEPING, an interview with Prof. Murata Koji —
Substantially, the U.S. Security Treaty has protected Japan's position in international security, but at the same time, because we have kept the Peace Constitution, Japan didn't have to expand its military organizations, and did not have to send its troops abroad until the 1990s in a PKO operation. In some sense, the Peace Constitution gave us a kind of moral power for our diplomacy.
COLLECTIVE INSECURITIES —
It has been 55 years since Japan came under the defense umbrella of the United States. The initial treaty was signed when the Korean War raged, the Cold War was frozen, Japan was poor, and communist expansion seemed intractable. The world of 2009 is a vastly different matrix.
INTO THE ATOMIC SUNSHINE: POST-WAR ART UNDER JAPANESE PEACE CONSTITUTION ARTICLE 9 —
I think of modernism itself as negentropy (saving information in an efficient way). This negentropy of modernism appears as the microchip, nuclear power plants, or nuclear weapons. These are examples of the mindset of modernism that reached its zenith in the twentieth and early twenty-first centuries.
ARTICLE 9 AND JAPAN'S FUTURE —
[Please link to download as PDF, in folder: Dialog Anzai-Galtung.pdf]
There are 7,000 A9 associations throughout Japan. This is unusual. … There was a strong anti-Vietnam War movement here in Japan, including the four million union workers who went on strike against that war.
HOW TO MAKE ARTICLE 9 GLOBAL —
This is what Article 9 is really about: it is an explicit proposal to limit national sovereignty in favor of "an international peace based on justice and order."
SHARED THOUGHTS ON ARTICLE 9: REVISITING A LANDMARK PEACE CONFERENCE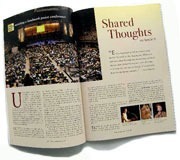 It is only fair to request Japan maintain Article 9 so that other countries may adopt it. … If Japan keeps Article 9, it is only fair for China, North Korea, and South Korea to consider drafting something similar. Then we can convert the money that is now used for buying weapons into education, into helping the poor, and solving economic problems.
TRANSFORMING TRAGIC MEMORIES INTO PEACEFUL STRENGTH
Syed Sikander Mehdi on Japan's role in the world —
"Japan should make it a part of their cultural diplomacy to encourage the establishment of a Hiroshima-Nagasaki peace museum in every country of the world… A campaign against nuclear weapons is also a campaign for human rights."
THE NEW PEACE MUSEUMS —
Regrettably, among the nation's younger generation, the defining wartime image remains that of the atomic bombings. Surprisingly, many Japanese know very little about their county's own history of aggression and colonialism during that period.
POETRY
>CLARITY COMPASSION PEACE —
Usually we get the experience of war through a male perspective, but there are some courageous women writers, such as Ishibashi Hideno, who lived through the bombings of Tokyo during World War II and simply documented her experience through haiku.
THE SUTRAS OF ABU GHRAIB —
"It may be crazy, but like Dante's Inferno, the way to heaven is through hell… through the deepest pit of hell…then you come out the bottom and pass through it. For me, it was impossible to have real compassion living a normal life, because in America it was so easy to "turn off the volume." I had to go to Iraq and see suffering, real deep suffering, before I could get to that point..".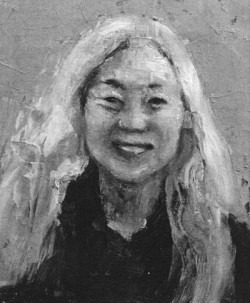 "Technically, writing and telling stories is traditional in all cultures: it's probably built into our DNA that they have rising action that leads to a violent climax. We all love that sense of drama, that frightening climax. Well, I got to thinking 'can we write a story in which this climax is non-violent and still be exciting?' "
KACHIN INDEPENDENCE: THE AK OR THE PC? —
On the path of the sword, it is possible to buy guns and train soldiers to fight well together in a matter of weeks. On the path of the pen, it can take much longer to forge a group of people who can fight effectively with words and photos.
VEGETABLE WEAPONS –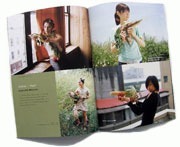 POETRY
VARANASI –
WHAT THE JAPANESE PERHAPS HEARD
WHAT WE HEARD ABOUT THE JAPANESE –
WRESTLING WITH MYTHS —
But when the Japanese terror had wiped the floor with every good guy in local Christendom, by default it was up to Kiniski, former terror of the meek, to take on the demon Shibuya and whup him once and for all — preferably in each lower mainland and Vancouver Island wrestling market.
IN TRANSLATION
RAINBOW OVER HELL —
How then did individual Japanese negotiate the mental terrain that led from glorious self-sacrifice to participating in the future? Mohri Tsuneyuki describes the pivotal moment in Arakaki's psychological transformation below. The radical disjuncture that he experienced helps explain why so many Japanese think of 1945 as a fundamental turning point for their society yet find it hard to express the precise nature of that change of heart.
REALIZATIONS
MY GRANDFATHER'S ROBE —
I was happy that my grandmother also had come to stay at my brother's house for a while. She was a traditional Korean woman who had held on to both custom and kindness through 36 years of Japanese occupation, a brutal war and a cultural transformation that saw more change in the forty years since the Korean War than in the more than four thousand years that had preceded it.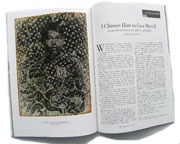 We have spent the morning considering genocide from the perspective of former low-level perpetrators, though we are increasingly unsure of what "low-level" means when considered within the context of general human brutality.
That is when we run into Roath.
He lives here. He is about 24, or 25 years old. It doesn't matter. He is in his twenties and he has had enough of all the seriousness associated with Cambodia.
Amongst the nearly 5 million estimated Iraqis who have been driven from their homes due to war and occupation-fueled violence and instability, an estimated 750,000 are presently in Jordan. Many fled their country with literally nothing other than their accumulated savings and the few possessions they could carry.
FICTION
THE SMELL OF SULPHUR
The girl is sitting cross-legged in the grass, holding the glass of lemonade with both hands. If air means water, then what can jeruk mean, when sometimes it can be a kind of tangerine and sometimes a lime. Maybe manis means sweet and nipis means sour. Or maybe nipis means small. Maybe nipis means small and sour with a tight thin skin that is sometimes yellow and sometimes green. Maybe in Indonesian, a single word can mean all of those things…
REVIEWS:
Maps of Reconciliation – Literature and the Ethical Imagination, ed. Frank Stewart & Barry Lopez, Manoa – Vinita Ramani Mohan
Beyond National Egoism: the Road to a Nation for International Peace and the Environment, Shohei Nomura – Kimberly Hughes
Field of Spears: the Last Mission of the Jordan Crew, Gregory Hadley – Ken Rodgers
An American in Korea: Two Decades of Photography, by Drayton S. Hamilton – Robert J. Fouser
Money, Sex, War, Karma: Notes for a Buddhist Revolution, David R. Loy – David Cozy
Japanese Iraq War Documentaries – Anastasia Fedorova
Tengu, written & directed by Roger Walch – Susan Pavlovska www.rowmuse.com
Japanese Constitution Cinema – Akamoto Mariko
Making Forest of Bliss: Intention, Circumstance and Chance in Nonfiction Film, Robert Gardner & Akos Oster – Christal Whelan
RAMBLE
ON CONTENTMENT —
I've always loved the mystery in that Tao Te Ching phrase that each time I read it shimmers with the gleam of truth that cannot be pinned down, that coruscates in the mind's eye: "There is no disaster greater than not being content."
Extras, to go in sidebar: SPECIAL ONLINE FEATURES FOR #72:
MY GRANDSON THE MARINE: A Homecoming –
I was a typical grandmother, but I became a mother for the second time at age fifty after my grandsons were left without a mother. My son's wife passed away and left him with two boys to raise. This might not be a unique circumstance but it was certainly life-changing for all of us. When the youngest grandson decided he wanted to join the Marines, I got a lump in my throat I couldn't swallow…