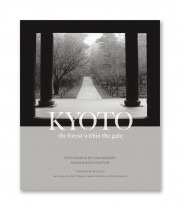 Shipping & handling
included
Published July 2017, 128pp.
Kyoto Journal
and White Pine Press
Second Edition (July 2017)
Kyoto: The Forest Within the Gate
A transcendent journey in photographs and writings
to Japan's ancient capital…
Resting on the earth
who needs satori or faith?
Embrace what holds you!
Imagine a book enfolding some of the best expat poetry and photography of the 1200-year-old city of Kyoto, cultural and spiritual heart of Japan. For half a century Edith Shiffert wrote haiku and poems inspired by the ancient capital, her home. John Einarsen has been taking striking yet serene photographs of Kyoto for more than three decades.
Edith and John decided to share their vision and love of this magical city in the book Kyoto: The Forest Within the Gate . In addition, three renowned writers on Japanese culture, Marc P. Keane, Diane Durston and Takeda Yoshifumi, have contributed illuminating essays. Rona Conti's calligraphy is yet another treat for the eyes. Also included in the second edition are heartfelt writings by Dennis Maloney of White Pine Press and Margaret Chula, former President at the Tanka Society of America, as a tribute to Edith, who passed away this year.
This is the second edition book from Kyoto Journal and White Pine Press, designed by John Einarsen.