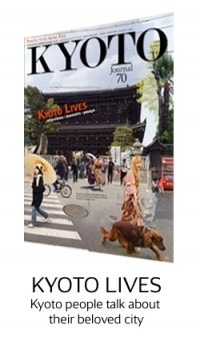 Iwasaki Yuko: Green e Books
From KJ 70: KYOTO SPEAKS, BY UEMURA KANA
Kyoto is probably the only place in this country where I could fully express my taste."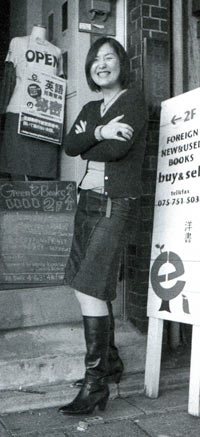 Iwasaki Yuko is the owner of Green e Books (www.greenebooks.net/) in Kyoto, a second-hand bookstore specializing in foreign publications, which she established in 2004. Through her bookstore, Iwasaki also provides opportunities for Japanese customers to learn English and find out more about the world through lectures on topics as diverse as astrology and breast cancer.

What were you doing before you started Green e Books?
After graduating from university in Kyoto, I worked at the front desk at a hotel in Florida. I did VIP coordination for two years and came back to Japan because my visa expired. After that, I worked for a subsidiary company of a megacorporation, a nine to five job. But my co-workers at the office were just waiting for time to pass, even though they were well paid. I didn't want to be around those people. The job and working environment were not right for my lifestyle so I quit after only three months. When I was wondering what to do, my friend showed me an advertisement for a job with a textile company in Kyoto, which required visiting India to check the quality of textiles every two months. I had been very interested in India since I was a student so I worked for that company for two years. In India, a foreign guy said I should start my own business. Then a foreign friend in Kyoto told me, "There's no good second-hand bookstore in Kyoto." Not wanting to do business only for Japanese customers, I thought that was a good idea. That's how I started Green e Books.
There seem to be a lot of new businesses run by young people here these days. Does Kyoto's city government provide any incentives or assistance for start-ups?
To start up Green e Books, I borrowed money from National Life Finance Corporation, a quasi-government organization. In Kyoto, there was no precedent of lending money to a second-hand bookstore, but running a bookstore isn't contrary to public policy so I could get the loan.
What do you think is the most important aspect of running a business on your own?
Financial power. If you are running out of money, you can't welcome customers warmly and comfortably. So it is very important to have the ability or wisdom to manage money. I think that I learned lots of good ways to do that. That's why I have been able to keep Green e Books open for four years. And customers in Kyoto are very good. I sometimes hear about foreign second-hand bookstores in Tokyo closing down. I think I am blessed with my customers in Kyoto.
So what is Kyoto, to you?
To me, Kyoto is the only place I would like to be in Japan at this moment, and probably the only place in this country where I could fully express my taste. Kyoto is more like my "furusato" or hometown than Kobe, where my parents are ― this city has nourished my spirit and soul since my twenties.
What changes do you see happening here now?
Obviously more foreigners are visiting for sightseeing, especially in recent years, so as those numbers grow, Kyoto people seem more positive about accepting other cultures, and not only preserving the traditional side of Kyoto. People who are aware of the "broadness" of Kyoto come to my store, increasingly. Kyoto has become so much more open ― temples especially have started to become more the center of "social" connections. And to the younger generation that's a natural thing; they appreciate the connection between tradition in the town and their present culture. Live music in temples, yoga in shrines. I think Kyoto has become more relaxed. Especially, walking beside the Kamogawa is way nicer now. Kyoto people are happy to be more in touch with nature again. We are still very proud of what we have here!