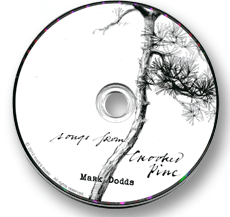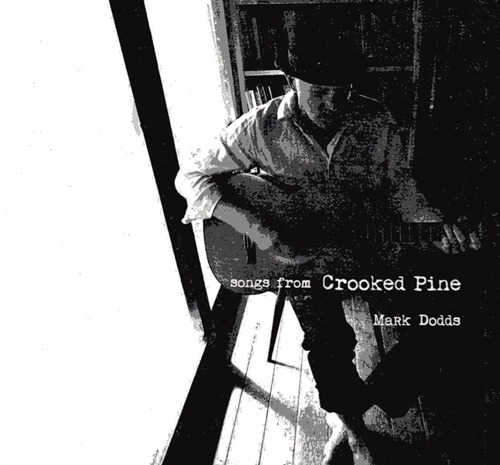 Under Crooked Pine
Ted Taylor Interviews Kyoto Songwriter Max Dodds
Lord knows, we'll be fine
when we get back to Crooked Pine
Only thing that soothes my mind
is looking out at Crooked Pine.

Mark Dodds, ("Max" to his friends), is probably one of the best-known foreign musicians playing in Kyoto. He was a founding member and singer/songwriter for the band 'elements,' which released six CDs between 1997 and 2005. He also wrote and sang for two side units, 'trace elements' and 'Alternate Symphony,' both of which have also released CDs. His first solo album, "Songs From Crooked Pine," was released in late 2012. I sat with Max on a cold winter night at his home, under the tree that gave the album its name. First I asked about the sound of the gate opening and closing at the beginning and end of the album.


That was recorded here. "Crooked Pine" is like an old cowboy song — there are a few cowboy songs on the album. I wanted to be like riding the horses to get back home to Crooked Pine, which is kind of my Garden of Eden. It's a theme that I've been developing. The next album is probably going to be "Songs for the Promised Land," which is the working title. One song, called The Promised Land, didn't make it onto the last album because two or three words just weren't right.
With the Garden of Eden, you've been outside, but you come back to it. You're not as pure as you were. The pine tree is not growing straight and tall. It's finding its way through whatever it has to go through to rise upward. That's what has happened to this tree, which is probably close to 100 years old. That symbol, looking out and seeing something from nature struggling to make its way through the light, the heavens.
The songs all came from here, sitting in this little alcove in summer and winter and looking out on occasion at that tree, and it became symbolic for the struggle that we all take to get to where it is we ultimately have to go. We're like a tree or a weed. We grow up toward the place where we feel more comfortable. This place that I call Crooked Pine is very quiet. My wife Aika and I go to sleep to crickets, and wake up to cicadas. It's a place where we feel close to nature. We grow vegetables here. It's a place where we feel at ease, and feel creative.
In Kyoto, I get a sense of something that has come from before, and has continued to be. The wind that blows, it's blown through Kyoto before. But where does this wind that's blowing through town come from?
This is evident all the way down to the packaging of the CD itself.
We wanted to make the whole thing an organic process, using the resources that we had, to make it as close to the heart, and as close to home as possible. I didn't want to make a CD case using plastic. It was all made using recycled paper and each one was hand-printed on a very old press by a printer nearby. Every one is a little bit different because he'd have to re-ink it, to print it again. That all was part of it too. We did it ourselves. Aika designed it after the recording, but it was very much part of the finished product.

How did the songs come about?

There are so many factors. A perfect song for me is when the melody and the words themselves have formed some sort of a unison at a very basic level. Then you can add to it, but the what's essential is the core that is already there. The words… well, as Woody Guthrie said, "Words are everything." The song is almost like something that's there, that you discover. That you wouldn't have discovered, if you hadn't been thinking that thought.
So with "Songs from Crooked Pine," it was like feeling these thoughts, meeting these people, being in Kyoto and having a little time to sit and play the guitar, and let these thoughts work their way out and become a song. This album is my favorite in that I've given each song its due. I took the time to express the words the way I wanted to. For some songs, there were two or three words that took me five or six years until I was able to find the right word, or a few words. I needed the song to make sense to me, and then I could sing it with confidence.
The lyrics on "Crooked Pine," are very universal. They seem to have nothing to do specifically with Kyoto.
Well, they do. They come from this place. I breathe this air in Kyoto, and I go along these streets, I talk to these people. Kyoto is in there. When I see this old person, I'm reminded of my grandfather. Things are triggered. Being in a place triggers a reflection of something. Everything that we do in art is very now, but it reflects something that we've felt before. Like the first time we are on a mountain, we feel something. And now, if that happens again and I have a pen or a guitar with me, I can try to make something of it. This place can be very inspiring, but it doesn't mean it will be all songs about Kyoto.
In Kyoto, I get a sense of something that has come from before, and has continued to be. The wind that blows, it's blown through Kyoto before. But where does this wind that's blowing through town come from? We're still breathing the air that Jesus breathed. Buddha breathed the same air. There's no new air. It's moving in and out of all of us, every animal, everyone. We have no idea where something comes from, but have things that we work with that give us inspiration.
Being in a place that allows you to have the quiet to inspire the thought that comes into your mind is a very good thing. This is the place that I'm in to do it.
Were all of the songs written outside "elements?"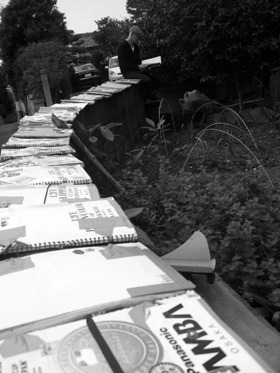 Most of the songs on "Crooked Pine" were post 'elements.' There are lots of songs that I thought of including that were written during 'elements' time that didn't get on "elements" or this CD. You write several songs, and if they fit the theme, they can go on. If not, they get put into the loop, and you might play them sometimes. There are some songs that I've played for a long time that I haven't recorded. But if they get out of the playing loop, then they get forgotten. I was looking at some old notebooks recently, there are a lot of songs there that I'd completely forgotten about. Ideally you'd be working on songs, and you'd be playing them for a while, and you'd say yeah, the song has survived the trial period. If it survives set after set, you'd eventually record it.
I love the current arrangement where I have these really great players around me, most of them quite young. They're hungry, and being hungry is important. You want to consume music, and their playing reflects that. I feel as though I'm throwing a little bit out there, and they're taking it and making more out of it. I'm probably enjoying making music more than I ever have. I've kind of hit my stride, which is a very long stride. I don't write everyday. I used to write two or three songs a day. Most of it was probably garbage. But now, if it takes 20 years, I'll give it 20 years.
On the CD there are a couple of tracks with cello, and what is interesting is that the phrasing sounds somewhat like accordion, which goes back that connection with 'elements.'
That is interesting because I gave instructions to the cellist (who is excellent, by the way), so I suppose something is there. And actually this is the first album where I have not had an accordion. I wanted to do something different, not something I do all the time. For the next one, I want uilleann pipes. But the core of the song is independent of me even. It's like I was the one who planted these seeds in the garden.
The cello is an instrument that is close to my heart. When I sing, I think of the sound of the cello, even though I'm not a baritone. But I do imagine the cello as being the voice of a song. There's something about it that's very human.
Speaking of vocals, your phrasing does have a distinct style. Less than having a single influence, it seems like something that you developed.
Well, I find there are things that I've liked all along the way. I still find new music that I like very much. Actually, I hated my voice for such a long time, but I've come to like it. I've made kind of an arrangement with myself that I don't much like my speaking voice, but it means more when it's sung. I love singing. I'm singing all the time.
Could you talk about the track, "Fifty Rivers/Miokuri"…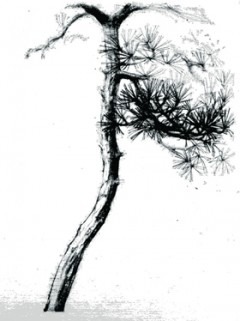 The wind was recorded at Sanjo Bridge. It was for someone close to me who had died, who was a musician. His name was Isogawa-san, which means "fifty rivers." It was an expression of thanks for playing music together, in hundreds of gigs. He was someone who was very devoutly Buddhist. The melody, ironically, was something I'd been working on 15 years ago, after having seen a documentary about the "Tibetan Book of the Dead," with Leonard Cohen, of all people. I had a melody go through my mind at that time, which I forgot about until Isogawa-san died. Then that melody came back with words about his life, his thoughts on Buddhism. I divided the second part of the song into eight lines, which to me represents 108 lines [the number 108 has special significance in Buddhism]. I thought about doing nine (1-0-8 is 9), but it just didn't work. To send him on his way. To the river. The river is one theme of the album. The idea of us going into something and coming out different, having been influenced by what it was we went through.
Is there a Dylanesque reference in "I Won't Be There?" In the musical phrasing, use of harmony — an ironic nod to Bob Dylan's "I'm Not There?"

That's another one of the cowboy songs on the album. But, no I wasn't thinking of Dylan. I had this thought that when we die, we go to our grave, and people go to visit it. If the soul exists, or doesn't exist. There's another reference to wine in there. You can pour wine on my grave, but I won't be there to enjoy it. So embrace life. The lives around you, every meeting you have. "Ichi go ichi e" [Japanese for "one encounter, one chance"]. That thought comes back to me every day. This is the only time that I'm ever going to be in this situation. Embrace it, and try to make something out of it. I love that song. Some people don't like it, they think it's too country. But I love the idea.
"Ichi go ichi e." That thought comes back to me every day. This is the only time that I'm ever going to be in this situation. Embrace it, and try to make something out of it.

The album's central theme?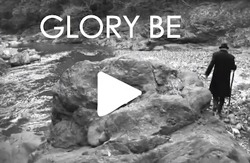 The song on the album that really made me want to put all these songs together was "Glory Be." It is one of the fastest songs that I wrote on the whole album. It only took me two or three years. Going back to the theme of the river, it was about how we might not be together forever, but there's a part of you that will stay with me. We can never go back to see this exact same river, this exact same water again, but that will be the place where you looked at the river with this person. I don't try to sound poetic, because it sounds affected, and I don't want that. What I really want is for someone to feel the same thing.
It's safe to assume that if were you still living in Canada, or back in Ireland say, you'd be writing very different types of songs…
What we write about are things that are around us, but they kind of hit me in a way that… You know, the smells of Kyoto are interesting. The incense in Kyoto when you go into places here. The different smells influence us. Or the cold. I love the cold. I shiver in this house, and I like that feeling of kind of bundling up and something coming out of having bundled up. Maybe if I had to describe a season for my music, it probably would be winter, because that's the season where we have to sit down and get smaller. And when we get smaller, something comes out of that.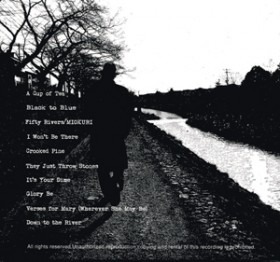 Upcoming gigs are listed on markdodds.com
CD here
More video (Kiyamachi/Ponto-cho ten-bar tour, Nov. 2013, courtesy of Michael Lambe), here
Follow Max Dodds on Facebook
Ted Taylor is a writer, musician, filmmaker wannabe, Kyoto resident, contributor to Kyoto Journal, inveterate walker of roads, trails and pilgrimage routes (see KJ 78, "Walking the Kumano Kodo"), and blogger: Notes from the Nog