Published May 1st, 2015 | 168 pages
Download Magzter for iPad edition (USD $4.99) and subscriptions, 4 issues (USD $17.99):
Download single issue PDF (JPY ¥500):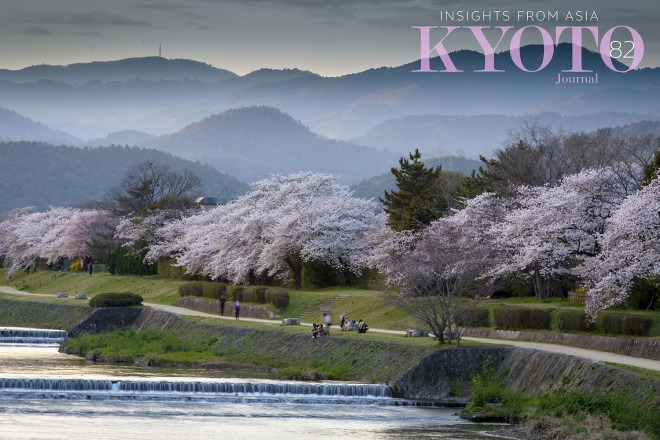 Ashoka's Edicts: Messages for All Time
Feminist Pioneer Kato Shidzue
Contemporary Katazome Dyeing Artists
Echigo-Tsumari Art Triennale & Satoyama
Taoist Photo-Artist Yasu Suzuka
Poetry: Remembering Viet Nam
The Museum of Forbidden Art
KJ 82 is our first interactive issue and our first to be available on Newsstand, as of May. Among its wide-ranging content, some interesting and unexpected counterpoints appeared:

• Two dedicated art curators… One, Igor Savitsky, making superhuman efforts to save over 40,000 historic Russian avant-garde artworks, in Uzbekistan; the other, Fram Kitagawa, bringing together contemporary artists and their works for a forward-looking Triennale in Niigata's depopulated back country.
• Two accounts of ancient messages in stones… The 3rd century BCE rock edicts of King Ashoka the Great, still proclaiming essential Buddhist ethics (in an almost lost language) across India; and the marine fossils embedded in Mt. Kurama, Kyoto, speaking of tropical seas of some 250 million years back in time.
• Two distinctive Kyoto photographers… The meditative Taoist photo-artist Yasu Suzuka, divines right time, right place for his shots by using the I Ching, while the serendipitous street photographer Kai Fusayoshi reflects on the loss of Kyoto's 1970's counterculture hub, Honyarado.
• Two contemporary textile artists… Mika Toba, a dyer using the traditional katazome technique in a major project to revitalize Kyoto's oldest Zen temple, Keninji, and her student, Melinda Heal, whose works reveal the spectacular nature of endangered Australian bird species.
• And two wars, named for the unfortunate countries that have suffered them: Viet Nam, and Iraq… A convocation of writers, mostly poets, including U.S. veterans, document aspects of the disastrous Viet Nam war, and former U.S. Marine Ross Caputi gives a first-hand briefing on the more recent history of Fallujah, in Iraq.
Other stories take us into the Japanese countryside: In Translation features Mogami Ippei's story of an aspiring young jazz trumpeter in a depopulated Japanese village, "rendered anew" by Avery Fischer Udagawa. ​I​n Encounters Ginevra House finds a temporary home in Shikoku's lost valley of Iya, and in Fiction, Mark Crimmins takes us to Shikoku's Awa-Odori.
And there's more: Patrick Parr's profile of revered pioneer Japanese feminist Kato Shizue; Rachel Cockett's introduction to a Kyoto gamedev meetup; Stephen Shucart's visit to Afghanistan's remote leaning Minaret of Jam; and Robert Brady's ramble on the art of Japan's "baser angels." Plus reviews. All this, wrapped in a superb cover image of Kyoto's Kamogawa, by Mark Thomas.
CONTENTS:
KYOTO NOTEBOOK
Kyoto's Coral Reef
Mutsunori Yamamoto
Loss of Kyoto's Counter-culture HUB
Kai Fusayoshi
Gamedev Meetup supports
Kyoto's newest artform
Rachel Cockett
FEATURES
Ashoka's Edicts: Messages for All Time
Ken Rodgers
The Museum of Forbidden Art
Sophie Ibbotson and Max Lovell-Hoare
Kato Shidzue:
Her Life and Her Legacy
Patrick Parr
CONVERSATION
Receiving the Tao: Photo-artist Yasu suzuka
John Einarsen
NATURE
ECHIGO-TSUMARI & THE FUTURE OF SATOYAMA
Brad Monsma
ONLINE:
THE OPTIMISTIC VISION OF KITAGAWA FRAM
& THE ECHIGO-TSUMARI ART TRIENNALE
Amiko Matsuo
RENEWAL
RENEWING THE ZEN SPIRIT
A contemporary katazome artist refreshes
Kyoto's oldest Zen Buddhist temple
Sarah Brook
OFF THE WALL: YUZEN + KATAZOME DYEING TAKE FLIGHT
Lisa Y. Allen interviews Melinda Heal
ENCOUNTERS
Chikamichi (Shortcut)
Ginevra House
The Minaret of Jam
Stephen Shucart
HEARTWORK
Japan, the U.S. & ISIS
Jennifer Teeter interviews Ross Caputi
INTRANSLATION
SWING
Mogami Ippei
POETRY
Still Unforgotten, Still Unresolved
Remembering Viet Nam
(Teresa Mei Chuc reads her poems online)
FICTION
AWA ODORI
Mark Crimmins
RAMBLE
THE BASER ANGELS
Robert Brady
REVIEWS