ONLINE FEATURE
BY LUCINDA COWING
Do something for the environment and enjoy the beautiful scenery of northwest Kyoto! If you would like to help out with P.T.O.'s activities (which include path maintenance, tree felling and planting, and maintaining the famous Saga bamboo fencing, as well as rubbish clearing) check the schedule here or contact Stephen Gill:heelstone[at]gmail.com



Rubbish found on Mt Ogura














Mt. Ogura will once again become a true inspiration for people who seek enjoyment of natural beauty, and will find its rightful place again in the living local culture…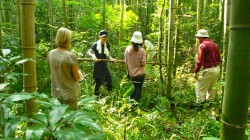 Collecting bamboo to repair the fencing lining the famous groves next to Arashiyama
"I thought it was outrageous," he explains, "to have a mountain in such a culturally-significant position so defiled."
Mount Ogura stands turtle-like in northwest Kyoto. Despite its distinctive contours, few locals are able to name it. A mountain once revered by poets and priests alike, Ogura has become "the forgotten mountain."
Heat of the day —
A pine-clad cliff
Down which a washing machine
Has tumbled.
Stephen Henry Gill read this poem into a Yomiuri TV camera whilst standing near the top of Mount Ogura in November 2004. "It's not very poetic," he tells me, "but it goes straight to the core."
One year earlier, Gill, a British expat poet, artist and translator who also produces radio programmes for the BBC, had discovered a huge refuse tip where ogata gomi (large items of rubbish) had been dumped for decades. Gill, who signs his poems "Tito," had woken up before dawn that day feeling inspired, so he set off with his notebook for Mount Ogura. Over the course of sixteen hours he trekked through the choked paths of its forests, writing as he went. While Gill had often noticed  litter here and there, the true scope of the problem was only revealed to him later that morning as he reached the northern slope.
"I thought it was outrageous," he explains, "to have a mountain in such a culturally-significant position — next to the famed Mount Arashiyama, with the Hozu River flowing down one side and the historical village of Saga on the other — so defiled."
I peel through the pages of Tito's compositions from that long day on the mountain, noticing that they are detailed with the exact location and time of writing — all one hundred of them.
"Mount Ogura is a mix of real beauty and inspiration but, at the same time, of devastation and sadness.
"Local elders remember when the mountains were well-tended satoyama. People would collect maki, or wooden splints, to heat their baths; they would pick mushrooms and ferns…"
The press soon picked up on the fact that a foreigner had written a hundred poems, later to be published as One Poet on Mount Ogura, One Hundred Verses in a Day, and invited Gill for interviews.
That was just the beginning. Driving his van, Gill took his students from Ritsumeikan University to the foothills of the mountain. Together they collected pieces of rubbish, which later became the centrepiece of an exhibition of ike'ishi "live stones" During the past fifteen years, Gill has produced many installations of stones he has  collected from around the world. They are  displayed together with other natural elements to create harmonious, elegant arrangements, usually  complemented with a haiku or photo panel on the gallery wall.
"The first thing visitors to the 'Ogura-mairi' (Pilgrim of Mount Ogura) exhibition saw was all this rubbish on the floor, like a rusty sewing machine scattered with autumn leaves, and they asked me, 'What are you doing, Stephen?' I wanted to show them that something was wrong up there on the mountain."

Gill's appearance on national television took the campaign to a new level.  Spliced between footage of him reciting his haiku was that of an interview with the head of the local authority, then responsible for the beautification of Kyoto. In response to the reporter's question: "Why have you let this rubbish build up on Mount Ogura for so long?" the official simply shrugged his shoulders, citing lack of funds. The issue was then discussed by pundits in Tokyo under the on-screen headline, "Ogura Yama: Gomi no Yama," literally: "Mount Ogura, the Mountain of Garbage," a lopsided debate which led to the official's swift removal from office. Gill then took one of the security cameras he had once installed at an exhibition to City Hall, and implored, "Why don't you use one of these? It doesn't even have to work — just stick it on a pole!"
Today there are four cameras at what were the major fly-tipping (illegal dumping) sites.  "Our 20 to 30 volunteers would clear one large pile of rubbish," Gill recalls, "but a few weeks later there would be another lorry-load of stuff to clean up." Now, thanks to the cameras, there is  not nearly as much rubbish as before.
"It took some time," Gill admits, "but now the city is helping us wholeheartedly. We work with the city and the police, but we provide the manpower — we have ropes, and helmets…it's quite fun, actually. One of the locals has given us a storehouse in Adashino, and we have some huge bags for when we're half-way down a cliff to put refrigerators and motorbikes in, for example."
But even with this improvement, Gill knew there was still much to be done. With Okiharu Maeda, who had lent guidance and support with the clean-up operations over the years,   and a few other campaigners, they founded in 2008 an NPO, "People Together for Mt. Ogura," simply known as P.T.O. Today, Maeda is its chairperson, and Gill, its executive secretary.
The organisation tries to tackle some of Ogura's severe environmental problems. This includes reforesting the area where, in the 1980s, Japan Rail (JR) bored through the mountain, causing the summit to ulcer and the once-vigorous springs to be reduced to mere trickles of water, leaving only devastation. They also maintain footpaths, which were seldom used and in poor repair. "If this were Britain, people would never allow that to happen!" we laughingly agreed as fellow Britons.  "But in all seriousness," Gill added, "the footpaths there are can be dangerous — trees hang perilously over your head, there are no signs, and some end abruptly in landslips."
Gill recalls looking out at Ogura on a stay in Kyoto some thirty-five years ago. "There were wonderful old red pine trees, or akamatsu, some of them perhaps a hundred years old. You don't see any of them now." Why? A  virulent disease carried by the madara-kamakiri (Monochamus) beetle, the effects of which have been seen all over Japan. The beetle unwittingly carries thousands of micro-grubs (matsu-senmushi) as it burrows into the bark to lay eggs in the tree, and they soon render it unable to take up water. Even trees planted as part of the reforestation programme, some less than twenty years old, are starting to die. For P.T.O., it is a race against time to fell the dead pines and prevent the disease from spreading any farther.
In another troubling development, wild boar, or inoshishi, have proliferated and are coming down from the mountains in ever-greater numbers. Now, Gill explains, the famous towering bamboo groves at the foot of Mount Ogura, surrounding Okochi Sanso, Tenryuji Temple and other important heritage sites, are under threat.  The P.T.O. team, with the help of university students, have begun to repair the classical Saga fencing that keeps the boar from feeding on the young bamboo shoots necessary for regeneration of the groves.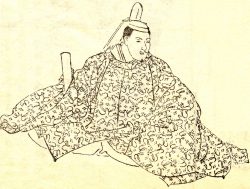 Mount Ogura has always been the Poets' Mount: Fujiwara Teika, Ki no Tsurayuki, Saigyo and Basho, to name but a few, composed, compiled, and sojourned there.
"Poetry is integral to daily life in Japan," Gill observes. "Haiku is so popular, even on TV and in newspapers."
For the past six years or so, Gill has brought people, paper and pencils up to the mountain. "I have asked these volunteers, both Japanese and foreign, to write something. Anything. An idea or image, possibly a haiku or tanka. Students, locals, the elderly, even small children: all have a go, though many have never written a poem in their life."
So began a six-year-long project, the result of which is a book, One Hundred Poets on Mount Ogura, One Poem Each, published in 2010. The idea had inevitably derived from the renowned anthology of poetry, Ogura Hyakunin Isshu (100 Poems by 100 Poets) compiled at the foot of the mountain by Fujiwara Teika in the 13th century. "On each outing, looking through the poems that our volunteers wrote, three or four may not have been worth publishing, but one or two, while perhaps not always so refined, were just charming. Then there are contributions from published poets belonging to my haiku group, the Hailstone Haiku Circle."
The book is a little gem, embellished with Japanese cut paper or kiri-e designs. The poetry is laden with historical and literary references, odes to Ogura's biodiversity, as well as lamentations of its current state. Each piece is printed in both Japanese and English, with an explanation of its context below. At the back are supplementary maps, and how to access the mountain. Gill invites the reader: "Let us be your guide."
In his own time, Fujiwara Teika knew his way around the ancient footpaths of the turtle-shaped mountain by the Hozu River gorge:
To Mount Ogura
another morning has come
of early winter showers;
when, only yesterday,
all four directions dimly glowed
with red and yellow leaves.

For his part, Stephen Gill writes: "P.T.O. is doing all it can to better conserve this place and cultivate the natural mind in the next generation. We work so that Mt. Ogura will once again become a true inspiration for people who seek enjoyment of natural beauty, and will find its rightful place again in the living local culture… We truly need your support."
100 Poets is among the first bilingual collections of tanka and haiku. Following in the footsteps of poet Gary Snyder, it may further clarify the role of poetry as a heartfelt means of environmental campaigning. A satisfying anthology, the book records, as Gill himself has written, "both the delightful and the disturbing faces of this famous, yet long-unloved patch of rural Kyoto."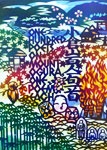 100 Poets for Mount Ogura, One Poem Each, while only available in local bookstores, can be purchased directly. For Japan residents, contact Mari Kawaguchi: mjk-marik[at]aria.ocn.ne.jp 090-6061-9200.
For overseas orders, contact Hisashi Miyazaki: myzkamen08[at]iris.eonet.ne.jp
All profits go to People Together for Mount Ogura (P.T.O.)
You can view the original Ogura Hyakunin Isshu and associated woodblock prints on the University of Virginia Library website.