KUBO YOSUKE INTERVIEWS YUUSHI YASUNO, KAMISHIBAI STORY TELLER
Photo by Paul Crouse
THE RINGING SOUND of traditional wooden clappers echoes through the Kyoto International Manga Museum three times on weekdays and four times on weekends. This is how kamishibai master Yasuno Yuushi ('Yassan') announces each performance to visitors.
Kamishibai, literally 'paper drama,' is a unique form of storytelling in Japan, usually performed outdoors as children's entertainment, in which storytellers use sets of colorful picture-boards. Each illustration is uncovered as the one before it is pulled out from a theater-proscenium-like frame as the tale is told. (Formerly the frame set-up was commonly attached to the back of a sturdy bicycle; each storyteller's 'territory' covered many neighborhoods.) According to Yassan, "No-one knows exactly when the art of kamishibai originated, but it became quite popular when former silent-movie narrators (benshi) started doing kamishibai performances around 1930."
At that time, children looked forward to seeing kamishibai every week in local parks.
"Kamishibai is entertainment but it's also educational. Children learn some lessons and social commonsense from the stories, even though they don't realize it."
The Kyoto International Manga Museum recognizes kamishibai as one of the origins of anime and manga, as many Japanese anime and manga artists have drawn much inspiration from it historically.
Yassan started his career in kamishibai in 1972, concerned that fewer children were playing outside compared with in his youth. By this time the art had been completely supplanted by the advent of television, so no one could teach him the tricks of the trade. He established his own way of performing, and entertained rapt audiences all over Japan.
His encounter with Kyoto was a turning-point. Just after September 11, 2001, he was greatly impressed by a newspaper article by Makino Keiichi, a cartoonist and professor at Kyoto Seika University, who later became the director of Kyoto International Manga Museum Studies Center. In his article, Prof. Makino said that he would like to introduce manga stories to the world with a peace philosophy behind them, based on multitudinous gods.
Yassan wrote a letter in response, saying that he also had the same idea and that he'd like to introduce kamishibai, as the origin of manga, to the world as well; the two men's acquaintance was established. When the Manga Museum opened in 2006, Professor Makino asked Yassan to perform there.
"I'm originally from Yamagata and I don't appreciate traditional culture all that much, so I never dreamt that I would work in a museum in Kyoto. But this city gives me a lot of opportunities to meet non-Japanese visitors and active young people."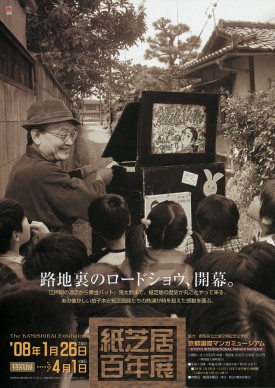 Vast numbers of foreigners visit Kyoto each year, and more than 3,000 of them visit the Manga Museum every month, giving Yassan plenty of occasions to introduce his special form of count-down-style kamishibai. This innovative form doesn't use Japanese words, so anyone can understand and enjoy it as entertainment.
"Non-Japanese audiences also bellow with laughter when I perform my count-downs. This convinces me that kamishibai could bring a laugh not only to Japan but also to the world. My dream now is to help spread this story-telling art from Kyoto internationally, like world-class Japanese kabuki theater entertainment."
His originality attracts not only foreigners; kamishibai's popularity is rapidly increasing among young Japanese audiences. In 2007, the Kyoto Cultural Exhibition, a major event organized by students in Kyoto, recognized kamishibai as "Japanese culture that should be introduced to the world." The younger generation can see it with fresh eyes, whereas adults sometimes deprecate kamishibai as being out-of-date.
Yas-san hopes that young people will play an important role in enabling kamishibai to go abroad. Now four or more young Japanese enthusiasts are learning the art of storytelling from him and supporting his dream.
"In the near future, I hope to perform before large non-Japanese audiences with these young storytellers, both in Japan and abroad. I'm especially looking forward to the International Manga Summit 2008, which will be held here in Kyoto. I hope it will become the impetus for kamishibai to bring great laughter and peace to the world.
"Do you know the lyrics of John Lennon's song, 'Imagine'? — 'Imagine there's no countries… /And no religion too /Imagine all the people /Living life in peace.' People say that Lennon wanted to emphasize the importance of recognizing a diversity of values of many nations, cultures, and religions in this song, because he realized how easily monotheism's rejection of multimodal values can lead to war.
"In the same way, Japan's best-known anime director, Miyazaki Hayao, highlights diversity of values in his movies, with polytheism in mind. I perform kamishibai stories with a multitude of gods in mind as well. I think this is a particularly vital concept these days, when the world is so rife with conflicts over nationalism, ethnicity, religion, culture and wealth disparities."