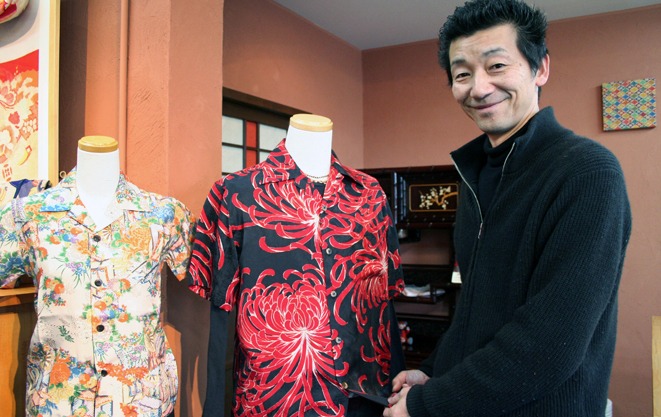 Pagong: Kimono Aloha Fashion

Interview & Photographs by Jenny Hall
Facing the kimono industry's rapid decline, Kameda Kazuaki, president of the Kameda Tomisen factory and fashion store Pagong, searched for an alternative way to use and market beautiful silk kimono fabrics. Kameda hoped to retain the traditional art of kyo-yuzen (Kyoto textile printing techniques) with which his family has been involved for nearly a century. Inspired by stories that the Aloha shirt had been created by Japanese immigrants to Hawaii who took apart kimonos and recycled their fabric, Kameda began his enterprise Pagong five years ago producing traditional kimono patterned prints. Pagong now has three retail shops in Kyoto as well as its factory, and produces 100% silk Aloha shirts, other garments for both men and women, and accessories. Pagong's Aloha shirts were awarded the J-mark in October 2006 by the Japanesque Modern Committee, a symbol that certifies Japanese products high in craftsmanship (see www.japanesque-modern.org/english/)
I interviewed Kameda Kazuaki in 2007 about his company, his business philosophy, the city of Kyoto, and his thoughts on the future of traditional Japanese craftsmanship.
When did you become interested in kimono, Kyoto textile printing and dyeing?
It was my family's business, so I've always been interested, from a very young age.
How did you find out the origin of the Aloha shirt?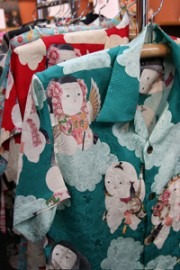 At first, when Aloha shirts appeared in Kyoto I had no idea of that story. But five years ago when I started the Pagong brand I began to look into the origin of Aloha shirts and found out the whole history. In the early 20th century people increasingly emigrated from Japan to Hawaii for work so kimonos were no longer only found in Japan, and Aloha shirts became more and more popular. I am proud that Kyoto dyed silk apparel is continuing to become popular not only in Japan but overseas.
Are Hawaiians aware of the origin of Aloha shirts?
I don't think so. However if you see the design I think it is difficult to say it is anything but Japanese.
Are you selling Pagong items in Hawaii?
No, we are not selling overseas, only in Kyoto.
There is a saying that Kyoto people kidaore (spend so much on their clothes that they bring themselves to ruin). What does this saying mean to you? Do you kidaore?
Yes, definitely. I don't care what I eat as long as I look good.
How has Kyoto changed?
People's hearts have become colder. A long time ago neighbours and friends spent more time playing and talking with each other. Now young people, everyone, works really hard at their jobs to save money and as a result they have less time to spend with others. They are alone more and are therefore lonelier.
How can Kyoto people protect their culture?
We have to study the original arts and crafts in order to keep them, and also advance with new ideas. I don't think it's possible merely to preserve traditional techniques. Therefore, we must take on the challenge of developing new goods by using those original techniques.
Do you think enough is being done to protect the culture?
Kyoto people are slowly becoming aware, especially about kimono textile culture. I think the method of making traditional clothes, which was originally a slow process, is getting faster and faster over time. As a consequence it is becoming increasingly difficult to say we can protect the traditional textile-making culture.
How will you pass on your company's techniques?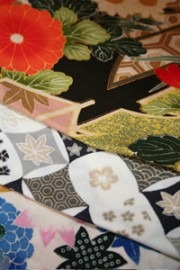 Now we have five craftspeople working in the Pagong factory; they are not young but they are fit and well. If one of them retires, we will search for another. There are still people in Kyoto with the necessary skills whom we can recruit. I think the situation is okay but it seems very few young people are interested in the process of dyeing fabric because it is messy. It is a very difficult skill to mix the textile dyes. Young people today like to produce things, but few will work in a factory dyeing fabric; they don't really like it.
In any event, I don't want Pagong to become a large company. I want our customers to be continually pleased with dyed clothing that is made properly. We have only three shops in Kyoto. I don't want to add more branches in Osaka or Tokyo or such places. I firmly believe in protecting our existing business.
In my heart I'm pleased our customers are able to receive our items. However we don't just make clothes; for example, we have small events. And we have recently produced a comic. Why manga? My company gives this to customers. Customers become interested, and ask, 'What is Pagong?' They want to find out, so bit by bit people talk about us and find us interesting. Customers are able to view the manga on the Internet (www.pagong.jp/manga/) and come to our shop. A usual company, a standard apparel maker, a typical Japanese textile maker would definitely not do this, right?

Thanks to Anna Strycharz and Miki Takaoki for translation assistance.