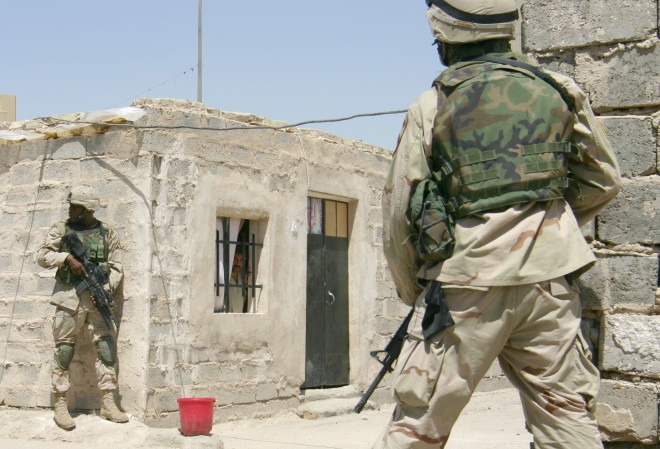 Japan, the U.S. and ISIS
—a former U.S. Marine on ending the wars in Iraq

Jennifer Teeter interviews Ross Caputi,
Long interview (extended version from KJ 82)

On January 27th, 2015, amidst Japan's desperate negotiations for the handover of captured journalist Goto Kenji after the purported Islamic State of Iraq and Syria (ISIS) beheading of captive security consultant Yukawa Haruna, Sunni tribal leaders unearthed yet another mass grave in Iraq of seventy unarmed Kurds and Yasidis — civilians killed fleeing ISIS militias. Japan remains shrouded in fear, with ISIS threatening to use the "same knife" that brutally murdered Goto to "cause carnage wherever your [Japanese] people are found." Meanwhile, ISIS continues to cause carnage throughout Iraq and Syria, escalating ethnic tensions. Terror resulting from ISIS mass executions and the prospects of brutal retaliation by the Iraqi government haunts the population.
The situation seems hopeless, with the prospect of endless waves of bloodshed across the region. Many Japanese wonder why they have become ISIS' new target and blame Prime Minister Abe Shinzō for provoking ISIS with his hard-line stance and pledge of 200 million U.S. dollars in non-military aid to countries "contending with ISIS." Nonetheless, the roots of animosity towards Japan go back at least a decade, to 2004, when in a gesture of support for U.S.-led operations in Iraq, Japan deployed armed Self-Defense Force (SDF) personnel for the first time since World War II. A total of 10,000 troops were dispatched over 30 months. Despite their being engaged in "non-military" operations, and under orders to only use their weapons in direct self-defense, many Iraqis came to view the SDF as complicit in the U.S. occupation. This led directly to the kidnapping of four Japanese in 2004— including one who was beheaded by Al-Qaeda.
Most of the SDF troops were sent to Samawah to rebuild schools and fix electricity and water lines. Residents first welcomed them but grew frustrated with the lack of improvements and one-sided nature of SDF initiatives. Civilians felt betrayed, viewing the SDF as usurpers of potential civilian jobs. Protests erupted and the SDF base-camp faced mortar and rocket attacks until their withdrawal in 2006. In 2008, the Nagoya High Court ruled the SDF dispatch partially unconstitutional. These operations and further engagement in the region have chipped away at Japan's credibility as a pacifist nation.
Despite the current despair, former U.S. Marine Ross Caputi has a story of hope for Japan. Caputi served in Iraq during the November 2004 siege of Fallujah, which he refers to as "one of the largest and most criminal operations of the occupation in Iraq." Since his return from duty, he has boldly voiced his disenchantment with U.S. interventions in Iraq, which he now views as emboldening ISIS. Committed to bringing peace to the region, Caputi seeks to understand the situation in Iraq through the eyes of the survivors. He has authored countless news articles voicing his opinions worldwide, and co-founded the ISLAH* Reparations Project (http://www.reparations.org/) seeking direct reparations to Iraq. He has also produced an award-winning documentary investigating the atrocities committed in Iraq and the legacy of U.S. foreign policy, called Fear Not the Path to Truth: A Veteran's Journey After Fallujah.
In November 2014, he brought his message to Japan through a speaking tour with aid worker Nahoko Takato, visiting Tokyo, Kyoto, Kobe, Nara, Osaka and Nagoya. In this interview with KJ's Heartwork editor Jennifer Teeter, Caputi provides his take on the wars in Iraq from 2004 to the present, and sheds light on the emergence of ISIS. He also offers insight on how everyday people can contribute to peace in the region, while urging Japan to end its support of U.S. foreign policy in Iraq.
* 'Islah', or al-Islah, is the Arabic word for repair, reform.
INTERVIEW

J.T.: Why did you join the military?
R.C.: I joined for very selfish reasons. On one hand, I wanted to travel and see the world, but also I thought that becoming a combat veteran would convince everyone in my hometown that I was a man. I knew nothing about the wars that I was signing up to participate in. I never thought for a second about who I would be fighting against, or what would happen to them.
I assumed that my government's claims about Iraq's possession of weapons of mass destruction were true. It was a very convenient claim for me to accept. We were told that we are making a noble sacrifice on behalf of the country. We were told that we were defending democracy. I didn't bother to investigate these claims or to educate myself about U.S. foreign policy.
Today we know this is untrue. We know that the U.S. intelligence community was very skeptical about the evidence of weapons of mass destruction that the Bush Administration was presenting to the world to justify invasion of Iraq. We know that Bush was aware of this skepticism, yet still went to the UN Security Council claiming to be certain the evidence was reliable.
The UN Security Council, not convinced, did not authorize the invasion of Iraq, thus making it illegal — a crime of aggression falling in the category of "crimes against humanity" under international law. There has been no accountability for this crime, or for any of the crimes that followed it in the course of the occupation of Iraq.
What kind of training did you receive?
Training at boot camp is extremely psychological and it is all geared towards helping people overcome the instinctual aversion we have to holding weapons up and firing at other human beings.
Honestly, becoming a soldier or a marine, it makes you want to kill because you are taught that it is your purpose as a soldier. You are always taught that there is a moral purpose behind it — you are the good guys, they are the bad guys — but it creates a culture of killing and it really desensitizes you to the idea of killing. I think what everyone was feeling before they went into Fallujah was a mixture of nervousness but also excitement. After a few days of intense fighting, once that nervousness was gone, and people had actually killed others, they became extremely comfortable with it and really embraced it, and many were so quick to kill anybody. People would brag about the numbers of people they killed.
Could you tell us about your experience as a marine in Iraq?
When I arrived in Iraq in June 2004, I really liked being there at first. What I didn't know was that U.S. forces had just laid siege to Fallujah, a city of 300,000 people 80 kilometers west of Bagdad, just a month earlier, killing over 700 civilians. Together with the photos that had just been released about the torture of Iraqi detainees in U.S.-run prisons, Iraqis were outraged and were rising up to liberate their country. But I didn't know any of this, or why a sane Iraqi would want to fight against us. I believed what my leaders had told me, that we were there to free Iraqis from a dictatorship and bring them democracy.
We ran security and stability operations in the small farm villages outside Fallujah. We enforced martial law, searched for weapon caches, and tried to coerce the village leaders to cooperate. We offered them money in exchange for information about the resistance fighters, and we never believed them when they told us that they didn't know anything. We didn't realize that by asking them to cooperate, we were making them a target for the resistance, who would consider them traitors if they cooperated with us.
When did your attitudes about the war start to change?
One day we arrested a man in his home after we found a very old, rusty land mine in his backyard. Immediately we handcuffed him, threw a bag over his head, and threw him in the back of our Humvee to take him to jail. There was any number of ways that the land mine could have ended up in his backyard. What I knew for certain was that this man was not going to get a fair trial with a jury of his peers. I suddenly saw very clearly that we had all the power in Iraq, and Iraqis had none. We were acting as the police, the judge, the jury, and the penitentiary. No wonder Iraqis were rising up against us.
I started asking questions too late. My unit was soon called into Fallujah for the second siege on the city. I'm ashamed to say that even though I understood what we were doing was very unfair, I continued to follow orders anyway.
What happened during the second siege?
We told women and children to leave and 200,000 people became refugees, just like that, and they had to go and find some way to survive somewhere else. Some squatted in abandoned buildings, others lived in farm huts or tents. We trapped all military-aged males in the city, surrounded it with six battalions, bombed it indiscriminately for weeks, and then sent in tanks and ground troops. An estimated 4,000 to 6,000 civilians were killed. Two-thirds of the city once known for its exquisite mosques was turned into rubble.
The U.S. government claims that the sieges were heroic operations that liberated Fallujah from terrorist control, but most Iraqis regard these operations as massacres. No matter how you understand them, they left an enormous wake of suffering on both sides of this conflict. The second siege is considered one of the largest and most criminal operations of the occupation in Iraq.
Could you tell us about the first siege in April 2004?
Fallujah had become the stronghold of the armed resistance against the occupation. In March, four American mercenaries were ambushed and killed by a militia group. Then an angry mob came and mutilated their bodies. The U.S.-led forces in Iraq then launched a revenge attack on the entire city. However, U.S. forces could not defeat the Iraqi resistance fighters without killing large numbers of civilians in the process. During the course of this operation, U.S. forces killed over 700 civilians. Al Jazeera reported these atrocities and created international outrage that forced the U.S. to withdraw from Fallujah completely and turn control of the city over to the resistance fighters. For Iraqis this was a major victory that inspired other cities to rise up against the occupation.
What happened after the second siege?
Fallujah was turned into an open-air prison, like Gaza, completely sealed off from the world by barbed wire and coalition checkpoints. Residents were confined within city limits and lived under curfew and constant surveillance. Journalists were not allowed in, and no news ever left. Horrific developments began to unfold — massive increases in the rates of birth defects, cancers and other life-threatening maladies. The snowballing public health crisis went unreported and untreated for years, as Fallujans remained trapped in their toxic city.
During this period, the troop surge ordered by President Bush in January 2007 went on to suppress, co-opt, or marginalize all remaining armed resistance groups throughout the country and impose the "new Iraq," over which Iraqis themselves had no say. We have to look at the broader picture of the callousness we are committing against Iraqis who are being sidelined as spectators in their own country.
It is also very important to understand the significance of these operations. Fallujah stood as the major obstacle to the U.S.-led occupation's political project. Without the second siege, the Coalition could never have created the appearance of legitimate elections, a democratically drafted constitution, or the process of state building.
After you realized the war was wrong, were you able to show this to your superiors?
Legally the military is supposed to provide you an opportunity to be a conscientious objector. I could have done that before the operation began but after that, if I had chosen to disobey orders in combat I could have been charged in a court martial. In that atmosphere, however, where my superiors weren't concerned with punishing me according to the law, I think I would have been dealt with in a worse way. I didn't know how to voice my concerns in an intelligent way. So I was just acting like a punk, talking back to the officers. They really wanted me to be enthusiastic about our mission but I wasn't.
What has happened in Iraq since the US withdrew in 2011?
All of the injustices imposed upon Iraqis remained in place and became actively enforced by Prime Minister Nouri Al-Maliki. Discontent with the political, economic, public health, and human rights situation led to the country-wide nonviolent Iraqi Spring movement in December 2012. These protests had widespread support throughout the Sunni provinces and considerable support from the Shia community as well. In many Iraqi cities, but notably in Fallujah and Ramadi, activists set up protest camps and held weekly large-scale demonstrations calling for political reform.
The protestors articulated a set of demands that addressed the sectarianism, corruption, and various abuses by the new Iraqi government. These abuses, many inherited from the Americans, included the detention of women in order to elicit confessions from their husbands and male family members; the labeling all forms of political dissent as terrorism; the creation of sectarian death squads operating with impunity under the command of the Iraqi Ministry of Interior, and various forms of political discrimination.
For a year Maliki ignored the protesters' demands and repeatedly sent in troops to suppress them, with support from both the U.S. and Iran. The US played a special role in enabling the Iraqi government's internal repression, having provided it with military equipment and personnel to train the new Iraqi military. Despite this oppression, the protestors remained nonviolent and steadfast in their goal to undo much of what the occupation had done to Iraq.
Then, through its actions on December 30th, 2013, the Iraqi government turned a nonviolent movement violent. Maliki sent his security forces to clear the protest camps—first in Ramadi and then in Fallujah—under the false pretext that the protests had been infiltrated by ISI fighters [ISI, the Islamic State of Iraq, changed its name in April 2013 to ISIL, also known as ISIS].
Since the start of the assault on December 30th, 2013, civilian structures have been shelled and bombed repeatedly, including hospitals. Civilians have been wounded and killed nearly each and every day since the New Year. So far over 1,000 civilians have been killed and over 2,500 have been wounded. Several politicians and lawyers have argued that the current assault on Fallujah meets the legal definition of genocide. Also, the third siege has created a new wave of refugees within Iraq. A UN report has placed the number of displaced at 62,679 families, or roughly 370,000 people, from within Anbar province.
Was ISIS involved with the retaliation against the government?

After the December attack, many tribes in Fallujah took up arms to drive Iraqi security forces out of their city. This led to skirmishes between tribal fighters, who just a day prior had been nonviolent protestors, and Iraqi soldiers. The next day a convoy of ISIS fighters arrived in Fallujah, but after consulting with tribal leaders they agreed to position themselves on the outskirts of the city.
In fact, a command structure was set up in Fallujah within the first weeks of fighting. It consisted primarily of tribal leaders and former army officers and went by the name of the General Military Council for Iraqi Revolutionaries. ISIS was placed under their command, and was at first cooperating with the Military Council. However, over the course of the months of fighting with the government, ISIS grew in size and strength and began to compete with the Military Council for power. Yet despite all the glaring differences between these groups in Fallujah, the Iraqi government refused to acknowledge the legitimacy of any Sunni militia. A government official told Reuters reporters that, "if anyone insists on fighting our forces, he will be considered an [ISIS] militant whether he is or not."
On January 2nd [2014] the Iraqi Ministry of Interior reported to the press that half of Fallujah had "fallen" to ISIS. This claim was false, but the media quoted and repeated it until it became a conventional wisdom. The Western media framed the violence there as an ethnic dispute between Sunni extremists and the Shiite-led government in Baghdad. Then U.S. then increased its level of military support to Iraq, promising to send fresh shipments of Hellfire missiles and Apache attack helicopters.
The first two weeks of fighting were fierce and led to many losses on both sides. Several Iraqi military vehicles were destroyed and the Iraqi military made no real advances into Fallujah. The rebellion quickly spread to other cities in Anbar province, and everyone began calling the uprising a "revolution". Then the Iraqi military stopped trying to penetrate into Fallujah and instead sealed off all entry and exit points to and from the city. They began an indiscriminate campaign of bombing and launching artillery from the outskirts of Fallujah, safely outside of the range of the rebels' weapons. Whereas the rebel fighters had been a match for the Iraqi military in urban combat, they did not have the military capabilities to defend themselves from the aerial and artillery attacks.
Since the start of the assault in December 22, civilian structures have been shelled and bombed repeatedly, including hospitals. Civilians have been wounded and killed nearly each and every day since the New Year. So far over 1,000 civilians have been killed and over 2,500 have been wounded. Several politicians and lawyers have argued that the current assault on Fallujah meets the legal definition of genocide. Also, the third siege has created a new wave of refugees within Iraq. A UN report has placed the number of displaced at 62,679 families, or roughly 370,000 people, from within Anbar province.
Could you explain the origins of ISIS?
It is important to understand that the Islamic State has its origins in the group known as Tawhid al Jihad, an al-Qaeda affiliated group in Iraq in 2004 and 2005. In 2006 Tawhid al Jihad was absorbed by a militant group known as the Islamic State of Iraq (ISI). However, the group quickly became ostracized within Iraq due to its sectarianism and its acts of terrorism. For many years the ISI was forced to the margins of Iraqi society. ISI saw the beginning of civil war in Syria in 2011 as an opportunity to gain strength and popularity. After two years of fighting in Syria, ISI split from the Syrian branch of al-Qaeda, called Jabhat al Nusra, and changed its name to the Islamic State of Iraq and al Shab ("al Shab" means greater Syria) to reflect its new territorial ambitions. The group remained concentrated in Syria until they saw an opportunity to overcome their past unpopularity in Iraq. That opportunity was the third siege of Fallujah.
How did ISIS capture Mosul, Iraq's second largest city, and other cities in Iraq?
Just when it seemed as if the militants in Fallujah and the government were locked in stalemate that could go on forever, slowly killing off and starving the population of Fallujah, ISIS and several other militias launched a blitzkrieg assault that captured the city of Mosul. As a result, the Western media reported that on June 10th, Mosul had fallen to ISIS and 500,000 residents had fled their home in fear.
However, Mosul was captured through joint operations launched by the ISIS, and tribal and Baathist militias. And 500,000 residents of Mosul did indeed flee their homes, but not out of fear of the ISIS. Rather, they fled because they feared that Maliki's reprisal would make their city another Fallujah.
This "revolution", which started in Fallujah and slowly spread to other cities in Anbar province, suddenly become a national phenomenon attracting international headlines and the fearful eyes of Washington and Tehran. The loose coalition of rebel militias went on to capture, or "liberate," other cities north of Baghdad, including Tikrit, cities to the West, such as Tel Afar, and one of Iraq's largest oil refineries at Baiji.


How have U.S. interventions influenced the situation?
ISIS has only been able to grow and thrive in Iraq because of the Iraqi government's oppression of the Sunni community, which the US has allowed and facilitated by supplying them with weapons. The Sunni community has had no choice but to rely on ISIS for security. Thus, we created ISIS's base of support by alienating the Sunni community and pushing them to embrace ISIS. Also, when ISIS captured U.S. military equipment gifted to the Iraqi Army, this helped them quickly become one of the most powerful military forces in the region.
When ISIS trapped tens of thousands of Yazidis, who are neither Christians nor Muslims and therefore considered apostates in the eyes of ISIS, on top of a mountain and threatened genocide against them [in August 2014], the Obama administration decided to renew airstrikes in Iraq.
To justify this course of action President Obama claimed that ISIS began its "advance across Iraq" in June, omitting the six months prior when ISIS was gaining strength and momentum by defending Fallujah from the Iraqi government's assault. President Obama also omitted the U.S. role in creating the conditions that allowed ISIS to grow and thrive by arming the Maliki government's genocide against Sunnis in Fallujah. Instead, President Obama claimed that the U.S. was just at that moment choosing to intervene in Iraq against a terrorist threat that appeared out of nowhere in June, in order to "prevent a potential act of genocide."
This ahistorical analysis of ISIS' rise to power and U.S. intervention obscures the flaws in the Obama administration's policies, because the proposed solutions mirror the conditions that strengthened and emboldened ISIS.
ISIS' success in Iraq cannot be explained by its brutal tactics, its religious ideology as a source of recruitment, or its Saudi Arabian financiers. Many of those who came to tolerate, support, or ally themselves with ISIS in Iraq were former nonviolent protestors in the Iraqi Spring movement who explicitly opposed federalism and sectarianism. But they were willing to overlook ISIS's sectarian rhetoric and their goal of dividing Iraq out of their desperation to overthrow the Maliki government.
ISIS was only permitted to exist amongst the Sunni community because of the oppression of the Iraqi government. And not only did it survive the airstrikes and shelling of the Iraqi government, but it grew and thrived because of them. Thus, we should not expect that renewed U.S. airstrikes will do anything but increase the Sunni population's reliance on the ISIS for security and further strengthen it as an organization.
Viewed in this context, the Obama administration's actions are deeply sectarian. Despite its calls for an inclusive government in Baghdad, and its initiative to force Nouri al Maliki to step down from his Prime Ministership; the reality of the Obama administration's actions is that they have chosen sides in a sectarian war.
Indeed, Maliki was forced to step down from his position as Prime Minister, and the Iraqi President, Fouad Massoum, appointed Haider al Abadi to take his place. However, a new "presidential structure" was created for three Vice Presidents, and one of those seats was given to Nouri al-Maliki. The new Prime Minister is a member of the same sectarian-based political party as Maliki. Since Abadi's new cabinet was formed in September 2014, Fallujah has been bombed almost every single day.
Far from a humanitarian intervention, and lacking effective diplomatic action to create an inclusive government, the Obama administration has merely increased its support for the sectarian government in Baghdad.
How were you received when you returned from service?
I was treated like a hero. Treating veterans like heroes is deeply ingrained in American culture. To give an example, there is a sniper who wrote what is now a New York Times best-selling memoir on his experience being a sniper in Iraq. He claims to be the deadliest sniper in history. It was made into a movie which appeared on Christmas Day in 2014 with leading actors in Hollywood. It is so easy for a person like that to be embraced in society as a hero and it doesn't look like it is going to change any time soon, partially because there is a huge gap between U.S. public knowledge and what the U.S. is actually doing. Most Americans don't know that there are 800 U.S. bases around the world.
What prompted you to start speaking out?
At first, I wasn't able to talk about my experience in Iraq. But I felt that I couldn't keep this skeleton in my closet forever. Since it took me so long to finally speak out about all the harm we brought to Iraqis, I now feel even more of an obligation to speak out against the war. Now, I feel a connection to Fallujah and the people there.
Have other vets you served with also spoken out?
Most of the people from my unit hate me. They feel very threatened by what I am doing because they think I am trying to take away their hero status. There is a small group of veterans called IVAW (Iraq Veterans Against the War), but we are a small group and I don't think any of them were in Fallujah. It is hard to find veterans that want to help Iraqis. It is just too traumatic an experience. They want to move on with their lives.
Is the number of veterans speaking out against the wars increasing?
It's definitely not increasing, it is decreasing, unfortunately. That is what is happening with IVAW. Since its 2008 television broadcast hearings with veterans testifying against war crimes in Iraq, IVAW has changed their focus to only issues that impact veterans directly. Many veterans have a lot of trauma and aren't emotionally capable of focusing on Iraqis, and they also have a lot of problems in their lives. They have to get jobs, they are busy with school, so unfortunately there are very few veterans focusing on Iraq right now. It is really a problem.
Could you tell us about the Islah Reparations Project?
As members of the international community, I believe we need to create pressure for a diplomatic solution. Meanwhile, we can help meet the needs of Iraqi families as they try to survive in a war-torn country. Islah aims to create individual connections between Americans and Iraqis so that reparations can be made and we can repair the damage that was done. We've been sending medicine and other supplies to internally displaced people in Iraq. We held a speaking tour with an Iraqi and Iranian doctor who talked about the problems with birth defects of children being born in Fallujah. We have another project that is specifically for veterans to create a fund to give reparations directly to Iraq.
At this point the Fallujah General Hospital isn't able to provide for people and keeps facing bombings to this day. We are also working on a long-term project to deliver large, very expensive medical equipment to the hospital including ultrasound machines and to provide training. Since the borders around Iraq are so dangerous and controlled by different militia groups it is difficult to deliver the equipment.
We try to get people engaged in the issue. It is not enough for us to just say these people are suffering. We really want people to understand that they are suffering because we created this suffering. We have a moral responsibility to these people and we have to act on that by giving reparations. It's not a one-time thing where you pay money and go home. We want people to see it through as far as it can possibly go. We don't have a lot of people working on it. It is all-volunteer so it is difficult.
Iraqis are in a very desperate situation and they need international solidarity on many levels. As members of the international community, we have an obligation to stand in solidarity with them. We are not powerless and we do not have to sit back and watch this bloodbath in Iraq. If we work together we can take real action to make a difference in Iraqis' lives.
What do you think about Japanese alignment with the U.S.-led operations in Iraq?
Japanese people shouldn't align with the U.S., because the United States is an aggressive country. This would be the opposite of collective self-defense. America has 800 military bases around the world. No other empire in history has achieved something like this. There is nothing benevolent about U.S. military bases — it is about achieving global military dominance and I think that is a very immoral thing. If the Japanese Self Defense forces were to ally with the U.S., I think it would make them complicit with American foreign policy.
Our invasion of Iraq, invasion and occupation of Afghanistan, our role in supporting the occupation of Palestine, these are all aggressive actions. It is not about nation-building, it is not about self-defense or security. If Japan were to involve itself in this, it would not be about collective self-defense at all — it would just be allying itself with an aggressive military power.
Can ISIS be stopped?
ISIS is not an isolated phenomenon. Their campaign of terror is happening in parallel with a very legitimate uprising against an oppressive government. But to understand how these two movements can be happening simultaneously, one needs to understand the illegality of the U.S.-led invasion of Iraq, the brutal nature of the occupation, and the crimes committed against the Sunni population since the third siege of Fallujah began.
The violence in Iraq could quite easily be resolved by addressing the needs of the Sunni community, thereby reducing their reliance on ISIS for security, and by holding those who committed crimes against them accountable. ISIS has alienated themselves from their base of support through their brutal tactics and their sectarianism. There are Sunni groups that are willing and more than capable of ejecting ISIS from their communities, but they will not do so until the crimes committed against them have been addressed. However, the U.S. has no interest in taking effective diplomatic action, and instead has chosen endless war.
To learn more about his visit to Japan, see Caputi's own article:
https://rosscaputi.wordpress.com/2014/11/29/report-back-from-japan/
See also KJ writer Kimberley Hughes' article for the independent Shingetsu News Agency:
http://shingetsunewsagency.com/tokyo/?p=968
Visit Islah Reparations Project to learn more about how you can contribute to a lasting peace in Iraq:
http://www.reparations.org