Wine Through Water
From KJ 52
BY LINDA GRACE PHILIPPSEN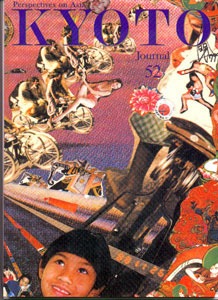 I've dreamt in my life dreams that have stayed with me ever after, and changed my ideas; they've gone through and through me, like wine through water, and altered the colour of my mind. —Emily Bronte
I hear soft laughter and giggling. Mihoko and her mother. It is late evening and I make the last trip to the toire. Before returning to my room I open the door to the kitchen to say goodnight. I see the two of them folded like delicate origami creations on the floor, newspapers between them, faces suffused with shared mirth. They look at me in surprise, apologetic, wondering if I need something. No. Just wishing them goodnight. I must look puzzled.
"My father's paper route," Mihoko says.
"I see," I say. "And where is your father?"
"In bed. Sleeping," she answers and her mother giggles.
"Ah," I answer. "It is his paper route, but he is sleeping."
"Hai."
"You are folding the papers. Tomorrow he will carry them on his route."
"Hai. I will drive him."
"I understand. You and Ryoko fold the papers."
"Hai."
"You will drive him tomorrow."
"Hai."
"And he is sleeping."
Ryoko giggles again.
I smile and in a conspiratorial tone add, "In Canada it is the same; my husband is very busy while he is sleeping."
Together we dissolve in laughter.
As I mount the narrow, wooden steps to my room I am aware of an altered understanding. A moment of union between us shrinks the Pacific Ocean to the width of my suburban street.
As I slip into my futon I'm tempted to administer the proverbial pinch to ascertain whether I merely dream that I am actually in Japan. However, when I consider the charges under my supervision, the effort required getting here, and the coming week's action-packed schedule, I know it's no fantasy. Why am I in Japan living with strangers and going to school every day with more than two dozen 15 to 18-year-old students? As in many stories of changed lives, the answer begins with a question.
Armand, the principal of my Delta, British Columbia high school, catches up with me in the hallway in mid-September and makes a desperate plea. Will I help him out of a predicament and host one of five staff accompanying thirty students from a school district in Japan, scheduled to arrive in two weeks for a cultural and linguistic exchange? He has two instructors left to place and no one seems able to take them. That evening I discuss the request with my (then) husband. Worried because we know no Japanese, we decide to invite both teachers, as they will have each other for company.
Two weeks later, in the school's parking lot at four in the afternoon, I find myself, with greatest difficulty, trying to fit both gentlemen and their large traveling cases into my small Toyota. Jacques, a colleague who knows both from a previous visit in Japan, is eagerly pressing them to join him for a few beers at a local strip joint. Not my first choice among suggested activities for my guests, but it alleviates the stress of fitting everything and everyone into my car, and seems to please everyone else. I drive home with the suitcases and start dinner. Our smiling guests are delivered a few hours later.
We have been told the Japanese like Scotch whiskey. We pour the first round of happy hour and say, "Cheers!" Our guests look at each other and us, smile, and reply with a hearty, " Kampai!"
My husband raises his glass again and adds, "Cin-cin!"
Hitoshi and Hiro look at each other wide-eyed, then at us. There is an awkward moment of silence.
"It's French," my husband explains. "Canada has two official languages. English and French. In English you say, `Cheers.' The French [borrowing from the Italians] say, 'Cin-cin.'"
Our guests look at each other, then at their laps, and again at each other.
Hitoshi, the designated interpreter, hesitates. "In Japanese, chin chin means penis," and he points just in case we miss the English.
"Oh great," I think in the ensuing laughter. "This is not quite the culture I expected to be exchanging when I agreed to this enterprise."
Our guests seem to settle in with ease, the little creases of acculturation smoothed with generous amounts of Scotch, which by mid-week we serve in beer pints to mitigate the dizzying effects of getting up and down for refills.
As we get to know each other's habits and personalities we begin to fit each other. I find most genuine the moments spent sitting in simple communion around a table laden with food—if trying to punch complex concepts into a translating machine can qualify as simple. Or watching seven men hover for hours in the garage over at least as many motorbikes (including an Ariel and a Velocette) when my husband's riding buddies learn one of our guests is a bike enthusiast with a Motoguzzi. Or taking Hiro, a woodworking teacher, to see houses under construction, to meet a local craftsman of fine furniture, and to linger the entire morning in his studio.
The routines of eating, sleeping, and working consume the greater part of the day. Knowing that teachers in Japan work long hours, we take advantage of our early dismissal at 2:40 PM, put aside our usual preparation and marking, and organize walks at local beaches, sailing, shopping, or sight-seeing before dinner. A favourite staff party is Connie and Jon's annual barbecue, an endless largesse of open-hearted hospitality. Slabs of beefsteak the size of dinner plates astonish our guests. We eat, drink, sing, and dance into the early morning hours. No one claps to end the evening. Host students and their parents, too, go out of their way to pack the week with activities that seem to take on an energy of their own, propelling us all too quickly to the moment of parting.
On the last morning the Japanese group gathers to board the blue chartered coach in front of the school. Weary, I look forward to relinquishing my taxing duties as cultural ambassador and super-hostess. At the moment of our parting handshake, however, Hiro does not release my hand; the intensity of his emotion catches me quite unprepared. His voice, as he insists that I must stay at his house if I ever come to Japan, is resonant with repressed feelings—a response he has masked all week. We have never been quite sure whether our guests have enjoyed their stay with us. As this is our first time as hosts, we have not yet learned their cues.
When Hitoshi's turn comes our eyes lock; both of us fight tears, unable to speak. Neither he nor I can dream that we will again be gripped in a similar gaze in just a few years' time in Japan, when with anguish he will tell me about his stillborn son and the near death of his wife.
Such is the ordinary beginning of extraordinary friendships, a part of the magnetic force that draws me to Japan. Out of our utter dependence on each other, created by the inability to communicate easily in the native language of the alien environment we enter when we step into each other's worlds, a deep reciprocal connection is forged. For one week we live as members of another family. After, "like family" is how we feel. Linked by regular letters, e-mail, and occasional visits on holidays and further exchanges between our schools, over a decade we will share the mutual joys of promotion, graduation, marriage, and birth, as well the shadows cast by separation, divorce, miscarriage and death.
Year after year in downtown Toyohashi, we will pause during an enkai thrown for visiting Canadian teachers and Japanese teachers whom they have hosted in Canada, as well as those who have welcomed them to their homes in Japan, for a "family" portrait that seems to grow exponentially.
After hosting Japanese teachers for a number of years, as part of the ten-year tradition of exchange between our school districts, I have traveled to Japan with colleagues and groups of students, several times.
All of us who choose to travel to Japan have dreamed of the journey or longed for the experience, some of us since early childhood. During this adventure, the imagined and the actual intersect to form an experience that reshapes us. Things as ephemeral as dreams are powers that form our existence.
Months of anticipation and preparation lead to our departure. After confinement during a ten-hour flight from Vancouver to Nagoya and further connections by bus and train to Kyoto, the Canadian students need exhausting exercise. The absence of it, their natural effervescence, and the novelty of their surroundings makes them even more boisterous than usual.
"We were waving our Canadian flags outside the bus windows yelling, ' Kon-ban-wa,' at every passer-by. I felt like such a foreigner. I wonder why. Maybe that's because I really am," Melissa writes in her journal.
Kevin echoes her sentiments, "I am a total foreigner here. It feels so weird. I feel like I am in a dream."
The first morning of three days spent in Kyoto we meet at eight o'clock, walk from our hotel to the Toji Temple open-air market, and spend the entire morning there. After lunch, back at the hotel, I overhear Ryan and Dave laughing.
"I saw some guys who weren't Japanese. Because they were white I just started talking English to them," Ryan said, "but they couldn't understand a word that I was saying. I think they were Russian or something."
Others eagerly recount their adventures: getting lost, finding their way, trying to communicate, meeting people, acquiring treasures.
Later, travelling with a small group and an International Service Club guide on a city bus to Kiyomizu-dera, I attempt to draw the chattering students' attention to their surroundings.
Softly I suggest, "I'd like you to just listen to the rest of the people on the bus for the next few minutes. No talking; just listening."
Puzzled but curious, they comply.
At last Alicia, who can contain it no longer, whispers to me, "No one is talking."
"Right."
"On the way to the Golden Pavilion earlier, and yesterday on the bus, people were looking at us funny. Was it because of all the noise we were making?"
"Most likely."
The struggle of her realizations plays across her expressive face.
"Do they think we are rude?" she asks in an undertone.
"Possibly."
"But we weren't meaning to be rude. We were just having fun."
As I listen, I am aware that I do not want these dynamic individuals, among the most sensitive and generous students I have had the pleasure to teach, misjudged by the passengers who travel with them, against a cultural norm unequal to the task. I am suddenly reminded how difficult it is to live without prejudice, how easy it is to misjudge, to make uninformed assumptions, and to be wrong about the simplest matters.
The students, awed by the technology and antiquity of this foreign world, so different from their own (often recently adopted) country, succumb to the spell of Japan.
Ian, an avid railroad enthusiast, armed with a camera and books about trains, spends all his free time in Kyoto Station photographing the different bullet trains, hoping to take a photo of each type. Persistence pays—he gets them all.
"I watched an old woman in the temple garden for ten minutes," Emily says, "Do you know that there are two kinds of moss that grow together? Well, she was pulling the taller moss out of the shorter moss. It was amazing."
Coming upon a group of small stones interspersed with flowers and containers of water on the Philosopher's Path, some students ask the guide what they represent.
Told that it is a shrine to remember children conceived but not born, most are gripped by the palpable sadness of the spot, then linger a while, look closely and speak softly, long after the rest have moved on.
At Sanjusangen-do, Ryan, Yuan, and Deanna ply the volunteer guide with questions. The young woman struggles to convey symbolic and archetypal concepts outside their cultural experience, but the difficulties are no deterrent to the students. Their appetites are whetted for the taste of ideas that require a lifetime (or several) to digest. They purchase English guidebooks and continue to discuss the experience on the way back to the hotel.
Deanna, normally a noisy character, who had stood silently with her forehead on the railing during most of the temple visit, tells the others, "All those gods in there, they were talking. I could hear them."
Melissa concurs, "It was crazy. I swear you could feel this weird vibe going through your body."
Back at the hotel, Emily, whose group had followed behind us on another bus says, "We waited and three city buses stopped. They were all full so we didn't get on. Finally, we got tired of standing in the rain and decided to squish in. I just pushed. You know, I could have pushed a whole bunch more people in there." Some aspects of acculturation translate more quickly than others. Pushing is not the Canadian way.
Jaywalking, however, is. The volunteer guide waves her flag agitatedly and protests when students see a shop that interests them, wait for a break in traffic, and sprint en masse across the street, a habit not easily curbed during the brief tour. Kevin is absolutely appalled that he has been reprimanded for crossing the road.
Sometimes, we enjoy much-needed moments apart from the students. We arrive at Ginkakuji late in the day together with numerous other groups.
Restless people circumscribe the groomed bed of sand in front of the hojo (main hall) that would normally restore the serenity I crave. But to my left is a sign stating that the paintings of Yosa Buson, a poet whose haiku I first read in childhood, awakening my own dreams of Japan, are on display. The place seems welcomingly empty.
I purchase a ticket, enter, and linger. I do not mind if I see nothing else of the temple or garden. The images are enough: the spirit of the artist speaking from antiquity in the beauty of the brush strokes.
As I prepare to leave, a woman approaches me, bows, and invites me to follow her by way of the verandah to another small room, the personal library of the eighth Shogun, Yoshimasa of Muromachi.
She kneels to seiza position in front of a window covered by shoji screens, and I mirror her.
"This room has no scroll in the tokonoma," she explains, reaching to her right and sliding back the shoji in one graceful motion. Tumbling from the treetops to the moss, filling the window, a scroll of autumnal garden hangs before me.
In such serendipitous moments, with the same eloquent silence as a pair of slippers waiting on the top step at the end of the day, Japan says, "Welcome. I was expecting you."
After three days in Kyoto, our group leaves by shinkansen for Toyohashi, where the school district's International Committee meets us. We board a bus and are taken to meet the families with whom we will spend the next eight days.
I am always deeply touched by the thoughtful reception provided by the host families: welcoming signs on the dining room wall, new toiletries, even pajamas. In each home the Canadians settle in to Japanese life. We unpack, present gifts of smoked salmon, dream catchers, art work or hand-crafted wooden bowls to the family, share our first dinner together, and spend the evening beginning to learn about each other. The amount of time we will require for breakfast and the commute to school the next morning is the last topic of the evening. After the details are settled, the requisite Japanese bath is offered and the destined futon is a welcome end to the first "family" day.
Not all students adjust easily. Melissa writes, " I can't speak Japanese and they can't speak English. I can't stand this and I have eight days left."
Next morning, Japanese boys are finishing sweeping around the school's sign that reads "Welcome Delta Students." Numerous students hang out of windows, giggle, hide, reappear, and wave as the Canadians arrive with their hosts.
A neat line of blue vinyl slippers, in front of an elegant floral arrangement that would not look out of place in a five star hotel, stands in marked contrast to the pandemonium of Canadians removing shoes and placing them in cubicles. How confounding the simplest things can be.
Eventually, order prevails and we are led inside for the welcoming assembly. Hundreds of uniformed students, precisely positioned in straight rows on the cold gymnasium floor, greet our motley array.
After mandatory speeches of welcome by municipal, district, and school officials, and the exchange of official gifts (a carved-pine Canada Goose and scale model canoe) groups from the local student ranks perform the synchronized movements of taiko drumming, karate, and kendo. Another group performs a song, gracefully punctuated by a white-gloved hand ballet. Our students are smitten.
In turn, the Canadian students perform songs and dances, demonstrate hockey, and showcase current high school fashion choreographed to Canadian pop music. The crowd's favourite, eliciting an instant, audible response, is boys in suits escorting girls in elegant formal dress, ready for a school dance. The first glimpse of romance.
Melissa writes, "We just had an assembly. We sat on the stage in front of five hundred students. I was so scared, but then Jenny spotted a few hot guys and it was all good. Everyone seems to be having fun now, including me."
Later in the week, during a visit to another school, while we are waiting to enter the assembly we are asked to provide four names of students who would like to participate in a sumo wrestling demonstration. We comply.
Suddenly, Takashi the exchange coordinator appears, obviously disconcerted.
He begins, "These names, Sheri and Sarah, they are girl's names, yes?"
"Yes."
He inhales audibly through his teeth. "It is a small problem. Girls do not wrestle sumo in Japan."
Our students look at each other and at us, but say nothing. They listen intently.
"We understand; it is an honest mistake. In Canada we would never think that girls were not included," one of us answers. "That's why we gave you names of two girls and two boys."
"I see." He pauses, silent for a moment. "Wait one moment, please."
The principal must be consulted and permission to make a change obtained.
"Why can't girls wrestle?" Sheri asks.
"Because that's the tradition," is an answer that does not satisfy.
In the gymnasium a rumble of gasps, titters, and excitement from Japanese students on the floor grows in intensity following the announcement that today, Canadian girls will wrestle sumo.
In a compromise, Sheri and Sarah are asked to don large, flesh-coloured sumo costumes and plastic wigs, with assistance from their hosts who giggle helplessly at the sight. Sheri mimics a few gestures originating in the Worldwide Wrestling Foundation and the crowd warms with laughter.
The rules are explained, the wrestlers stamp the ground, assume the fighting posture, and the match begins. Suddenly, the young Japanese boy facing Sarah realizes he's going to have to touch a very pretty girl. His confusion is innocent, unintentional, perfectly timed, and utterly hilarious.
Sarah, who has no such inhibitions, seizes the moment and the man and tosses a flushed, unresisting opponent out of the ring. The audience clamours for more.
When I return to Japan the following year, I am surprised. Japanese girls, awkward and uncertain in their newfound roles, are included in the sumo demonstrations. By living with each other, we change each other.
Sheri, when asked how Japan has changed her, sparkles with laughter. Somewhat self-consciously she reveals, concealed in her palm, an omamori (talisman) purchased at a temple.
"I'm giving this to my friend," she replies. "It's her driver's test today, and this is for good luck in traffic."
Alicia, once notorious for her anxiety and finicky eating habits, nonchalantly and with remarkable new poise, says, "I eat anything, now."
A parent tells me how their family has changed since her daughter's return from Japan.
"Both my husband and I traveled extensively before we were married, so our conversation often included stories of our travels. Now that Melissa has been overseas too, somewhere that we have not been, she is part of the dialogue. It has changed the dynamic in our family."
Akira, who visited my classroom in Canada and is now in university, still writes. His participation in the exchange program prompted him to change the focus of his career goals to international diplomacy, to travel more, learn more languages, and hone his leadership abilities in student government. He has since traveled to South Africa and has written revealing letters describing his first face to face contact with black South Africans and how the experience fundamentally changed his attitudes about race.
Hiro writes, in one of his many letters, "It was a very precious experience for me to stay with your family. Every day I talk to my students and my family about what I have learned in Canada. I'm so impressed [by] the way of life and attitude in Canada, that I tried to do the same [with] my family. But, it was in vain. It seems like my mind had become again narrow as soon as I came back to Japan." Having known him for almost a decade now, I know there is nothing narrow about his mind. He is reflective, sensitive, and witty. But I understand, too, his inarticulate yearning for something present abroad that is absent at home.
Yuan, a recent immigrant from Taiwan to Canada whose grandfather was a Japanese soldier who married a local girl during the occupation of Taiwan, says, "I knew nothing about Japan before I came here except that my grandfather was Japanese. What I feel now is that a part of me has come home. I am definitely going to come back."
Before heading home Melissa records in her journal, "Today I realized how much fun I am really having. I don't want to leave, but I miss my people. Ah, such confusing feelings again. The world is so different here and I love it. When I walk by things I realize the differences. Then I think of the stuff back at home, and miss it. I have two homes now."
Parting is a protracted process in Japan. Parties, speeches, songs, food, drink, and a deluge of gifts create an aching sweetness that presages but does not mitigate the inevitable sorrow.
Always, women and children with whom I have stayed in previous years arrive unexpectedly at the time of parting. Some drive forty minutes to be present for the few harried moments consumed by moving suitcases, speaking inadequate final words, embracing, and shepherding sobbing students onto the bus. I have come to treasure the unmistakable message of their presence in the moment of impending absence.
For many students the journey is their first experience of international travel, their first time away from home, independent of their parents. It has the intense anxiety, indelible imprint, and ineffable sweetness of any first time. For those who are enraptured by the new country and its culture, the experience is even more profound. Most dream of returning. Some do.
By exchanging something as ordinary as the settings of our daily lives we experience something extra-ordinary. Permanent change results from a transient encounter: our perceptions shift subtly, we are informed by new ways of seeing, we learn new ways of being, new dreams are born.
We have infused each other like wine through water. And joy! Once opened and infused, the marvelous empire of mind cannot revert to what it was before. During our brief sojourn we live in Japan; ever after, a measure of Japan lives in us.
Note: The characters and events in this narrative are taken from an eight-year period of exchange. Pseudonyms are used for all characters on the advice of The BC Teachers Federation's legal staff.