special issue
shipping & handling included
KJ 27
published November 11, 1994
106 pages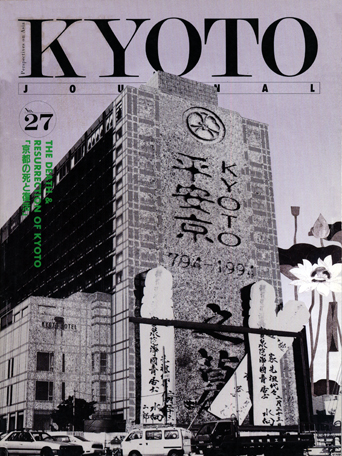 Cover Image by James Heaton & Andy Muselli
One of the most beautiful cities in the world, long considered to enshrine the cultural soul of Japan, is being bulldozed out of existence, and hardly anyone seems to care enough to try and save it. House by house in communities throughout the City, the elegant, low wing-roofed wooden traditional structures are being torn down and replaced by parking lots, or glass-and-concrete, high-rising, view-blocking, sun-blackening, cultureless tombstones, as living communities are displaced by anonymous, scarcely tenanted offices and "mansion" apartment buildings.
It's said to take at least five generations for newcomers to be accepted as true Kyotoites. When Tokyo became the national capital in 1873, Kyoto's population plummeted from 510,000 to 240,000. But by 1932 the City had 1,000,000 inhabitants, due to Japan's rapid urbanization, and the current total is close to 1.5 million. This massive influx of relatively recent arrivals means that a high proportion of voters and local businesspeople, those directly responsible for Kyoto's future, have no real roots in old Kyoto.
Much of the money being poured into recent speculation and construction projects has also come from outside — from Tokyo, Osaka, and other already soulless conurbations. Worse yet, the 80's "bubble period" and jiage (land purchases involving strong-arm yakuza tactics) sent land values soaring, resulting in astronomically inflated inheritance taxes, thereby forcing further sales to developers and additional rape of the cityscape.
We believe that the interment of old Kyoto in high-rise concrete and glass, explicitly sanctioned by the City government, as represented by the new Kyoto Hotel (see cover) and Kyoto Station, represents an unconscionable loss not only to Japan, but to the whole world. We therefore hope with this issue of Kyoto Journal (marking the City's 1200th anniversary) to inspire renewed debate on Kyoto's future. As additional positive input, we include a wide range of suggestions, gleaned from concerned groups and individuals, to focus further attention on the search for practical ways to help Kyoto retain and consolidate its superb heritage.
Ancient Kyoto, celebrated in the art and literature of 12 centuries, may indeed be dead. But to allow its spirit to die as well would be an appalling rejection of all that Kyoto has stood for.
Contents:
KYOTO'S 1200TH ANNIVERSARY: CAUSE FOR CELEBRATION? –
TIME WAVE ZERO –
KYOTO RAIN –
Kyoto belongs to the rain. Not a place of brilliant sunlight, it is often sadly gray — an older woman who causes one to remark how beautiful she must once have been. Sit on the porch for a while in a lonely Kyoto garden. Watch the sad, sad rain drizzle across the silent pond whose master long gone designed it for days like this. Days when melancholy clings like crows to wet pine branches.
DOES KYOTO NEED FREEWAYS? –
PASTORAL WILDERNESS: A MODEL FOR URBAN PLANNING
–
CONVENIENCE –
OUTSIDERS –
HISTORICAL MANAGEMENT FOR KYOTO: HISTORY, PLACE & FESTIVITY –
Kyoto has a history of selling itself. As the locus of social, economic and religious pilgrimages over the centuries, the capital city peddled its wares and pleasures and townscapes to people from far and wide. The patronage of secular and priestly aristocrats made Kyoto a center of cultural efflorescence rivaling any other historical city. The artistic heritage that survives today — despite the ravages of wars and fires, and the departure of the imperial court in 1868 — is clearly among the finest in the world. It should not be belittled in any way. Yet it is impossible to discuss Kyoto's history and present circumstances without considering the realities of its largest and dominant industry: tourism. What are the effects of tourism upon the city, its administration, its community, and its economic future?
CENTRAL PARK KYOTO –
Thoughts on the Competition for a Park in Kyoto –
NEW LIFE FOR KYOTO'S MACHIYA –
Kyoto has been molded out of a fusion of the various aesthetics of its components. Of course this means the many shrines and temples, but also the common people and their houses. Kyoto's real foundation was traditional industries run by people who lived and worked at the same place. From this harmony of business and residence was born the machiya (townhouse) and the machiya-cho (traditionally linked neighborhood). The typical machiya is a long, narrow segmented structure, including a shop in the front, and a divided two- or three-generation residence in the rear. Although Kyoto escaped destruction during World War II, Kyoto's race to keep up with other cities and especially the great push for modernization in central Kyoto has resulted in the destruction of the traditional machiya street scene. The machiya, once the symbol of Kyoto, has come to a tragic fate.
History of Urban Development Laws in Kyoto –
WHAT ARE FESTIVALS FOR? –
AROUSING KYOTO –
EMERGING FROM ANCESTRAL GROUND –
RAMBLE
BRING BACK THE YIN-YANG BOYS –
1200 years ago, when Kyoto was freshly built, the wood still green, the graceful streets as quiet as they were to be for over a thousand years, it was a pretty radical place, laid out and carefully monitored according to precise geomantic rules by the boys from the Yin-Yang Bureau, at the Ministry of Central Affairs.
ALTERNATIVES –
LOVELY SPRING DAWN –
A PLEA TO SAVE KYOTO: A City Without Old Buildings is Like a Person Without a Memory –
Summer Evenings –
Reviews:


Grinding My Ink, by Margaret Chula — Morgan Gibson

Weeding the Cosmos – Selected Haiku, by John Brandi — Morgan Gibson 

Shisendo, Hall of the Poetry Immortals, by J. Thomas Rimer, Jonathon Chaves, Stephen Addis, Hiroyuki Suzuki, and Shuichi Kato — Preston L. Houser

Kids, Kyoto; Bijo, Sanbyaku rokuju-go nichi; Chizu no nai Kyoto, by Kai Fusayoshi — Morgan Gibson and Alex Shishin

Katsura: A Princely Retreat, Photographs by Nishikawa Takeshi, text by Naito Akira; trans. Charles S. Terry — Marc P. Keane