shipping & handling included
KJ 36
published December 12, 1997
82 pages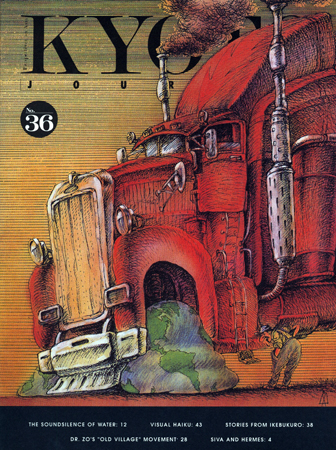 Cover Image by Mark Likgalter
There is a famous story in Buddhist lore of how Gautama taught a mother who refused to accept the death of her only child. When, half-mad with grief, the woman begged the sage to resurrect the tiny corpse placed before him, he replied: "Find me a mustard seed from a house that has not known death and I will do as you ask." In desperation the poor wretch picked up her dead infant and rushed off in the direction of the nearest house. Several days later, haggard but now sane, the woman returned and asked forgiveness for having forgotten that no living thing can escape death. While the Buddha explained to her the four noble truths, tradition records she experienced a kind of epiphany and entered the path.
Today's world is in sore need of this kind of wisdom, irrespective of the tradition from which it comes. Without it we seem doomed to perpetuate the denial of death that lies at the core of our current economic and social thinking. This denial, however, is not of the death of individuals. It consists, rather, of a refusal to admit that our social institutions are governed by the inevitable cycle of birth, growth and death that govern every other phenomena of which we have knowledge. Nowhere is this kind of thinking more apparent than in the way we have imbued the market economy with an aura of invulnerability and immortality. —Philip Grant, Siva and Hermes
Contents:
SIVA AND HERMES –
The tea-masters of the fifteenth and sixteenth centuries, mostly lay adepts of Zen, were the ultimate artists in the use of water for its sound, form and haptic effects. Their intentions were naturally aesthetic ones, but often went beyond those — they did not only cater to the sensory delights of their visitors, but tried to sharpen their consciousness, too. Sen no Rikyu is quoted in the Nanporoku as saying: "The tea ceremony of the small room is above all a matter of practising and realising the way in accord with the Buddha's teachings."
THE NAMING OF A CROW –
NEW ROADS TO THE OLD GODS –
Japan's culture, if you don't come at it with any preconception, if you come at it completely fresh, if you land off the boat from America you will fall in love. It has an absolutely invincible beauty of its own. But it's the older-generation Japanese who associate their traditional culture with being cold and poor and dirty and old-fashioned and all of that stuff. They can't just see their culture for what it is, they associate it with those things and therefore they have very mixed feelings. They can't wait to get rid of it and be free of it and so on. The younger generation, they are foreigners like us. They might as well be Americans off the boat and that means that they can more easily fall in love with it. And I have young Japanese come out and visit me at my house and they love it. They're perfectly happy out there in a way that their parents, who actually know more about these things, could never be.
EXCERPTS FROM THE IKEBUKURO SUITE –
One day, across from the road from the taxi stand on the Tobu side of Ikebukuro Station, the cardboard boxes began appearing. I think there were five at first. Quite plain run-of-the-mill boxes delivered, as I later found out, by disgraced presidents and executive managers in soundtrucks blasting out their crimes and how much the convicted had swindled. The boxes piled up.
VISUAL HAIKU –
POETRY –
HERE YOU SIT AMONGST GHOSTS –
TIME WITH TAMAKO –
Anna tricked me. She comes home and spreads out all these pamphlets on the kitchen table, nearly knocking over my beer, and says, "I've been over to the uni¬versity, talking to these folks about being a home-stay family, about letting a kid from another country live with us. It'd be for a year. What do you think?"
She swears she gets straighter answers by looking quick into my eyes and ignoring what comes out of my mouth, but this time, I thought I was ready for her. I don't let my eyes say nothing. Anna ain't got no choice but to listen to me.
SPIRITUAL OPIATES OVERLOOKED IN THE WAR ON DRUGS –
A BRIDGE FOR THE KAMO RIVER –
EXTRACT
RAMBLE
One summer evening not long ago, in a certain part of Tokyo, a big city up north, hundreds of households right at the pinnacle of prime time were suddenly plunged into an unfamiliar state known in pre-electric eons as "utter darkness."
Reviews:

 

The Pillow Book, by Peter Greenaway — Lauren W. Deutsch 

Conjuring Tibet: A Novel, by Charlotte Painter — Leza Lowitz 

Confronting Silence: Selected Writings, by Toru Takemitsu — David Cozy 

Broken Silence: Voices of Japanese Feminism, by Sandra Buckley — Andrew DeWitt 

Straitjacket Society, by Masao Miyamoto — William Corr 

Mr. China's Son: A Villager's Life, by He Liye with Claire Annie Chik — William Corr (including an account of meeting the author in Dali, Yunnan) 

Basho's Narrow Road: Spring and Autumn Passages, Narrow Road to the Deep Interior, and the renga sequence A Farewell Gift to Sora, Two works by Matsuo Basho, trans. with annotations by Hiroake Sato — Preston L. Houser