KJ 43
published March 30, 2000
106 pages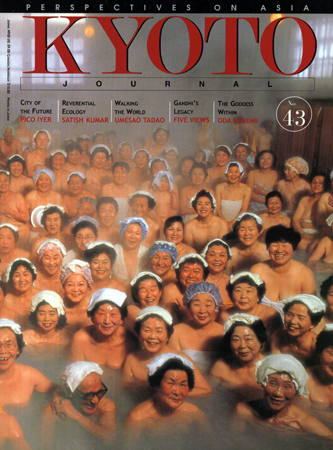 Cover Image by Katahira Gisen

KJ 43 contains a special feature on Gandhi's Legacy, including views by Johan Galtung, Nandini Iyer, Arun Gandhi, Satish Kumar, and Adam Wolpert, and a special travel section, with In the City of the Future (The Life and Lives of LA International Airport) (excerpted from Pico Iyer's latest book, Global Soul), On Tour(ism) in Thailand by Terry Caesar, and In Vietnam: Tunneling toward an Understanding by Paul Wadden. Interviews include Walking the World, with Umesao Tadao, founder of Japan's National Museum of Ethnology; Reverential Ecology<,strong>, with Schumacher Society co-founder and Resurgence editor, Satish Kumar, and Awakening the Goddess Within, with prominent artist-activist Mayumi Oda.
Alice in Shikaland, a stranger-than-fiction true-life account by Malena Watrous, describes an nuclear power museum in rural Japan based on Alice-in-Wonderland. Our Encounters section includes pieces from Lake Baikal, Mongolia, Kanazawa, and Malaysia.
Plus…. Commodore Perry's Minstrel Show, by fiction writer Richard Wiley; Fear of Frying by Tamara Shinobu Loomis; reviews and reflections, and Recognizing Okinawa (Paradise revisited) by Robert Brady.
Contents:
ENCOUNTERS
Russia: Getting by in Siberia –
Mongolia: A Home for Street Children –
Japan: The Sea of Japan –
Malaysia: Forest Learning with the Batek–
Alice in Shikaland: Nuclear Power as Theme Park –
Gandhi's Legacy Five Views and Dialogue (Panel Discussion from Youth at the Millenium Conference, Kyoto Museum for World Peace) –
Out of his personal experience with injustice and his lifelong attempt to remedy that injustice, Gandhi constructed a tool for social innovation, called satyagraha, "truth force," that is surely as great as that other marvelous invention of the human mind, the social process we call "democracy." Many other things about Gandhi are great, particularly his idea of sarvodaya, translated alternatively as "social good," "public interest," or "universal welfare," but these ideas are maybe not new. To invent a way of struggling, however, designed to transform the most deeply rooted conflicts, and more particularly, a way that more often than not leads to an outcome that is sustainable and acceptable to all parties — a result so unlike that obtained by violence — is a gift to humanity that is truly unique and revolutionary.
INTERVIEWS
Walking the World: Visiting Japan's Best-known Ethnologist, Umesao Tadao –
Out on the boundless steppes Mongolia in the 1940s, among nomadic people, Umesao Tadao had a change of heart. Though educated as an animal ecologist, he resolved to set out on an exploration of human cultures and civilizations that would extend across a lifetime and take him to the farthest reaches of Asia, Africa and Europe. Today, Umesao is recognized as the most influential cultural anthropologist of postwar Japan. He has played a vital role in shaping Japan's modern identity, yet somehow his writings have never been published in English.
Reverential Ecology –
In the Western way of thinking we say theory and practice. In my way of thinking it should be practice and theory. In Sanskrit the words are achar, vichar. Achar means practice. Vichar means theory. Practice must come first and theory must follow. Whereas in Western education theory comes first, then practice, if at all. And you know, the head of any monastic order in India will be called Acharya, like Vinoba Bhave was Acharya Vinoba. and my guru was called Acharya. This means one who practices is the head, not the intellectual, not the person who has the brain.
Tokyo-born graphic artist Mayumi Oda, a long-term resi¬dent of Northern California, has a sense of spirituality that combines elements of Zen Buddhist practice, a universal reverence for life, and respect for the individual. In both her life and work, several elements converge — Buddhism, feminism, art, ritual, social activism, mythology, motherhood — filtered through her bicultural life experience. Despite initial disappointment and frustrations with educational, social and religious traditions, Ms. Oda has succeeded in transcending the secular corruptions of these institutions. In the process she has emerged as a Renaissance woman.
Oshima Hiko: Darkness into Light –
TRAVEL
In the City of the Future:
The Life and Lives of Los Angeles International Airport
–
When I heard that a dozen people or more often live, around the clock, in Kennedy Airport, making the most of the ubiquitous snack bars, the climate control, strangers rendered openhearted by jet lag or culture shock, I was hardly surprised: I been doing the same thing, using my large suitcase as a pillow, and occasionally spending days at a time in an airport, catching my breath, since my teens.
On Tour(ism) in Thailand –
Being atop an elephant for an hour in an actual jungle is like riding a huge mound of earth, that quivers at regular intervals. It's an experience of a lifetime. You feel like a maharaja — among other fantasies — and you are pleased to ignore that your elephant is part of a long line that sets out from an elephant camp, each one following the same route, over the same hills, into the same muddy streams, past the same two points where hill tribe women wait on stilted wooden platforms to ply you with colorful hats and silver jewelry as you lurch by
In Vietnam: Tunneling Towards an Understanding –
Our destination for the day: the tunnels of Cu Chi, which burrow beneath the countryside northwest of Ho Chi Minh. Stretching more than two hundred kilometers, this intricate network of tunnels served as a vast Viet Cong stronghold throughout the Vietnam War. From their underground fortifications, local guerrilla units mounted relentless hit-and-run raids on American and South Vietnamese bases and patrols. Through the tunnels, entire battalions moved clandestinely to stage major battles such as the Tet Offensive. During their heyday, these warrens ran most of the way from Cambodia to Saigon.
Fear of Frying –
As a professional food stylist, my mother knows all about the seductive merit of an appetizing meal. Her work includes a chocolate cake for the cover of Bon Appetit so sublime it qualifies as art. A roast duck with a skin so golden and glistening you could practically eat the page right out of the magazine. Salads that explode with exotic greens. Steaks that turn on the salivary glands of even the most hardcore vegetarians. The list goes on.
FICTION
Commodore Perry's Minstrel Show –
The first surprise was that the deck felt smooth under his feet, familiar, like standing on planks of Japanese cypress in a temple or in a bath house or in someone's finely made entry-way. The American sailors stood silent but bug-eyed, oddly dressed and chopstick straight, backs against the far railing, while the Japanese contingent of eleven walked by. For each of the nine great lords an American Naval officer acted as escort, but for Manjiro and the Dutch-speaking interpreter there was no one. The interpreters were last, so Manjiro took the opportunity to look into the nearby enlisted men's faces. It was a violation of protocol, an infraction of the rule that said interpreters should always look down, but it was impossible not to do so and was instructive as well. The American faces were strange — had not his brother Einosuke always said so?
RAMBLE
Recognizing Paradise –
At the time, I'd had no idea I was in paradise. Does one ever? Military bases minimize enchantment, especially if you're stationed on one. To the young man I was then, Okinawa was certainly a beautiful place, completely unlike what I'd expected, only 15 years after a war in which the island had been scoured, roiled, ground up and charred by heavy artillery, bomb and flame-thrower.
PHILOSOPHIZING IN THE VOID
To David Loy on Poverty –
Reviews:


School with Forest and Meadow, by Ikue Tezuka, trans. Katsuke Hori, ed. Dayle Bethel — Ken Rodgers

The Cape and Other Stories from the Japanese Ghetto, by Kenji Nakagami, trans. Eve Zimmerman — David Zmijewski

The Weaving of Mantra, by Ryuichi Abe — Trevor Corson

Who Can Ride the Dragon? An Exploration of the Cultural Roots of Traditional Chinese Medecine, by Zhang Yu Huan & Ken Ros