<!—Please link to Brady, Sei Shonagon, and 100 Views of Raoul, all noted below in green, also add thumbnail spread images in folder-->
KJ 45
published October 31, 2000
114 pages
Cover Image by the Luo Brothers
Wrapped in radiant covers by the Luo brothers ("I Love Tienanmen Square"), KJ 45 opens fresh windows on Asia with first-hand encounters in Thailand, the Philippines, Cambodia, Vietnam and Korea, and a feast of feature stories including Pico Iyer's Angkor Wat meditation ("The Haunted House of Treasures"), "Damaged Gods" (by Tom Hilditch) on the elephants of Bangkok, Loung Ung on her Cambodian childhood, photographs from the Philippines by Marissa Roth<,strong>, plus interviews with Benedict Anderson ("Re-imagining Asia") and Daniel Okimot ("A Nisei Life"), an essay by Phil Grant on "Occultism and Globalization," Bruce Caron with a new metaphor in "The Festival as a Building," Matsumoto Jun on "Inheritance", plus David Greer's tribute to Sei Shonagon in "The Lists of a Lady in Waiting," fiction by Natasha Cho ("The Meat-men") and well-known translator Ralph McCarthy ("From 100 Views of Raoul"), and a searing, classic ramble by Bob Brady ("My Part in the Downfall of Ferdinand Marcos"). Plus letters, reviews, and proverbs from 17 Asian lands. And even more…

Contents:
ENCOUNTERS
THAILAND: Speechless; A Year in Pictures –
The Mayor of Rayong had been born on a Tuesday, and in Thailand, pink is the traditional colour for Tuesday. Hence, Rayong City was painted entirely pink: mauve curbs, salmon crosswalks, carnation trashcans, Valentine pedestrian overpass…
CAMBODIA: With Love & Money Across the Pacific –
My mother survived Cambodia's Khmer Rouge regime and the Thai refugee camps, as a widow with six children. In 1984 she left the Thai camps for Canada with five of her children, empty handed, with only the hope for a better life. She returned to Cambodia in 1993, for the first time since her escape in 1979. Her purpose was to locate her mother's remains and hold a proper cremation ceremony.
VIETNAM: Riding the Reunification Train –
The best trip I ever took was on the "reunification train" from Ho Chi Minh City (still called Sai Gon by almost everyone there) to Ha Noi. I had the good fortune of having my uncle as a tour guide on the trip and he was fortunate to have gone with me because I was one of those "rich" Viet Kieu (overseas Viet Namese) who had come back with American dollars.
KOREA: Kim Keum-Hwa's Everyday Shamanism –
Kim Keum-Hwa, in the streamer-decorated costume of the Knife-Riding General, whirls with dagger-like short brass swords pointed at her breast, then picks up a pair of two-foot long, razor-sharp cleavers, each weighing over five pounds, and swings each one at her arms and legs, and presses the sharp edges into her cheeks and tongue. No blood is shed.
JAPAN: Blue Fuji –
You may know Yanaka— Tokyo's anomaly, perhaps the last old neighborhood in a city that rebuilds itself every eight years. It went unnoticed for so long, but now seems to have become a tourist route for groups of older Japanese wanting a last peek at what used to be.
Damaged Gods: The End of the Road for Thailand's Elephants –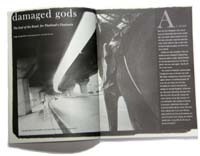 At night they rear out of Bangkok's disco-fog of neon and exhaust like ghosts from another age. Great black shapes trundle down the slow lane of insanely congested triple-lane roads, yellow reflective tape on their tails, red bicycle lights dangling over their enormous behinds.
Interviews
Benedict Anderson: Reimagining Asia –

The oldest communist party in Asia is the one in Indonesia, it's older than the Chinese Communist Party. The core of the radical left in Indonesia for a long time was actually in Java, where the Hindu view is probably the most deeply rooted.
Occultism & Globalization –
One of the most puzzling developments in our age of increasingly revolutionary scientific advance is the persistence of belief in the existence of the occult. Even though sceptical scientists churn out book after book ridiculing any belief unsupported by mainstream scientific orthodoxy, the majority of the world's population, in both developed and developing nations, keeps on believing in extra-sensory perception, postmortem states of consciousness, astrology, fortune-telling, UFOs, and the like.
The Festival as Building –
Imagine the festival as a public building. A multistory structure on a commons in a city. A building with a most peculiar history: it would be built only to be torn down and reconstructed once a year…
Cambodia: A Haunted House of Treasures –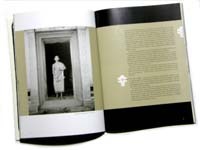 Knowing that Angkor had been cut off from the world for more than twenty years, and knowing that it could disappear again at any moment, if not through the intermittent fighting nearby, or the simple encroachments of the jungle, then through the sheer press of human bodies, I told my mother we should go now. Angkor would never be frictionless, I thought, but it would surely never be much more accessible than now.
Burning Heart: A Portrait of the Philippines –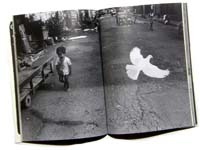 I believe there are places in the world where are one's heart feels at home. They are not necessarily the places where we are born, or even those we are familiar with. But we know them intuitively the first time we set foot there and we are never quite the same again.
Interviews
The Cambodian Childhood of Loung Ung –
I didn't grow up fighting,
I didn't grow up being trained as a child soldier, I didn't grow up an
orphan. I grew up in Phnom Penh, a beautiful city of about two million
people, where the earth is red, the trees green, the sun heats you up to a
110 a 115 degrees when it is really hot.
Daniel Okamoto: A Nisei Life –
When I was going to university, I knew every Asian American on the campus. There were five of us at Princeton and we all knew each other because it was such a rarity to see an Asian American face on campus. Today at Stanford University 26 percent of the student body is Asian American.
Inheritance –
People in the countryside still think of those paddies and fields as their most precious possessions. They always say, "This land is our treasure, an inheritance from long long ago." Nowadays actual land values have dropped, and maintenance costs have increased, so to many of them their land is really a burden. But they would never sell their "inheritance."
Omega Point –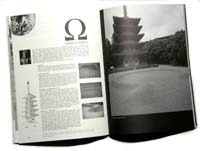 Putting the Greek Omega in front of a Japanese pagoda expresses global connectivity in a number of unusual ways — some ancient and modern — an apt image for the year 2000 and the increasing focus on globalization.
A thousand years ago a lady-in-waiting in the imperial court at Heian Kyo (modern-day Kyoto) dipped her brush into the well of her inkstone and watched the bristles swell with ink. She lowered the brush onto the paper spread in front of her and moved her hand rapidly:
FICTION
The Meat Men –
I often give a name to any lobster which I think has a certain character about it. Two years ago, I named one Little John as I brought the load into the restaurant. Chen got attached. Whenever a hungry customer went to the tank and pointed at Little John, Chen always shook his head and said that one was already reserved. So Little John has become a permanent resident in the tank.
"Nee-chan, this is Koko, Doko, and, uh, Asoko." The girls giggled and tugged at their bleached hair. "And this is … What was your name again?"
"La Ulu," mumbled the foreigner, looking me up and down and leering. I probably should have raised a fuss right away and kicked them all out, but I was tired. I went in the bathroom, locked the door, and drew myself a hot bath, hoping for the best.
Tabasco sauce? Great topping for ice cream. Jalapeños? Mild, mouth-refreshing chewing gum. I'd had those long red peppers and those long green peppers, I'd had straight red pepper relish in red pepper juice with my huevos rancheros in Mexico City and sweated it out no-o-o-o problem. I'd graduated, man. Nothing could touch me now.
PHILOSOPHIZING IN THE VOID
Kenneth Rexroth, Anarcho-Buddhist Poet Goes Online –
Rexroth's five literary tours of Japan between 1967 and 1980, stimulating widespread communication with many writers and audiences, profoundly enriched his poetry with Buddhist and other Asian traditions. He has been called the American poet who best understood Japanese culture.
Reviews:


Mandarins, Jews & Missionaries: The Jewish Experience in the Chinese Empire, by Michael Pollak — Lauren W. Deutsch

A Boy Called H, by Kappa Senoh — Judith Clancy

MANOA: Silenced Voices: New Writing from Indonesia, by Ed. Frank Stewart — Ken Rodgers

Relocation and Internment of Civilians, by The Civil Liberties Education Fund, Washington D.D. and San Francisco — William Corr

Children of Cambodia' Killing Fields: Memoirs by Survivors, compiled by Dith Pran, Ed. Kim DePaul — Preston Houser

Blowing Zen: Finding an Authentic Life, by Ray Brooks — Preston Houser
Intersecting Circles: The Voices of Hapa Women in Poetry and Prose, ed. by Marie Hara & Nora Okja Kelly — Preston Houser
Gardens of Gravel and Sand, by Leonard Koren — Marc P. Keane
Reading Zen in the Rocks: The Japanese Dry Garden Landscape Garden, by Francois Berthier — Marc P. Keane 

yui butsu yo butsu, by Dogen Zenji, trans. Eido Shimano-roshi & Charles Vacher — REVIEWER