<!—Please link to Tablada and Brady, noted below in green, also add thumbnail spread images in folder-->
KJ 49
published Jan 20, 2002
98 pages
Cover: Hmong woman, photo by John Einarsen.
KJ 49 presents fresh views of present-day Asia, with perceptive dispatches from resurgent mainland China, previously unpublished fiction from vanguard writer Murakami Ryu's latest novel/Japanese TV series (plus an exclusive interview with the author), and memorable personal encounters in Vietnam, Thailand, Korea, Mongolia and Japan.
A special photo-essay by Everett Brown reveals the amazing diversity of overseas participants in the JET program — Japan's mammoth intercultural educational project.
Central Asia analyst Gerald Larson probes the history and present prospects of the region's religious politics; Tarun Tejpal discloses how his online journal Tehelka's sting rocked India's government and military. Impassioned Japanese activists speak out on child abuse, education reform, and social responsibility. And more: love haiku, opium reinterpreted in Thailand's Golden Triangle, Japan's new media celebrity writers, a Mexican poet in Japan circa 1901, and a Japanese expat community in Vladivostok before and after Japan fought Russia – and won. And more…
Contents:
Kesa For the Millenium – a project by rozome artist Betsey Stirling Benjamin –
Kesa are traditional robes, or sacred cloths, worn by Buddhist priests. Artist Betsy Sterling Benjamin, who worked for over 17 years in Kyoto, was inspired to create seven unique kesa for a Millennial Peace Meditation held simultaneously on seven continents on January 1, 2000.
ENCOUNTERS
Korea: Looking for No-Gun Ri –
In September of 1999, the rest of the world finally heard what the inhabitants of a tiny Korean mountain village had long sought to make known: that in early July of 1950, hundreds of Korean refugees – men, women and children – had been shot by U.S. soldiers under a railroad trestle bridge near the village of No-Gun Ri.
Thailand: Music from Waste –
Vietnam: Shu's Story –
She has silver bangles in her ears and more around her wrist. She wears a hand-dyed indigo ensemble and leg warmers tightly tied with ribbon she has stitched. Her name is Shu, she's 10 years old, she's Hmong, and together we go walking.
Mongolia: Big Horizon –
There is a sense of undoubted freedom and self-confidence about seeing the horizon miles away on all sides. Things take form at the edge of vision and come toward you at the same time as you advance closer to them. Everyone is on the same ground. The horizon is more than the edge of a bowl. It is the slit of the world's eyelids. When a figure appears between land and sky, the slit opens and you focus on what can seem to be the whole planet.
China: Life on the Frontier –
I returned not long ago from a posting in Shenzhen, a large and sprawling industrial city in Guangdong province, China. Locate Hong Kong on a map, and you're almost there; a golf pro could drive a ball south across the irrecoverably polluted Shenzhen River to the New Territories, as I myself often tried to do in my leisure moments until the border patrol sternly warned me to stop.
Tehelka.com: Internet Journalism's First Big Sting –
Corruption needs to be combated. Corruption in a country like India hurts terribly because it is a very poor country with limited resources, and if the limited resources are siphoned off it becomes really problematic. I think that media in every country should be demanding some sort of probity for people in public life and whatever it takes is fair game for the end result.
Opium – New museum for an old problem –
How can drugs be explained in a way that informs but does not preach? Is it possible for educators to get beyond the knee-jerk response that stigmatizes drugs and drug consumers and presents the bare facts? What are the facts? The Hall of Opium in Chiang Rai, Thailand, due to open late next year, tackles the drug issue in a novel, counter-intuitive way that will be an eye-opener for many people.
JET Portraits – Experiments in Internationalization –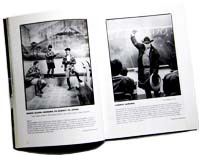 It has been called "perhaps the greatest (certainly the biggest) educational program in humankind's history." The aims of the Japan Exchange and Teaching (JET) Program are bold, colossal and far-reaching: to place a young foreign teacher in every junior and senior high school in the entire country — not only to teach foreign languages, but more importantly to provide diversity and jump-start creativity among students in the rigid Japanese school system.
Russian Connections – Meiji & Taisho era Japanese in Vladivostok –
Vladivostok, founded in 1859 as a trading hub between Europe and the Far East, immediately attracted settlers, among them substantial numbers of Japanese. Numbering 3,668 in 1917, these Japanese residents formed a vibrant community which continued to prosper despite the troubled Russo-Japanese relations of the early twentieth century.
Kyoto Journal: Your narrator in 69 seemed to think 1960s rebellion was simply a prank, a childish scheme to attract women's attention. Do you share that view?
Murakami Ryu: You mustn't naively believe everything you read in a novel.
FICTION
An extract from The Last Family, a new novel by Murakami Ryu, –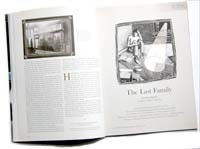 Posted at hikikomori sites on the internet were messages from people who'd been shut-ins for five and even ten years—much longer than Hideki. They all had a fear of others. It made him feel a little better to realize he wasn't the only one. And a lot of them, like him, hated to hear or see those people outside the window.
The Nakazuri Stories – celebrity writers ride the rails
–
The Nakazuri Shôsetsu was a popular series of stories displayed as nakazuri kokoku (ad posters) inside JR East trains. Specially commissioned from prominent, award-winning Japanese writers — all but unknown outside Japan — each of the Nakazuri stories traveled the JR East train lines in the form of two to ten episodes, changed every two days, with thematically related illustrations by some of Japan's best known illustrative artists.
The Revolving Lanterns of Tokyo –
Speaking of dream worlds, there were movies that showed refrigerators, electric vacuum cleaners, and toasters! Since we had no direct experience with those things, the way the movies depicted the homes of common people left us with the feeling that we were looking into palaces. Gosh, did we ever misunderstand the things we saw in those movies!
Educational Reforms? – a Japanese mother's response –
yoko-narabi (uniformity; literally "standing shoulder to shoulder").
Facing the Truth or Saving Face – Japan struggles with child abuse –
If you look into cases of abusive parents, very often, the parents' parents have themselves been the victims of abuse. An abused child misses the opportunity to learn other ways of communicating. And so the violence repeats from generation to generation.
Nusari –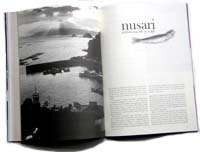 Cats died one after another. Birds died. People died. And yet though there might have been times when we reduced our intake, we continued to eat fish rumored to be the source of death.
POETRY
Love Haiku –
Poetry usually celebrates that part of human beings that keeps us more human and thus more humane, more honest and hopefully more loving…
The first known original haiku
by a non-Japanese writer appeared, not in Paris, London, or New York, but in Mexico City, in the second edition of an anthology called El florilegio , in 1904. The author, José Juan Tablada, was the first intellectual from the Spanish-speaking world to have entered Japan since the anti-Christian persecutions of the 17th century.
Mid-Autumn in the Middle Kingdom
–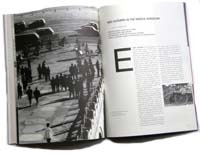 Shanghai's so much like NY used to be; brash, cocky, snobby and superior, all reflected in phallic buildings, showy technology and tons of money. But since 9-11 I'm increasingly inclined to view civilizational superiority as a kind of auto-hypnosis.
Religious and Political Roots of the Central Asian Crisis
–
If you accept all points of view, how do you include within that position a perspective that believes there is only one point of view, The Absolute Unchallengeable
Truth?
RAMBLE
<!—Already uploaded, brady/true-destinations/ please link here-->
True Destinations
–
There was an unfamiliar aroma to my future, an artificial flavor I couldn't help sensing when I crowded onto the line and began my daily loop, soon falling asleep from the carbon dioxide level and waking up to look out the window only for the name of the station to see if this was where I was supposed to go, it was only a name I was supposed to go to, could have been any name on the line, depended on where the corporation was.
Revitalizing History –
I applied to do this book, emphasizing that no anthology on the internment had ever been done before, and that it would be useful for the future. The Library gave me $80,000, which paid for the editor, Lawson Fusao Inada, for reprint permissions, and for production. We got the grant in June of 1999. I was entirely responsible for the research, and had to have the book done by June 2000.
PHILOSOPHIZING IN THE VOID
The Non-Zen Poet on the Tao –
He sat in the lotus position, looking serely down Motomachi as if it might well be the Tao itself. I looked where he looked, but saw only the chicest of chic shoppers going in and coming out of chic shops.
Reviews:
Spirited Away (anime) by Miyazaki Hayao — Donald Richie

A House in Bali, by AUTHOR — REVIEWER 

Topaz Moon: Chiura Obata's Art of the Internment by Kimi Kodani Hill — Paul Mori

Only What We Could Carry: The Japanese American Internment Experience, Ed. Lawson Fusao Inada — Shiho Ito