<!—Please link to Tea & qi (when posted), Brady ramble and Dogs Barking, details below>
shipping & handling included
KJ 54
published August 20, 2003
98 pages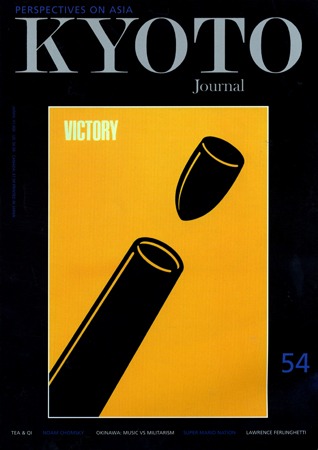 This issue of Kyoto Journal delves into aspects of the transmission of culture from East to West — and conversely, how local values are identified and sustained — among other topics. We're especially delighted to include "Buddhism is Not Un-American," an interview with poet/publisher Lawrence Ferlinghetti fifty years after he co-founded City Lights Press in San Francisco — together with a selection from his " After Basho " suite of poems (incorporating color etchings by Stephanie Peek) — in conjunction with "Ideograms and Teahouses," a meditative essay by Malinda Markham exploring the possible influence of Chinese/Japanese writing on the development of 20th century American poetry. And in "Super Mario Nation," Chris Kohler investigates Japan's dominant and innovatory role -in the rapidly developing field of computer games.
Present-day political developments in Asia are discussed by eminent political commentator Noam Chomsky and free-thinking Japanese journalist Asano Kenichi , while Richard Appelbaum dissects "Sweatshops, Asian Cultural Values, and the New Global Protest Movement ." In " Okinawa: Music Vs Militarism," Sherry Nakanishi ponders a long-running clash of cultures in southernmost Japan. Similar questions are raised by filmmaker Rey Ventura's personal encounter with the New People's Army of the Philippines, recently outlawed as a "terrorist" organization. In "Tea & Qi," an unusually intimate evocation of life in Maoist and post-Mao China, Philip J. Cunningham interviews Beijing resident Russian-Chinese artist Siao Weijia. Robert Bradymuses on the vital nature of personal epiphanies in " The Big Elsewhere." And the best-known post-war illuminator of Japanese culture, Donald Richie, contributes a haunting allegorical work of fiction, " Freefall." Cover Image: "Victory" (1976) by Fukuda Shigeo
Contents:
Freefall –
One is born falling. This must be so since none of us remember anything else — no recalling of some early years spent stationary. Rather, search though we will, our memories contain only this single state of dropping through space.
Okinawa – Music Vs Militarism –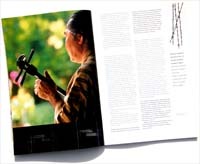 I'm not a cry-baby, yet torrents of salty water fall from my eyes, matting my long hair. Black lines stream down my face as mascara mixes with tears. It's the music. Performed by a young Okinawan who's not cool like our northern Edokko, but barefoot and wrapped in the traditional woven robe of his island, singing and playing from an innermost, almost forgotten depth of heart, with a plea for help.
The Island of Songs & Dances –
. A third reason for the high value of performing arts in Okinawa was that for a long period the bearing of arms was not only discouraged but actively forbidden. Instead it was decided to show off the prestige of the kingdom by the development of the arts, and performances were put on for visiting Chinese delegations.
INTERVIEWS
Turbulence in the East –
According to the U.S. we were there for all benevolent reasons: trying to help Vietnamese, protecting them from the communist bandits. I mean, it's all exactly like Japan in Manchuria. So if I'm comparing them, I must be defending the Japanese invasion of Manchuria. And if you are a Western intellectual, you have no way of understanding what I'm saying.
Sweatshops, Asian Cultural Values, and the New Global Protest Movement –
Is it fair that managers should have houses on the Riviera, boats and extravagant luxury goods when their workers can't make ends meet, and must spend a good part of their paycheck to take buses across town to get to work? If the U.S. and other wealthy nations committed themselves to paying a living wage to their workers, such policies could raise living standards throughout the world, and actually stimulate the global economy by increasing the consumption by the poor of basic goods and services.
Buddhism is Not Un-American –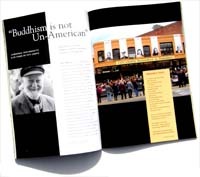 Buddhism is a dissident movement against all of that. So what the Kyoto Journal is doing is part of this dissident movement against the American corporate monoculture and the prevailing militarist McCarthyite semi-fascist government that is now in power in Washington D.C. and has hijacked our democracy.
Tea & Qi
<!—file in Dropbox folder, link here please when posted -->–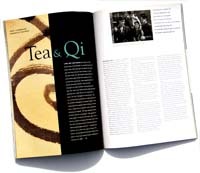 The duality of differing cultures, the dialectic of constant flux, the necessity to strike a balance, to accept things that cannot change, to harness the forces of yin and yang, to master, revel and take joy in the push and pull, are all vital, dynamic forces that Weijia/Viktor, a Russian-speaking Chinese, his father from Hunan, mother from Germany, has been privileged and cursed to deal with constantly in his life.
Ideograms & Teahouses –
While researching the extreme restrictions of the haiku form, I began to think of haiku as creating a specialized "space" to which American writers responded favorably. This led to questions about how Japanese architects conceived of space and its organization, and I discovered that qualities of Japanese architectural developments during the feudal period (when Japanese architecture was least influenced by other countries and is considered "most Japanese") coincide with some qualities of 20th-century American poetics.
Super Mario Nation –
"Japan," wrote Alex Kerr in his provocative book Dogs And Demons: The Fall of Modern Japan, "while maintaining a competent standard in many industries, and intellectual or artistic pursuits, does not lead the way in any single field." This is not entirely true. Though Kerr lays out a well-researched case for the decline of Japanese traditional art, architecture, cinema, and technology, the Japanese video game is the exception that perhaps proves the rule.
Metamorphosis: Reinventing the Future in Japanese Post-War Design –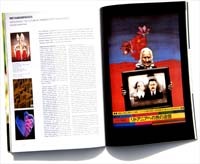 EXTRACT
POETRY
An Origami –
Walking Through Myoshinji –
The Day can Become a Zen Garden of Raked Sand –
The Usefulness in Uselessness –
Above the Shrine –
excerpt from "This World's Exuberent Surface" –
Dragon's Teeth –
From Back Roads to Far Places –
REALIZATIONS
New Words for New Convictions –
Matsui Yayori worked for The Asahi Shimbun, covering Asia, the environment and human rights in her 33-year career. In 2000 she became internationally known when she organized the highly acclaimed Women's International War Crimes Tribunal for Japanese Military Sexual Slavery, a people's court that found Emperor Showa and the Japanese government guilty of sexual slavery during World War II.
The Importance of Wisdom –
RAMBLE
The Big Elsewhere
<!—Already uploaded, brady/the-big-elsewhere// please link here--> –
It's always some place on the road, the long road of my travels, some small town or country place I'm passing through and perhaps never to pass through again that the nameless epiphany comes: not a vision but a feeling, a flash of the light the soul sees by, triggered by some psychic convergence of who knows what elements of the spirit/mind/body/world interface.
ENCOUNTERS
"Comrade Rey," he began, "it must be clear to you that you are now under the jurisdiction of the people's revolutionary government, spearheaded by its advance forces, the Communist Party of the Philippines and the New People's Army." How could I disagree?
Seeking Haiku, and Haikuists, in Nagoya –
At poetry meetings I have met schoolteachers, a barber, university students, a businessman, a nurse, a secretary, housewives, and various retirees. Just as these individuals' day-to-day lives differ, so do their reasons for writing haiku.
The Gift of Signs –
Nothing much happens on Japanese commuter trains and most people probably prefer it that way. Yet things do happen: I learned Japanese Sign Language. For three stations and ten precious minutes, five days a week, I had one of the best teachers ever: Jun-ichi, a deaf schoolboy who indulged anybody in conversation as long as it was in Japanese Sign Language.
Reviews:
Visions of Buddhist Life, by Dan Farber — Catherine Pawasarat
Landscapes for Small Spaces, by Mizuno Katsuhiko — Douglas Bullis

Chado, the Way of Tea, by Sasaki Sanmi — Lauren W. Deutsch

The Complete Poems of Kenneth Rexroth, ed. Sam Hammill & Bradford Morrow—Morgan Gibson 

Fusion Kitsch – poems from the Chinese of Hsia Yu, translated by Steve Bradbury — Ken Chen