<!—Please link to Biung and Habitat of Spirit
shipping & handling included
KJ 58
published November 20, 2004
98 pages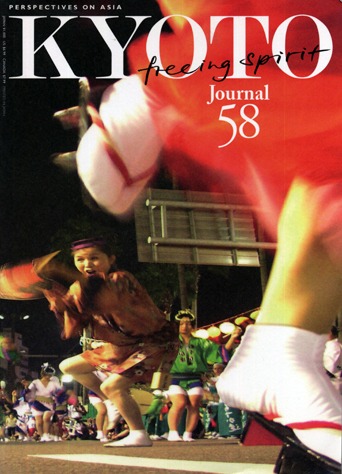 Editing KJ, over the years we've learned to listen to what the magazine itself wants to be. Each issue, even one starting without a set theme, seems to give voice to a particular set of related concerns, making its own connections, developing resonances, becoming in a sense an open conversation. Once a topic emerges, we're no longer surprised when yet another unsolicited submission turns up, further illuminating some essential aspect of what's already in the works. Going with the flow, we seek out additional material to nudge the conversation along…
Our 58th issue started out bundling articles on traditional performing arts, but soon let us know it wanted to dig deeper. In diverse disciplines, we found common ground and shared aspirations: 'Super-Kagura,' reviving traditional Shinto dance; the Kodo taiko drumming group's Earth Celebration; the massively popular Awa Odori street dance festival; Ohno Kazuo — a butoh dance pioneer at 98; Ikemiya Masanobu, a Japanese Buddhist ragtime wizard; Fujiko Hemming, a classical piano virtuoso prevailing over deafness; Biung, a successful Taiwanese aboriginal musician returning to his roots; Don Kirk, a veteran war reporter in Baghdad; Shinji Kazue, a cross-cultural psychotherapy interpreter; Ishido-sensei, a master of ikebana … Within each story we heard different aspects of the urge towards seeking and achieving wholeness, in individuals and communities, until we knew that this issue had found its theme… Freeing spirit. Cover Image by Markuz Wernli
Contents:
Earth Celebration –
For me, that's what Earth Celebration is all about: music, the environment, passion and community. It's about all of these but the focus is on their importance, their proper place in the world.
CONVERSATION
Dance Kitchen –
Butoh fascinated me — as dance, as theater, as seditious act, as visual spectacle. I had read everything I could find about it and had seen professional troupes on world tours in extravagant showpieces that some in the genre referred to dismissively as "TV butoh." Nevertheless, I did not feel I really got butoh…
POETRY
Seasons, and Harvest –
Dancing for the Dead –
The phenomenon of the festival is found throughout human society, a counterbalance to the constraints which society imposes upon itself. Alongside the formal structures of daily life that keep chaos at bay, we seem to need these points in the annual calendar, the rituals and carnivals, where such boundaries are transgressed and the human spirit is set free to play.
A Child of All Time: Butoh Dancer Kazuo Ohno at 98 –
Ohno relentlessly pursues personal truth and atonement, both in his onstage improvisations and in his talks to workshop participants. His performances are spontaneous, haunting, humorous, beautiful, and at times even spine-chilling. Although of late he has become frail and confined to a wheelchair, he nonetheless continues to perform in public.
'Super Kagura': The dramatic rebirth of sacred Shinto performance in Japan's midwest –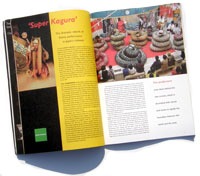 ITALICS Gendai mono are a showcase for the ingenuity and training of local troupes, who embellish the basic stories with quick costume changes, lightning-fast choreography, billowing clouds from dry ice machines, and pounding percussion. While Super Kagura is relatively new, the tradition of kagura itself can be traced back through at least a thousand years of folk culture.
Biung Back Home
<!—Already uploaded, asian-encounters/biung-home-again/ please link here-->–
This is what the people love and what they came for and what they got, I don't know if they watch his TV show or if they'll like the music of his new album, but I don't think it matters, I don't think they care, they will never accuse him of selling out because he never will, he can't, his voice cuts through all the bullshit, whatever city style is stuck to him will ultimately fall away, they know that he belongs to them and he always will…
A Ragtime Roshi's Musical Peace –
Then late one afternoon in 1983 this black man, an old man, shows up there, sits down at the piano, and begins just playing away. It's terrific music, so much fun. All the kids are clapping their hands and dancing, and I say, 'Gosh, this is great! What is it?' And he says, 'Man, you don't know what this is? This is ragtime, man! You're missing something, man!'
RAMBLE
Habitat of Spirit
<!—Already uploaded, brady/habitat-of-spirit/ please link here-->
–
Imagination is not greatly encouraged by human systems of organization because it is by nature free; it is beyond established control, inimical to chains, can't be enslaved, organized or taxed, depends upon no institution. It is the source of change, pure and simple, of new ideas.
The Silence Before the Cadenza: The story of pianist Fujiko Hemming –
Fujiko lived in complete silence for two years. Forty percent of her hearing returned to her left ear; her right ear would remain forever deaf. One morning, she screwed up her courage and sat down to the piano.
IN TRANSLATION
Reflections of a Psychotherapy Go-between: An interview with Shinji Kazue –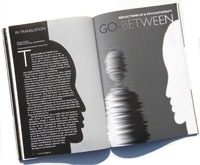 Like most clients who visit a clinic I thought at the beginning that personal problems brought there would be solved by the therapists. But while working there over the years I came to realize that the role of therapists is not solving problems for clients but helping them gain insight into themselves so they can analyze their problems and eventually find ways to solve them by themselves.
The View from Zhaoxing –
Down below the world overpopulates, tangles its gears with haste, rage, fraud, hatred, unjustified war, waste, stolen proportions of wealth in the hands of a few. The arrogance and ideologies of the Cultural Revolution did not spare these farmers, yet in the end (as their resistance grew) it could neither incorporate nor obliterate them. Their language and songs remain strong.
Stifling Spirit: KJ contributing editor Donald Kirk, on the ground in Baghdad, reflects on Iraq, North Korea and Vietnam –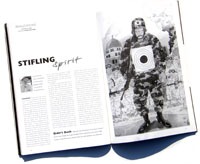 The war over here, and the rumors of war over there, on the Korean peninsula, all revolve around the issue of democracy, the credo the United States purports to want to instill or else to defend. In the struggle for democracy, however, real freedom, the freedom to speak and think as one wishes, appears to be a casualty as conflicting factions speak in the tongues of ideologues and myth-makers.
ENCOUNTERS
Revisiting the Punjab –
DJ had shown me round the village, and taken me to the cane fields where I tasted unadulterated liquid cane sugar. His mother gave me glasses of hot, sweet milk that had come from a buffalo minutes before. DJ was in his late twenties back then, so now he'd be about fifty. Fat chance that he'd be there, but perhaps someone could tell me where he was now. And so what if it all came to naught? We'd drive 200 miles through the Indian countryside, on election day, and end up wandering round an Indian village, talking to the farmers.
Head Shop Booty –
Interesting how Japan, the land of the rising sun, the country that gave the world Zen Buddhism, the nation famous for its suicide rate, is now wandering into the seductive glow of their very own Emerald City. While mind-altering drugs are still readily available, will a young Ram Dass emerge, pointing the way to higher states of consciousness sans drugs? Will there be a movement toward personal enlightenment that will obliterate spiritual deficits, social barriers, and rampant consumerism, as my cohorts and I had once hoped for many years ago?
An Ikebana Journey –
"When I became 60 (at " kanreki ") I was reborn. At that time I reviewed my life and came to understand. For most of their life people live on the surface. They don't think deeply about existence. But this period of living on the surface is necessary before you can reach a deeper understanding. Ikebana has a shadow side, a light side, and hidden things — it's quite complex."
Reviews:
Afghanistan, by Chris Steele-Perkins — Matt Larking 

Heart of Kashmir, by Kash Gabrielle Torsello — Matt Larking 

Neutral War: A Novel of Soul-Chilling Barter, Bioterror, and High-Stakes International Poker, by Hal Gold — Justin Ellis 

The New Shiatsu Method: Helping the Body to Heal Itself, by Ryokyu Endo, Michael Christini, Tzvika Calisar — Deidre May 

Turning Point: Oribe and the Arts of Sixteenth-Century Japan, by Miyeko Murase — Lauren W. Deutsch 

Mavo: Japanese Artists and The Avant-Garde 1905-1931, by Gennifer Weisenfeld — Lauren W. Deutsch
Mirror of Modernity, Invented Traditions of Modern Japan, Ed. Stephen Vlastos, — Lauren W. Deutsch 

The Man Who Saved Kabuki: Faubion Bowers and Theatre Censorship in Occupied Japan, by Shiro Okamoto, translated and adapted by Samuel L. Leiter — Ken Rodgers 

Tales from Japan, and Ichi, Ni, San, Shi… Go! 500 Rivers and Other Tales from Japan, CDs by Jonatha and Harold Wright — Chris Caldwell 

Sherry, CD by Sherry Nakanishi — Tomita Tamita
Miracle –