Sign up for our newsletter and receive this issue as a free digital download.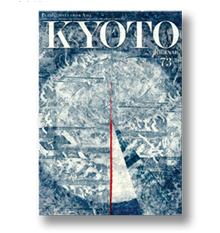 How long ago did our hunter/gatherer ancestors begin to utilize materials from their natural environment to braid rope, craft baskets, weave the first textiles, or produce richly-hued dyes from plants and insects? Could anyone in those far distant days have imagined the splendor of Cambodian ikat, the sumptuous intricacy of Nishijin silks?
Who discovered the power of drumming? And when did the rhythm of language turn into songs of devotion, or reflective poems? When did we start telling stories about the other creatures whose world we share, or begin to depict them in decorative arts? At what stage did we render plant fibers into paper; record observations worth saving for the future? Who was inspired to make those earliest flutes of bamboo or swan's bone, and the first stringed instruments? When did we start to conceive the seasonal aesthetics of gardens and devise other means, public and private rituals, to re-envisage our interconnectedness with nature?
Ages ago we learned that to preserve nature and nature-based crafts is to safeguard the source of our richness; to destroy nature is to take an axe to our own roots. So when and how did we begin to forget this? And what can we do to remember?
This issue of Kyoto Journal explores our present relationship with the natural world. Among eight interviews and profiles are several featuring Japanese artists with deep commitment to working creatively with local communities abroad. Cover Image 'Revealing Red' by Sarah Brayer
Contents:
Ono Yotaro: "Listen to the Wind, Observe the Mountains" –
By the year 710, when Japan's imperial capital was moved to Nara (a city modeled on Chang'an, as was the later capital Kyoto), Tang China was booming. The Tang period was the most open era in that nation's history, giving rise to a rich multiethnic and multicultural empire, encompassing Turkestan, nine kingdoms around Samarkand and Tashkent, 16 kingdoms in present-day Kashmir, Afghanistan and Iran, Manchuria, and present-day Korea, by which time China was already connected by caravan routes to Rome and Persia, and by sea to Japan.
"The colors of the Nishijin silk are so awe-inspiring on every level. They're subtle and yet brilliant, and finely shaded in many gradations of color. I feel color is very healing and a very powerful conduit to human consciousness. I create with color in such a way as to inspire, elevate, heal and enrich, and these silks are a perfect vehicle for that."
POETRY: Hands –-
PROFILE: Ito Akira: The Creative Spirit in Cultural Preservation ––
"It is the eyes that do the work of perceiving, of seeing, and the hands that do the work of holding things and of expressing things. Because to live is to suffer, and all living things suffer, I decided that as much as possible I wanted to give to others, to lessen their suffering, and I knew that my purpose in life was to use my eyes and my hands to work for that purpose."
From the forthcoming book Another Kind of Luxury (Stone Bridge Press)
EXPAT PROFILE: Finding Shimura Asao: The Paper Master of Po ––
Weavers trained by Asao using knowledge from his paper travels around Japan demonstrate this 300-year-old process that originated in Kyoto, spinning and weaving paper thread into cloth… they skillfully cut, rub, join, twist, tighten and finally boil the pineapple into the resilient thread used to weave the soft and supple shifu cloth of Asao's homeland.
.

The casualty that Japanese expatriate Morimoto Kikuo is trying his hardest to save is Cambodia's traditional art of silk weaving and dyeing. At its heart, Morimoto's is an eco-cultural enterprise bringing back lost skills as well as the vanished raw materials they require, once plentifully provided by the land.
"Creation is an affirmation of the connection of my own being with the subject at the Source. As children, we all have the power to talk with the insects or the flowers or the stars. We have the ability to reestablish that universal friendship."
…when a master tabla player is going on stage, you say, "Good luck, maestro, have a good show." And he will say, ""Well, let's see what the instrument wants to say today."" It's a very interesting statement because a master believes an instrument has its own spirit;— it's not just you who is going to do the talking on the stage today, the instrument's spirit will speak, too.
INTERVIEW: Rendering the Lightning ––
"When I was studying the Haida Indians I noted that their liturgy was obviously pre-Buddhist Chinese. I've often wondered at the fact that so many of our western natives came over the Aleutian land bridge and that this liturgy has become part of the land."
ENCOUNTERS: The Tatami Edge ––
"Lately I've become interested in the diamond pattern on the edge fabric of tatami mats, called heri in Japanese. Little by little, these mats made of rice straw are becoming things of the past. To me, those diamonds are starting to feel like the soul of Japan…"
The Sea Monkey Child ––

The Balinese lunar New Year, Nyepi, is observed with a day of silent introspection and fasting. All fires are extinguished, no airplanes take off or land. There are no cars on the roads, no lights in the houses. This is taken seriously, in cities and villages alike. Even tourists are confined to their hotels, and the gates are barricaded.
INTERVIEW: Through the Lens of Visual Anthropologist Omori Yasuhiro ––
"For Japanese, documentary film is often political. But ethnographic films are not forced to make political statements. Instead, we are required to shoot daily life. That daily life explains the culture. Most documentary filmmakers don't think about that. They are always so busy trying to film some specific happening."
Given the importance of silence in traditional Japanese culture and the attention paid to the voices of insects, I am hardly surprised that in modern Japanese the word urusai—– noisy, annoying, bothersome"– is written with three characters whose literal meaning is "mayfly.
The Persian Psalms of Iqbal –
Iqbal lived the rest of his life mostly in Lahore, where he practiced law and taught at the Government College from which he himself had graduated. He widely read the works of Nietzsche, Henri Bergson and Goethe, but embraced Rumi, the Sufi poet, as his spiritual and intellectual guide. Rumi's influence is easily seen in Iqbal's poetry both in Urdu and Persian.
A Tale of the Evening Sea,
Once in a small seaside village, there was a girl who was skilled at needlework. Her name was Sae, but no one knew where she came from nor how old she was. One summer evening, many years ago, as the setting sun sparkled upon the sea as if golden-scaled fish were swarming, the girl came to the house of an old woman named Ito…
CONVERSATION
Finding Compassion:
Photographer David Shrever and Zen priest Takafumi Kawakami talk about their relationship to Tibet.
POETRY: Aung San Syuu Kyi –
Tibet Poem ––
FICTION: My Tsunami ––
Be aware, that's her rule. Everything has a sign; the world will warn you if you let it. Healy understood how a tsunami works. She had read the articles and watched the documentaries. Don't talk yourself out of what you feel, what you see. Too many people do that.
FICTION: A Sort of Deadline ––
Friday, of course, was the final day of Obon, when the spirits returned home, the day of the riverside festival when candle-lit paper lanterns crowded the water. Once, as a child, she had seen one of the floating lanterns catch fire. … Her father had called it a bad omen. Secretly, though, she had found the boldness pleasing, surrounded as it was by such uniformity.
POETRY: Kanazawa ––
REVIEWS
After the Crash: Architecture in Post-Bubble Japan, by Thomas Daniell – Susan Pavloska
Machiya Revival in Kyoto, Kyoto Center for Community Collaboration, Kyoto – John Einarsen
Art Space Tokyo: An Intimate Guide to the Tokyo Art World, Ashley Rawlings – John Einarsen
Buddha or Bust: In Search of Truth, Meaning, Happiness and the Man Who Found Them All, Perry Garfinkel – Rasoul Sorkhabi
Eat Sleep Sit: My Year at Japan's Most Rigorous Zen Temple, Kaoru Nonomura – John Einarsen
Yoga Poems: Lines to Unfold By, Leza Lowitz – Ted Taylor
Francis Haar: A Lifetime of Images, Ed Tom Haar – Joseph Cronin
Householders: The Reizei Family in Japanese History, Steven D. Carter – William J. Higginson
Steles, Victor Segalen, trans Timothy Billings & Christopher Bush – David Cozy
Facing the Bridge, Tawada Yoko, trans Margaret Mitsutani – Derick Mattern
Bayon Moon, Morimoto Kikuo – Wai Yee
The Argumentative Indian: Writings on Indian Culture, History and Identity, Amartya Sen – Rasoul Sorkhabi
Passage Through India: An Illustrated Edition, Gary Snyder – John Brandi
POETRY: Jakarta ––
It was a chair made to last beyond a life, like a poem or a song, the craft of it to be remembered, another form of the name of the maker, of himself and the grace of his hands to be passed on and spoken of, sung of in wood, taken good comfort in, and I realized I had in all my years on earth never been so well understood by a chair; no chair had ever told me of these things.
Extras: Online Features for KJ#73: