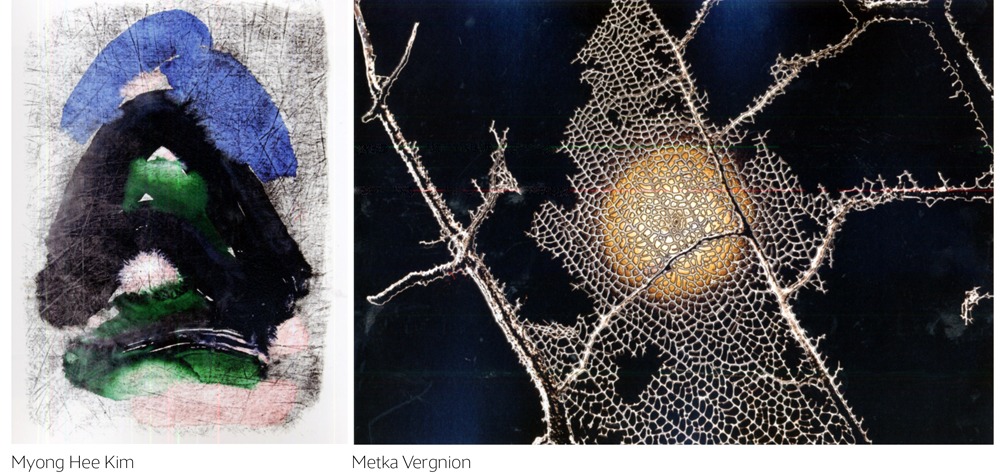 Osmosis
A joint exhibition by artists
Metka Vergnion and Myong Hee Kim
BY JODIE MOON
Above left: "Imadera 2013"; right: "Veiled Sun"

True to its title, Osmosis is at one level about convergence. Metka Vergnion describes the exhibition as a synergy of the artistic energies of two artists with roots in many cultures and places. Vergnion is a Slovenia-born, Paris-educated artist who is now based in Switzerland; Kim was born in Seoul, but has been living in Japan for more than 30 years. The interaction between these diverse backgrounds and experiences is an exciting element in the visitor's experience of Osmosis. Explaining the title of the exhibition, Myong Hee Kim points also to the different artistic mediums used by herself and Vergnion. Kim's works in this exhibition range from paintings and paper masks to dyed fabrics, while Vergnion's pieces are photographs, both in black-and-white and color.
Amidst these differences, what connects the two artists of Osmosis is their shared attentiveness to nature—to be more specific, the lucidity with which they reenvision the landscapes of Japan. Vergnion's photographs distill moments in nature to their essential components, providing often-otherworldly images of earth, water, light, plants. In
Attraction,
two stones of same shape and size appear suspended on a flat, black background. Each is attached to a spindly line, perhaps incense sticks, and these lines together provide a sort of incomplete horizon to the piece. The stones thus face each other in a state of quiet but unfaltering presence. Yet simplicity does not slip into monotony here. In the upper left corner of the photo is a form that looks as though it might be a fragment of a wall increasingly covered with moss, and between the stones is a droplet-like hint of glistening blue. Such minimalistic reconstructions of scenes in nature create new realities through the use of familiar objects in unexpected compositions. The dichotomy between imagination and reality is not much of a concern here; attempts to evaluate "photographic objectivity" do not hold water against the osmotic transmission of Vergnion's truths. These images unsettle our received ways of perceiving the world, yet settle in the viewer's mind as though already there, simply waiting to be disclosed.
The sparse quietude of Vergnion's photographs is also present in Kim's pieces, many of which were inspired by the everyday surroundings of her studio Imadera, which is in a small village in Takahama, Fukui Prefecture. In the series To KK, brilliant colors bloom beside and into one another. Thick brushstrokes of black create contours amidst these swathes of vibrant colors, perhaps referring to the darkening edges of mountains at sundown. Looking more closely, the viewer discovers irregular lines pervading the surface of these paintings, adding a fabric-like quality to the paper. Throughout her paintings in this exhibition, Kim creates space and mood with color and texture. She creates the latter using the patterned surfaces of found objects near and in her studio. The wood grain texture of Osmosis, for example, is that of wooden planks, over 100 years old, that line the walls of Kim's workspace.


Such an appreciation of nature is grounded in the awareness that humans are merely one small part of the vast cosmos. In placing nature at the center of their works, Kim and Vergnion communicate its beauty in a way that does not necessarily prioritize or privilege the human experience. Vergnion constructs scenes wherein the photographer/viewer's position is ambiguous. Did the photographer frame the teeming
Pebblescape
by lying belly-down amidst the stones? Or did she point her lens upward, to a mound of pebbles that spilled into view? The inverted light of the photograph further challenges the viewer's sense of direction and location.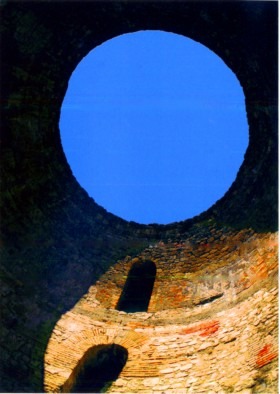 For Air Ring, it is easier to guess the position of the photographer. But here, even as we look toward a sky encompassed by a manmade structure, the overwhelming sensation is that of the vivid circle of light. This is an image of the sublime as Kant describes it:
"Whereas the beautiful is limited, the sublime is limitless, so that the mind in the presence of the sublime, attempting to imagine what it cannot, has pain in the failure but pleasure in contemplating the immensity of the attempt".
As she marvels at this snippet of sky, the viewer is simultaneously made aware of its infinite expanses beyond the circle. Of course, Vergnion's deeming it a "ring" underlines its state as enclosed field, and the cloudless blue appears as a flat disk. A ring, nevertheless, is a circle with no identifiable point of beginning or end. Similarly, air is shapeless, filling all space so that it is difficult to describe it in terms of boundaries. However, it is worth noting that the title holds significance on another level, for it recognizes that the image would not have been made possible without either sky or constructed structure. "Untouched" nature and the eroding manmade coalesce in Air Ring, even as each maintains its essence.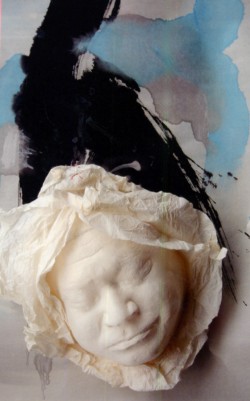 The only piece in the exhibition that takes humanity as its explicit subject is Kim's Peace Mask Project. Presented in this exhibition are a select few of the over 2,000 sculptural paper reproductions of individual faces that Kim has been creating since 2002. Here, the faces of individuals spanning four generations meet the viewer as a mosaic of contemplation. Because the masks preserve the particularities of each subject's face whilst capturing every one of them in a state of closed-eyed stillness, the Peace Masks emphasizes the great diversity within humanity even as it speaks of a shared hope. The fact that these masks show individuals with their eyes closed also alludes to the often superficial nature of our visual, and perhaps in general sensory, experience of the world.
Finally, the exhibition, as its name suggests, speaks of a process toward, rather than a definitive, static state of being. From Kim's Peace Masks alluding to our ongoing endeavors toward peace, to Vergnion's fluid worldscapes of Source or Reflections, the works in this exhibition manifest the artists' awareness of change as the single enduring factor in this world. Even at the Final Curtain, a soft breeze cause the hem of the descending fabric to billow; one faces The Wall placed beside it to find a crimson center opening into the dark surroundings. This painting, Kim discloses, was inspired by the story of Korean former political prisoner Hwang Dae Kun, who served a sentence of 13 years due to false accusation of being a spy. Kim says that she created this painting while listening to Hwang's voice in a documentary detailing how in the process of healing his body with wild plants of damage caused by years of torture, he let go of his anger and hatred, reaching a place of forgiveness. The red center of The Wall is then at once a wound and a blossoming, both warmth and pain. The painting is an expression of Kim's faith in the human capacity for change.
Put simply, osmosis is a process of reaching and maintaining equilibrium. Envisioning a future of harmony among people as well as between humanity and nature, Kim and Vergnion share with us their concentrated efforts toward realizing these hopes. The exhibition itself then becomes a space of osmosis, in which we receive, so that we might give back once we step outside the gallery doors.
Jodie Moon is majoring in anthropology at Reed College, Oregon, currently interning with KJ, and researching Kansai's Zainichi Korean community.