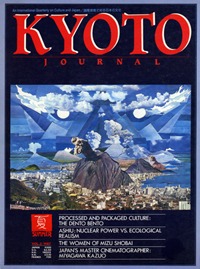 Watch the White of the Sky
Miyagawa Kazuo: Kyoto's Auteur Cinematographer
From KJ 3, BY PIA LAMERIN


'I told him, go, look at the temples, the old houses around Kyoto. You'll see light then! Go at different times of the day, different seasons if you can. Look at the gardens, the old walls. Do you know how many different kinds of walls there are in this town? The crumbling earth walls, the pure white of the kura (storehouses), and then look at the white of the sky!'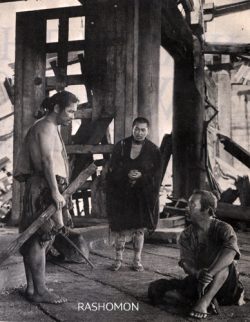 There is a Japan that came into existence in the darkness of the cinema, and sites there still, fixed on the screen like a giant rare butterfly. A Japanese movie was pageantry and poetic violence, curious hierarchies amid puzzlebox interiors, the camera caressing Kyo Machiko and engaging Mifune in its steadily tracking locus. And the light was applied as if by brush.
The skills of the cinematographer are slippery. In the plastic arts, the techniques of the old masters may wane for generations, yet still can be resuscitated. But cinematography, especially in its sophisticated Japanese esthetic, may be lost without the guiding hand of experienced artists, who these days are few, or very quiet.
This is the heartfelt opinion of Miyagawa Kazuo, a cinematographer with over 130 movies to his credit. Most were produced by Kyoto's now-defunct Daiei studio.
I began to study ink painting at 11, and as a teenager I did commercial illustrations for pocket money. My subjects were children and they wouldn't sit still, so I got a camera. I saved hard for my first lens, and a friend who worked at the movie studios developed my pictures. Through his introduction I myself joined the studios ­­— Nikkatsu — at 17. That was 60 years ago. Films were still silent. Ikeda Tomiyasu was the most famous director. Foreign films were especially popular, films starring Richard Barthelene, Mary Pickford, Douglas Fairbanks. At the studio I worked in a lab for three years, then as a camera assistant for 12 years until I got a lead camera job.
Miyagawa earned his first credit in 1935 under the director Inagaki Hiroshi. Kyoto was Japan's Hollywood then. Miyagawa jokes now about the low wages and absence of contracts. Two-reel jidai-geki (period films) were shot and released at a rate of almost one a week. He often worked on the fast-paced comedies cranked out by Inagaki's regular crew. Shochiku had two giant studios, at Uzumasa (where the city's last studios still operate) and Shimogamo. But the biggest studio was Nikkatsu, at Taishogun in northwest Kyoto. In 1969, when the Uzumasa studio was dismantled, Miyagawa uncovered a cherished souvenir — the cement footprints of Douglas Fairbanks who visited Kyoto in the early thirties. There were a number of fringe, independent studios in Kyoto and Nara using stars such as Kataoka Chiezo and Bando Tsumasaburo.
In 1943 Daiei bought out Nikkatsu and Miyagawa moved up to diretor of photography on Inagaki's first version of Muho Matsu no Issho (Rikisha Man), which drew praise for its innovative crane shots. The matching of camera technology with the film's rough-edged subject predated Italian post-war realism by years.  Subtitled original prints of this film are still regularly screened…in America, which seems fitting, since American films of that era were obviously a major influence on Japanese cineastes. As for lighting technique and camera skill, however, Miyagawa insists that German films were what filmmakers studied. The marked high contrast was perfectly suited to jidai-geki.
I personally paid close attention to the films of Fritz Lang and Emil Jannings. Japanese architecture, you see, is all lines, and that needs contrast; but for shooting people — soft lighting.
In the thirties and forties, the Showa era was still in its first flushes, the promise of a new society and all that, despite the impending war. Here in the old city we were busy being modern — nothing could have been more modern than movies — yet focusing on history and old things.  Most of my work, especially jidai-geki, is related to Kyoto.  I've been here 77 years after all, and Kyoto is it, even subconsciously, a filmmaker's dream, filled with symbols and sets, temples, old houses, mountains, and within reach of so many farmhouses. There is such a things as Japanese traditional taste, and it's an essential ingredient of my movies.
My first movie for Kurosawa was Rashomon, but I'd known him before: he was the writer of Dohyo Matsuri (1944).
Rashomon, arguably the most famous Japanese movie ever made, rocked the cinema world after its 1951 award sweep at the Venice Film Festival. Its dramatic tracking shots, and the shafts of light piercing the forest depths have since become cinema clichés. Kurosawa Akira chose Miyagawa on the basis of his already impressive work, and later told Donald Richie that what pleases him most about this film is the camera work — the low angle that emphasizes the comic aspect of the woodcutter's tale, and the long shots that make the duel slightly ridiculous.
Do you remember the rain? What an ordeal that was! We used the studio's rain machines, but that wasn't enough for Kurosawa. After a few failed attempts, I contacted a fireman I knew.  He refused at first, but finally he came through with three big fire trucks, gushing for all they were worth.  We were lucky there was no fire that day. But we found out later that we'd flooded the area so badly that some houses started sinking. The studio had to pay damages, but Kurosawa got his rain!
Loyalties to different studios separated the two men until Daiei temporarily released Miyagawa to work on Yojimbo (1962). Critics have claimed that Kurosawa lost "something" in his switch to Cinemascope. Audie Bock strongly disagrees, and praises the success in finding a way to pan in the film's most common (and difficult) interior, a dark sake stall that is the hero's base. Richie notes Miyagawa's purposeful staging of the whole film in a two-dimensional matrix of vision, giving the film the parameters of a stage set, which it in no way actually resembles. It remained for Kurosawa's "choreography" to achieve what is recognizable as a kind of dance. References to Japanese traditional theatre appear often in appraisals of Miyagawa's work, and he himself refers to it, but concedes credit to the directors.
Look at the work of two directors I worked closely with, Kurosawa and Mizoguchi. Their styles are both auteur, yet so different. What did they have in common? Noh! It influenced both of them, but look deeper, look into their Noh. Mizoguchi's Noh is sei (silent), and Kurosawa's is doh (movement).
For Mizoguchi Kenji (a notorious, almost pathological perfectionist), Miyagawa shot six films including Ugetsu Monogatari  (1953). With its breathtaking range of self-contained scenes — the shimmering, other-worldly picnic, the haunting interiors, the cacophonous market — this film ranks with rashomon. Here Miyagawa established another trademark of style: the unusually deep focus that was a necessary ingredient of Mizoguchi's one scene/one shot technique, where both new and distant activity, sometimes simultaneous, had to be clearly visible, or where actors had to be placed in the infinite expanse of nature. Mizoguchi also called for tricky crane shots, which Miyagawa, after his years with Inagaki, was able to provide.
Ozu Yasujiro, in contrast, built his films on successions of up to 2,000 short takes of three, five or seven seconds. Miyagawa shot just one film for Ozu, Ukigusa (Floating Weeds, 1959).
Kurosawa, Mizoguchi and Ozu: each insisted on a very personal sense of space. Kurosawa had a set of complete houses built for Yojimbo (just as he would later order a castle for Ran), and had them shot in purposely claustrophic right angles, forcing Miyagawa to apply himself to the architectural possibilities: opening and closing windows, dollying, using actors' heads to obscure and open lines of vision.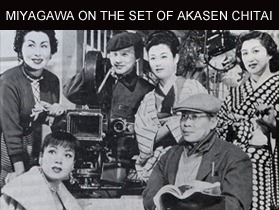 Miyazawa's greatest strength is that he has relied on his own ingenuity rather than on props, even acceptably common ones. For example, he never used light meters of even mirrors, until Kurosawa ordered the kiss in Rashomon to be immersed in light. But if he has eschewed banal techniques, he has enthusiastically approached developments in cinema technology, especially colour and the wide screen.
The opening scene of Shin Heike Monogatari (1955), another crowded market for Mizoguchi, was Miyagawa's first presentation of  colour. Within a year he was involved in bold colour experimentation (notwithstanding a passion for monochrome that continues to this day). Yoru no Kawa (Night River, dir: Yoshimura Kozaburo) is set in the world of Kyoto's silk weavers and dyers. Miyagawa devised a colour scheme that integrated kimono patterns that were crucial to the story, presenting "the dark qualities of the protagonist's romantic entanglements" (critic D. Owen, introducing a 1981 Miyagawa retrospective in New York). The dominant colour of the film is indigo. A 1952 work for the same director and in the same milieu, Nishijin no Shimai (Sisters of Nishijin), was filmed in monochrome.
Ukigusa featured strongly defined reds, blues, greens and browns (it was a satire of strongly defined characters) in an Inland Sea locale. The prints have faded somewhat, but in 1984 Miyagawa shot a tour-de-force of colour in the same area. Seto Uchi Shonen Yakyu Dan (MacArthur's Children, dir: Shinoda Masahiro) is positively ablaze with blue melted-sky dusks, crisp seaside mornings and the glaring kitsch of postwar fashions. And this from an artist whose early training was in sumi-e ink painting.
The sensibility of sumi-e, the hyposensual power of "negative space", is in fact amply expressed throughout Miyagawa's work. To list but one example, in Hanare Goze Orin (The Ballad of Orin, 1977), Shinoda consciously employed the Ozu technique of multiple "still" images giving Miyagawa the task of composing them so that the maximum emotional impact comes rhythmically throughout the film. The tactics of rhythm and crescendo (the lovers exiting separately left and right, leaving only the dark twisted tree against the white of the sky), have parallels in Japanese music, poetry and painting. Here it is the very stasis of the camera that allowed Miyagawa, and Shinoda, to work on the high plane of  painterly composition.
As for wide-screen technique, Miyagawa first used Vistavision (known locally as DaieiScope) in 1958, in Ichikawa Kon's Enjo. Here too, he met the possibilities of composition (and architecture) with canny humour, at one point using a sliding door to block half the screen. This film was based on Mishima Yukio's novel Kinkakuji, about the burning of the Golden Pavilion. Sharp monochrome emphasizes Mishima's grand thesis: that beauty is doomed to destruction, that the destruction enhances the beauty, is itself beautiful, a work of art.
A few years ago, when they made the movie Mishima in Tokyo, the lead cameraman came to visit me here in Kyoto to ask my opinion on lighting, especially interiors. An American, he wanted to know what light shows up Japanese interiors in the way Mishima described them. I told him, go, look at the temples, the old houses around Kyoto. You'll see light then! Go at different times of the day, different seasons if you can. Look at the gardens, the old walls. Do you know how many different kinds of walls there are in this town? The crumbling earth walls, the pure white of the kura (storehouses), and then look at the white of the sky!
[youtube=http://www.youtube.com/watch?v=p14nLdUxUmY]
What other artist of this era has so applied himself to the epic thatis Kyoto? The Kyoto of Nishijin and its weavers, the medieval Kyoto of Rashomon and Ugetsu, the contemporary lecher of Kagi (The Key, Ichikawa Kon, 1959, shot partially from rooftops). City of ghost, potters, warriors, working people, crazed monks. Miyagawa shot two versions of Gion Bayashi (A Geisha, 1936, 1953) for Mizoguchi. The earlier is hard-edged with the kind of shadows that Tanizaki used to write about, the contrast mentioned earlier. The post-war version, interestingly, is composed in muted grays, with a mood of "somberly resigned melancholy" (Owen). As many moods and shadows as this stage-town — the dowager volupte — can cast, the cameraman is able to match them, to enter them, transform them in a thousand flickering images that their internal dynamism splits into a thousand more. In 1978 Miyagawa Kazuo received the Imperial Order of Culture. Last year he received a Japanese Academy Award for Yari no Gonza (Gonza the Spearman, Shinoda, 1985). These are but two of many high points in his career. He is still active, teaching weekly at a university in Osaka, travelling for such events as a recent Redford-organized symposium in the U.S.
He fears for the future of Japanese cinema:
Of course I was pleased with the award for Yari no Gonza, but don't you think it's odd that such prizes should go to a 77 year-old man? Aren't there new names and new talents of award-winning standard?
Whatever the future may hold, Miyagawa's good works will not be forgotten. They exist, alive, anew with each projection, and they are a standard by which present and future filmmakers, in Japan and abroad, will measure their work.
Asked for his own feelings about his work, the answer is quick: "Ugetsu Monogatari!" A smile. "How I'd love to do that again!"
[youtube=http://www.youtube.com/watch?v=s2_TgXBNd6k&feature=related&w=650&h=350]