Water — and HOPE
BY JEN TEETER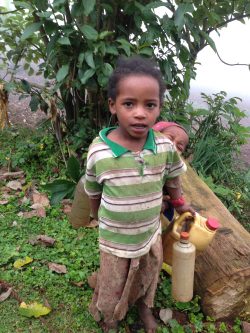 My family is so sick because of drinking the river water…
And my daughter can't go to school, because I need her to take care of us…
This mother in Laka, a remote village in southern Ethiopia, is just one of millions of people whose lives are adversely affected by the lack of potable water. Despite the abundance of water on our planet, five million people perish annually due to insufficiency of clean drinking water. Over the past ten years, HOPE International Development Agency Japan has been working to provide clean and sanitary water, the most basic ingredient for survival, to poverty-stricken families and communities around the world.
HOPE International Development Agency was formed in 1975 in Canada and now has eight offices around the world, in Japan, Australia, Cambodia, Ethiopia, Myanmar, New Zealand, the United Kingdom, and the United States of America. Besides their work to provide access to safe drinking water, HOPE organizes projects worldwide based on sustainable agriculture, education and literacy, disaster emergency response, and rehabilitation, HIV/AIDS prevention, microfinance, the emancipation of women and girls, and peace building. The Japan branch was established in 2001 by Canada born, Lowell Sheppard, in Nagoya to assist the victims of the devastating earthquake in India's northern state of Gujarat. Sheppard has since raised a staggering Y243 million, which has helped nearly 20,000 people break free from the chains of poverty, while supporting another one million afflicted by humanitarian and natural disasters. HOPE Japan is also contributing to tsunami and earthquake disaster relief and revitalization efforts in Tōhoku.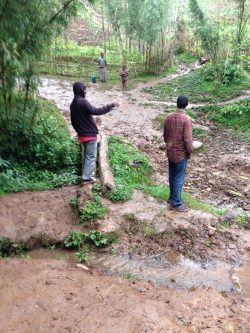 HOPE Japan initiatives are community-driven, and involve connecting local leaders in the project country to volunteers and donors around the country. HOPE staffers reside in the communities where projects are taking place to build trust among the local people as well as to gain an accurate picture of local needs, while ensuring that projects remain sustainable. From a material standpoint, HOPE stresses the use of easily attainable, local resources, but more importantly, HOPE encourages active participation by members of the local community to ensure the continuation of projects long after HOPE's original involvement. Community members have critical roles at every stage, from needs assessment to its full implementation. HOPE aims to provide communities with the training and the tangible and intangible tools they need to continue the work independently.
A typical project involves between 50 and 100 volunteers and community members, who gather for 4-5 hours each day. Through HOPE's endeavors, such as using a drilling rig to dig a deep bore hole in a Sudanese community, digging shallow wells in Cambodia, or capping and building a pipeline out of a spring for water to reach two Ethiopian villages, HOPE Japan has facilitated the positive transformations of communities in Asia, Africa, and the Americas, bringing hope that a sustainable future is possible.

One of the most anticipated HOPE fundraising events is their annual Charity Gala, held in Tokyo, Nagoya, and Osaka.  At these galas, people from all walks of life, from entrepreneurs, teachers to Buddhist monks and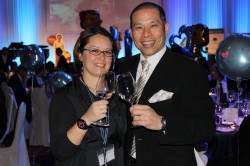 consulate generals, gather together to contribute to HOPE's important work. "There is no event in Osaka like it," explained a loyal HOPE supporter, who has been attending the galas every year since they started 7 years ago. With special guest, television personality Thane Camus, over 200 people came together at the Hilton Osaka for the 7th Annual Kansai Gala. The event raised 8.5 million yen through raffle tickets, sponsorships, and silent and live auctions of products and artwork donated from companies such as Ikea, the Day Spa, and Ainu woodblock print artist Yuki Koji. Fittingly, the evening began with a water toast, in "Celebration of Water."
A documentary screened at the event, Rise of Laka, highlights the case of a mountain farming community in Ethiopia that HOPE assisted in bringing potable water to, and how their lives were drastically improved as a result. The film's director, Mackenzie Sheppard, son of HOPE's Asia-Pacific Director, grew up volunteering alongside his father. In making this film, and countless others supporting HOPE's work, Sheppard ensured that the people supported by HOPE are always portrayed with dignity, a refreshing change from many development NGOs that use guilt to gather donations.
"With clean water, Laka can step into the light! We can live with peace! And with love!"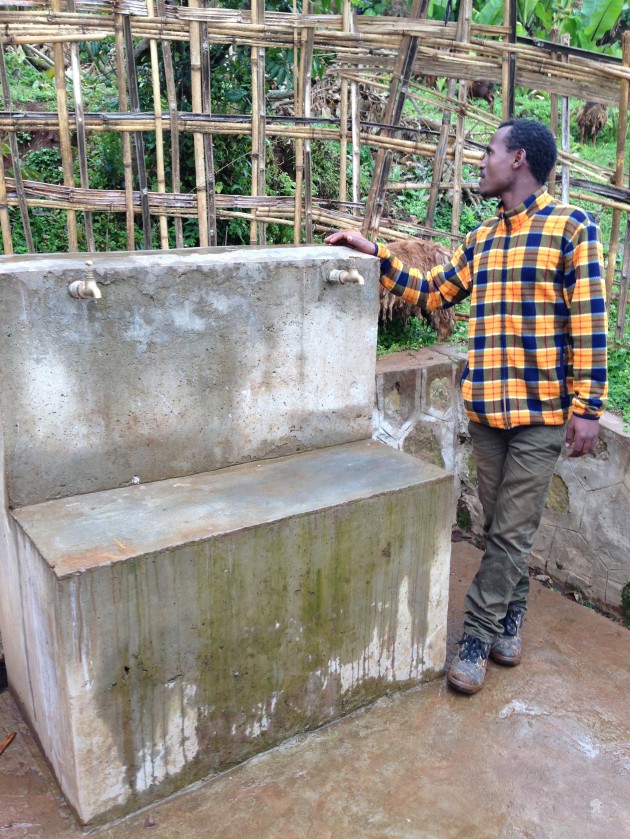 The government of Ethiopia set an ambitious goal to achieve clean water accessibility for all its citizens by2012. Insufficient material, finances, and human resources, however, has left that goal unmet, and nearly 75% of the population remains without access to clean water. It takes an average of five transport hours for people in Ethiopia to obtain 25 liters of drinking water — a staggering figure when compared to the five minutes it takes in the United States.
Families in mountainous Laka often fall sick due to contamination of river water by agricultural and household waste, without realizing the source of their illnesses. According to the film, 60% of diseases people in rural communities like Laka suffer are related to water-borne diseases, disproportionately affecting children. One in five children in the Laka area die before the age of five from these illnesses.
HOPE's project in Laka involved the construction of a water system to provide a safe water source to improve the health of the villagers and reduce the time and labor spent by women and children fetching water from far-away sources. The villagers in isolated Laka, located at an elevation of 2000 meters, first created a path to transport materials for the project. Villagers and volunteers worked together to find a water source. In order to keep it free from contamination, they built a concrete wall around the well. A pipe was then installed to transport clean water to a storage tank, which then delivers water to several other tanks in the village.
As a result, every resident in the area has access to clean water. Furthermore, with the amount of time needed to fetch water significantly reduced, time is now free for children to attend school. Furthermore, according to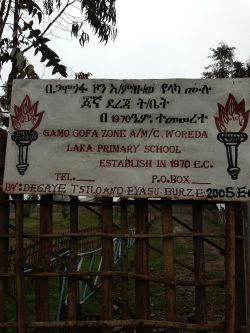 HOPE, "The teachers of Laka are now really happy because the steady access to clean water not only means the children can come to school, but also that the teachers can live there rather than commute over long and treacherous roads."
When a village receives a well, educational programs about sanitation also take place. Sheppard explained how in in many villages, before HOPE comes in, food is stored on the ground. This makes the likelihood of contamination to increase, as well as sickness. HOPE staff also share information about safe food preparation techniques and above ground food storage.
"One index is child mortality. Essentially, the rate of deaths caused by water borne diseases drops dramatically. So over all the health of the community rises. Therefore the productivity increases improving the local economy."
Sheppard also emphasized just how simple it is to support a community in gaining access to clean water:
"People need clean water. We have plenty of water here tonight. We even have digital water that you have been walking on. But, families overseas need water. Whether it's a spring capping project in Ethiopia or wells in Cambodia, it roughly costs about 25,000 yen to get clean water to a family of five or six people for the rest of their lives.
"All of us here have the power to help one family. Most of us have the financial capacity to help many families. And in this room, we can help thousands of families get clean water. Your gift will change and save lives."
Doug Strable has attended two HOPE galas in Osaka: "Helping others is a great feeling, and being able to share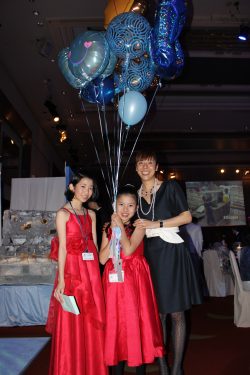 time with other supporters of HOPE at a Gala gives me much inspiration to my life and business too… I've met a lot of truly wonderful people at HOPE GALAS both staff and supporters, which is very inspiring….Providing good clean water to a community–which the HOPE organization focuses on, can have an immediate overwhelming effect — I'm happy I can be a part of this. "
For Susan Jones, it was her first time to attend a gala. She attended with a group of people from For Empowering Women in Japan (FEW: http://fewjapan.com/) and was impressed by the ability of HOPE to bring both Japanese and foreigners together for the same cause:
"Access to clean water is a privilege I have known throughout my life, so I was grateful for the opportunity to help provide it to those in need."
Remus Palimaru, Executive Assistant Manager of the Ritz-Carlton, Osaka  explains why the event is so well supported: "The reason why I like to be involved supporting this great organization is that they are able to properly articulate their purpose and impact they make on their many amazing projects."

Fuminori Matsuura, a HOPE staff member living in Ethiopia overseeing the well projects there has pledged to raise five million yen to assist families in getting clean water.
Projects like those in Laka are impossible without the support of volunteers and donators. In order to reach out to the wider community in Japan, HOPE has several events and activities in which you can get involved.  In the run-up for its charity galas, hotels like Hilton and the Ritz-Carlton take turns  providing the venues for the annual HOPE weeks where there are a variety of activities like "Charity Cut" and "Relax for Charity," where hair stylists and spas donate their time for charity. There are also booths which provide more information about HOPE and raise money for its several projects.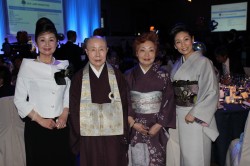 HOPE also organizes Global Challenges to help people get sponsors for tests of physical endurance such as a running race, cross-country bike ride, or HOPE's annual trek up the iconic Mt. Fuji organized by HOPE in conjunction with H&R Group. On the last Fuji climb, 24 participants raised money to support HOPE's projects at PAMULAAN Center for Indigenous Students on the island of Mindanao in the Philippines. Students can get involved by forming a HOPE Club of three to 15 students to raise money for the elimination of poverty.
Through HOPE Understanding Needs in Other Nations (UNION) program, volunteers work for one to two weeks alongside a family in an impoverished community.  The hope is that participants will come to understand the struggles and ambitions of the people they are serving while learning what people can do to help free them from poverty.
Elvin Zoet, a long-term contributor to HOPE's efforts explains why he feels compelled to support HOPE's initiatives: "I like to strip it all back to its essence and this is exactly why HOPE international is appealing: it has a simple, but very important focus. Clean water for those who need it. Actually HOPE does a bit more, yet their primary focus is exactly in an area that has maximum long term impact for the world's poor.
"Many people hesitate to give to charity because they are concerned whether their donations reach those who need it in an efficient way. No need for that kind of uncertainty with HOPE. Besides carbon, water is the most elementary vital component of life. So it's simply up to people and whether they want to be charitable or not."
Join HOPE for its 3rd Annual HOPE Celebrity Cocktail Party, which will take place in Tokyo on September 27, 2013.  As Barry Louie has explained, "HOPE is a community of people who believe we can make a difference and bring hope to some of the world's poorest families."

HOPE Japan is doing important work that is bringing sustainability, self-reliance and peace to communities and families across the globe. Find out more about how you can contribute at http://www.hope.or.jp