Kyoto Journal 77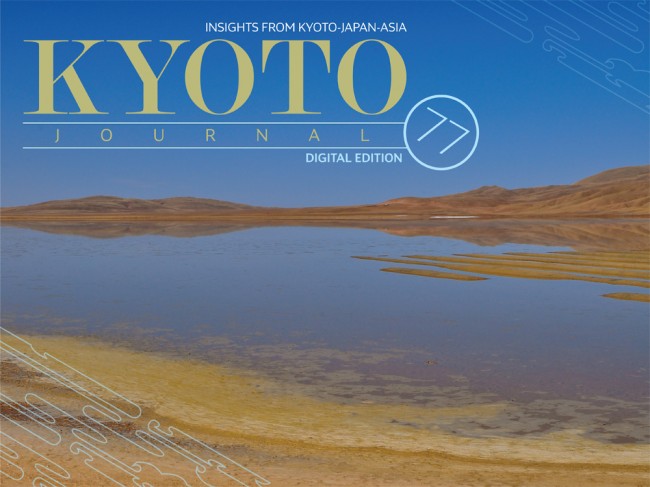 Never before has an issue of KJ run to over 200 pages. Admittedly, our new digital format, that fits so snugly on an iPad, gives each page a smaller word-count for an easier reading experience — but that still adds up to a lot of prime reading. Our unanticipatedly-long publishing hiatus gave us an accumulated backlog of fine material, so we naturally wanted to share it promptly. This is the result.
KJ 77 is a roaming beast. It starts out in Tokyo's chaotic Shibuya station, pauses in Hiroshima, plunges into the colorful chiaroscuro of Indian temples, resurfaces in a controversial archaeological dig in Afghanistan, veers off to explore a nomadic salt route on the Tibetan plateau, settles into diligent studies of Tibetan script and mandala painting, absorbs the essence of a master paper-weaver's craft in South Korea, and experiences different aspects of out-of-this-worldness in Yunnan and Sichuan, China.
We revisit Japan's shift from agrarian to industrial society, explore guiding principles of post-Fukushima reconstruction, and how the region's children are responding creatively to the disaster. Back in Tokyo, we profile Hideo Levy, an American writer who has reinvented himself as an award-winning Japanese novelist. With a dedicated practitioner and teacher, we re-envisage the meditative discipline of yoga. In Heian Kyoto, we pass through the seasons in company with a plethora of anthologized Buddhist poets, in finely-tuned translation. In Shikoku we join haiku poet Masaoka Shiki in his reflection on the singularity of things.
A suite of profiles introduces contemporary Asian film directors, all dealing with pressing themes in their countries' society: Amar Kanwar of India, Koreeda Hirokazu of Japan, Joel Ruiz (and others) of the Philippines, and Asoka Handagama of Sri Lanka. Also on Kj 77's agenda, fiction from India, poetry from America/Korea, several fistfuls of reviews, and a treatise on the wind — direct from the blustery foothills of Pure Land Mountain, overlooking Lake Biwa.
What are you waiting for?
Contents
Okamoto Taro: Nuclear Proliferation, Tradition, and the "Myth of Tomorrow"
Donald C. Wood & Akiko Takahashi
Hiroshima/Nagasaki Poems
David Krieger
Between Darkness and Light:Reflections on Hindu India
Vinayak Bharne
Contested Terrain: Development, Identity and the Destruction of an Ancient City in Afghanistan
Isaac Blacksin
Tsa'lam: The Nomadic Route of Salt
Jeff Fuchs
Sacred Buddhist Calligraphy
Marilyn Stablein
RENEWAL
Jiseung: A Journey into the Korean Art of Weaving Paper
Aimee Lee
ENCOUNTERS
The Hills and Songs of Yunnan
Lucinda Cowing
Ice Mountain
Michaela Anchan
NATURE
Engineering the Japanese Islands: Environmental Historian Brett Walker
Winifred Bird
Reconstruction in Times of Ageing Society,
Decentralization and Global Environmental Crisis
Christian Dimmer
HEARTWORK
Strong Children
Geoff Read
IN TRANSLATION
The World in English
Dreux Richard on Levy Hideo
Winter Spring Summer Autumn
Patrick Donnelly and Stephen D. Miller
POETRY
AMY GEORGE:
Ideogram
Child of the Land of Morning Calm
LEZA LOWITZ:
Awakening the Yoga Heart
GREGORY DUNNE:
First Day
MARYLIN PERETTI:
Remember Your Poems
Healing
The Singularity of Things
Jamie Edgecombe
FILM
Amar Kanwar: Speaking In Multiplicity
Sean O'Toole
Upholding the Human: Koreeda at Mid-Career
Dr. David A. Ross
Making Baby Angelo: Notes on Independent Cinema in the Philippines
Xavier Hennekinne
Visualizing Hope in Post-Conflict Sri Lanka: Film Director Asoka Handagama
Suvendrini Kakuchi
FICTION
Penitence
Karikath Saikumar
RAMBLE
The Debris of Freedom
Robert Brady
REVIEWS