Kyoto Journal, a non-profit quarterly established in 1987, reaches far beyond Japan's ancient capital to be your gateway to understanding and appreciating the lifestyles, cultures and societies of Asia. Shop over 50 past issues, dating from 1987 to 2019.
TIP: Use the dropdown on the right to view products in order of date of release or by price. Refer to the menu in red (to the right if on desktop) to view products by category, like "subscriptions."
Showing 1–12 of 110 results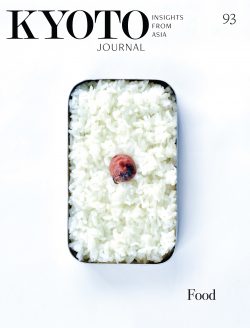 (US$19)
SPECIAL OFFER – 50% OFF CLASSIC KI NO BI COCKTAILS WITH EVERY ORDER!
It sustains us. It inspires us. It enslaves us…KJ delves into the vibrant culinary cultures of Asia, all the while discovering what food really means to us.
VIEW