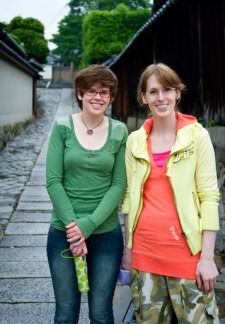 Interns Molly Harbarger & Nikki Lee

I wanted to study abroad in Japan. I knew that. But, I also knew I had to spend time contributing to my journalism major. So, my professor told me about a great magazine he used to read and volunteered to send along an email on my behalf. From there, it was easy to find something to do to help KJ out. I transcribed recorded interviews, one of them turning into a bylined story that I sometimes still reference in cover letters. I also enjoyed editing the magazine for the practice, and for the opportunity to read the stories in a rougher form and listen in on the thought process behind its art and design.
But, more than the work, interning with KJ was a great experience because of the people I met. John Einarsen brought me along to a Buddhist temple to talk about social justice, Tibet and, strangely enough, designer Ed Hardy. KJ hosted a night of food, song, poetry and discussion, where I met longtime ex-pats and the fascinating people and culture that kept them there.
—Molly Harbarger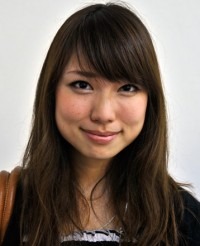 Intern Haruka Shinno

Doing an internship at Kyoto Journal not only developed my intellectual curiosity, but also helped me improve my writing skills. It was definitely worth the time and effort. It was a pleasure to have worked with you.
—Haruka Shinno
Become a Contributor

If you would like to contribute writing or visual material to KJ, please read our Submission Guidelines. We are especially interested in receiving material for our "Asian Encounters" section, whether in text, podcast or even short video.


Support KJ


KJ has survived as a volunteer-based, non-profit publication for 24 years, thanks to the generous support of Heian Bunka Center. However, as of early 2011, due to organizational changes beyond our control, we are now completely independent, and have to come up with our own funding for all essentials such as site maintenance, software updates, tech support, etc.  KJ is now legally incorporated as a Japanese NPO with "ippan shadan houjin" status.All editors and other staff work on an entirely unpaid basis.
Donations are, needless to say, especially important to us now, to enable us to keep on achieving our short-term and longer-term goals. Please consider helping out. Even small amounts can make a big difference.
We believe that KJ offers an invaluable alternative to the now dominant corporate media's 24/7 infotainment model. We provide a means for talented creative individuals to reach an audience of their peers, for new writers to be mentored, for collaborative energy to be cultivated, for widely diverse interests and concerns to come together, for cultural values to be upheld or questioned, and for ideas and memes to further evolve.
Working effectively together for the fullest "bigger-picture" benefit is at the heart of our endeavors. All donations will go directly to necessary expenses; any surplus will be held over for special KJ projects and events.
Please help KJ keep on making a difference.
Volunteer
Everyone who works on KJ is an unpaid volunteer.
This is a key aspect of KJ. It's collaborative, focused — and fun. Whatever your personal interests and skills, there is probably a way that you can contribute.
We especially look for interns who are interested in helping out with writing, designing, researching, interviewing, transcribing, and especially, helping us with work on our revitalized website. (We also have a big project under way, transferring files from old MO discs to online archive format, that we particularly need help with).
We welcome self-motivated people who can take responsibility for specific projects, according to their own interests and time availability. Previous experience is helpful but not a prerequisite. Editorial staff will advise and give feedback, so interning is a good opportunity to gain experience in a real-world but out-of-the-ordinary publishing setting.
We are eager to see Kj develop in new ways through fresh input, especially in new online media, such as podcasts, iMovie video and interactive features. If any of the above fits your interests, please don't hesitate to contact us! (If you are in an academic program and need credit for practical experience, we can provide evaluations).
KJ's new working space is in an old Kyoto house with a giant bamboo grove — our office is a Noh stage. Our interns often reside here in Kyoto, but this is not vital (though being here makes it easier to be involved in KJ-related activities — and Kyoto itself is a very nurturing environment).
Apart from interning, we also welcome assistance in the form of feedback, useful contacts, and suggestions for Asia-related content — and reviews. Send in your favorite quotes by Asian writers, or suggestions for our "In Translation" feature.

Contact: feedback@kyotojournal.org