shipping & handling included
KJ 39
published February 1, 1999
90 pages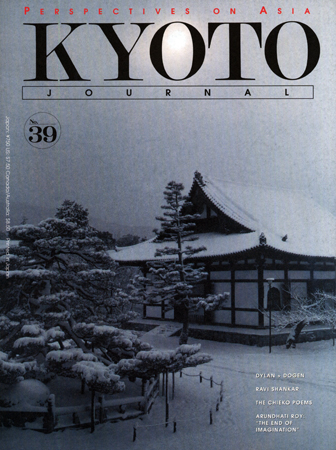 Cover Image of Kurodani Temple, Kyoto
John Einarsen
In this issue, Steve Heine and Taigen Dan Leighton discuss the teachings of Bob Dylan and Zen master Dogen in "Masters of Spirit and Words," Kathy Arlyn Sokol interviews Ravi Shankar in "Reaching God Through Music," best-selling Indian novelist Arundhati Roy describes her nuclear nightmares in "The End of Imagination," Leanne Ogasawara newly translates Takamura Kotaro's passionate "Chieko Poems," Marc Peter Keane explores our interface with the wild in "Boundaries," Kim MyongHee shows Japanese-Korean similarities through masks, graphic artist Zen Yipu describes "A Chinaman's Homecoming," Brad Demond relates near-life experiences in a Japanese hospital in "Lessons From the Shadows," F.J. Logan reveals the lower side of higher learning in "Duck Gets Doctored," Morgan Gibson concludes his commentary on Loy's Non-duality… "without end," and Robert Brady winds up with "The Emperor's Clock."
Contents:
Masters of Spirit and Words –
INTERVIEW
Reaching God Through Music –
The End of Imagination–
POETRY
The Chieko Poems –
Boundaries–
I have been sitting in this old temple for over an hour, looking out at the garden. The room I am in — with its clay-plastered walls sectioned neatly by posts and beams, its modular tatami mats, and grid-patterned paper doors — is a model of planar geometry expressed in shades of sepia; subtle and subdued. The garden meanwhile, is a verdant transcendence of mathematics.
Faces for 2002 –
A Chinaman's Homecoming –
Lessons from the Shadows –
Duck Gets Doctored –
PHILOSOPHIZING IN THE VOID
Concluding Loy's Nonduality Without End –
RAMBLE
Requiring countless lifetimes to make, the Emperor's Clock takes twenty-four hours a day and every being in the world to keep wound. It carries time atop four great adamantine turtles, upon whose backs stand four ruby rhinoceroses, whence the eons rise in columns of sapphire wound with vines of electrum…
Reviews:
Cultural Internationalism and World Order, by Akira Iriye — William Corr

Water Dripping in a Dish: Sounds of the Japanese City of Kyoto (CD), by Malte Jasperson — Albie Sharpe

The Best of Kansai: Kyoto, Osaka, Kobe, by John Ashburne — Sally McLaren

Little Adventures in Tokyo: 39 thrills for the urban explorer, by Rick Kennedy — Sally McLaren
<

The Feminization of Nature, by Deborah Cadbury — Tim Groves

Chiyo-ni: Woman Haiku Master, Trans. with commentary by Patricia Donegan & Yoshie Ishibashi — Rebecca Dosch

I saw a Pale Horse, by Hayashi Fumiko — Judith Clancy