Kyoto Journal Issue 92
¥2,180
(US$19)
KJ92 was inspired by the symbols and practices of devotion that are so ubiquitous in our own city. But devotion, wherever practiced, in whatever tradition, transcends the self, and is a commitment to something less momentary, more closely aligned with the eternal…
SPECIAL SECTION: DEVOTION
"We're most of us less happy when we're trying to control or perfect something than when we're giving ourselves up to it" — best-selling author Pico Iyer lends us his thoughts on why we need devotion in our lives;
Ann Tashi Slater reflects on her experience of Bardo — the transitional state between life and death as described in the Tibetan Book of the Dead — during a tortuous sojourn in a Tokyo hospital with severe illness, and Lisa Nilsson interviews Minako Hiromi who, in response to personal tragedy, began hand-drawing mandalas of astonishing detail;
Kenny Fries visits the most sacred of Japan's shrines at Ise and witnesses its awe-inspiring reconstruction; and Robert van Koesveld introduces us to the geiko (as geisha are known in Kyoto), Tsunekazu, and her long, distinguished career in the performing arts;
Author John Dougill recounts his travels through southern Japan to research the Hidden Christians, and understand why they "risked death and the ruination of their loved ones"; and Meredith McKinney goes to great lengths to honour a dear friendship;
Captivating scenes of devotion during some of Kyoto's many festivals as shot by French photographer Patrick Hochner; and a glimpse at puja ritual purification at the holy city of Varanasi by Chris Roche;
Marilyn Stablein shares some of the letters and photos she sent home from India in the 60s, to where she travelled in order to study Buddhism as an 18 year-old; and Catherine Ludvik shares memories of her journey along the Shikoku 88-Temple Pilgrimage;
Leanne Ogasawara ponders why works of art have the power to induce "spiritual epiphany", while William Lychak proves why the so-called "lucky birds" outside Shwedagon Pagoda really live up to their name.
INSIGHTS FROM ASIA
Yen Nie Yong accompanies a tribe of head hunters-turned-devout Christians as they hold a ceremony in remote Sarawak;
Clara Kiyoko Kumagai attends a concert by the Sakamoto Ryuichi-led Tohoku Youth Orchestra;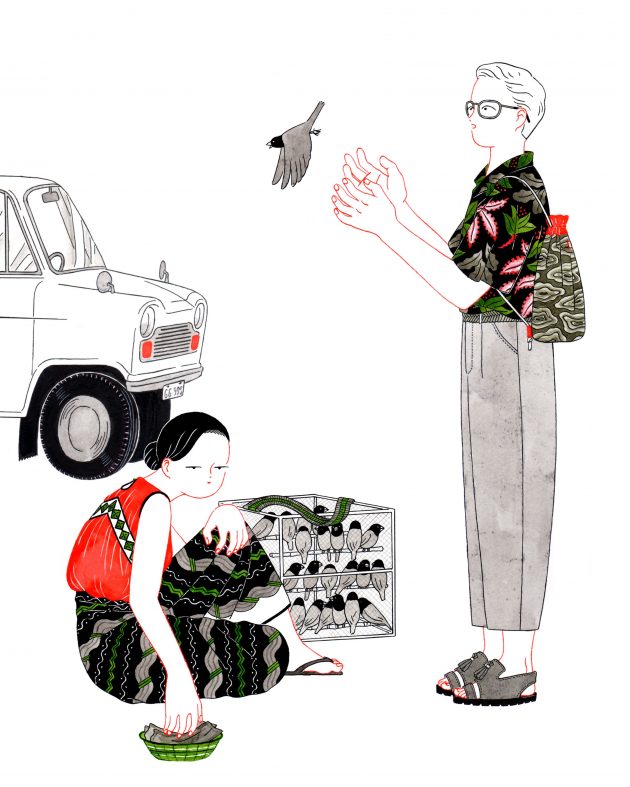 Cover by Minako Hiromi
128pp; Printed on Vent Nouveau fine art paper by SunM Color, Kyoto
¥2,180 (approx US$19) Need a currency converter? Use this one.
Shipping within Japan is free. But the price excludes Japanese sales tax.
Shipping to the North America/Europe/Oceania/Asia: ¥520 (about US$4.50), 5~10 days. We're sorry to say that due to unreliable postal systems in Africa and South America we can only offer tracked mail by EMS, which is rather more expensive.
Please allow for 1-3 business days for processing prior to dispatch.
Is this a gift? We can put in a simple gift tag. If you would like it delivered direct to the recipient please just make sure the shipping address is correct!
Thank you for ordering our special tenugui! These are out of stock now but we shall definitely bring out more special items from Kyoto!