Kyoto Journal, a non-profit quarterly established in 1987, reaches far beyond Japan's ancient capital to be your gateway to understanding and appreciating the lifestyles, cultures and societies of Asia. Shop over 50 past issues, dating from 1987 to 2019.
TIP: Use the dropdown on the right to view products in order of date of release or by price. Refer to the menu in red (to the right if on desktop) to view products by category, like "subscriptions."
Showing 25–36 of 110 results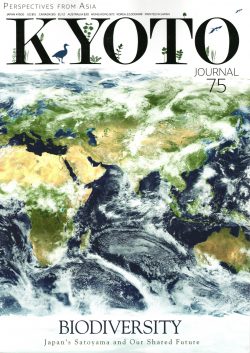 (US$9)
This special issue was prepared for distribution in fall 2010 at COP10 in Nagoya, the UN's 10th Conference of Parties to the Convention of Biological Diversity (CBD), including a special section on Japan's satoyama: rural areas where people have lived with the land and on it without spoiling it over many generations, preserving and even promoting biodiversity.
VIEW