Kyoto Journal, a non-profit quarterly established in 1987, reaches far beyond Japan's ancient capital to be your gateway to understanding and appreciating the lifestyles, cultures and societies of Asia. Shop over 50 past issues, dating from 1987 to 2019.
TIP: Use the dropdown on the right to view products in order of date of release or by price. Refer to the menu in red (to the right if on desktop) to view products by category, like "subscriptions."
Showing 25–36 of 110 results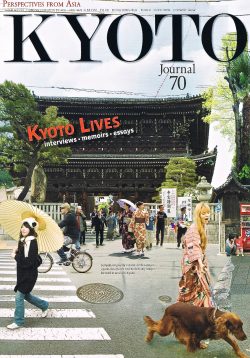 (US$10.75)
To mark its 70th publication, Kyoto Journal took the opportunity to focus in once again on Kyoto — and its ongoing changes in the early 21st century — in a special issue entitled "Kyoto Lives." The deliberate ambiguity of this issue's title refers to the lives of the forty-one Kyoto residents interviewed, and also affirms that Kyoto, in its latest incarnation, is still very much alive.
VIEW